Community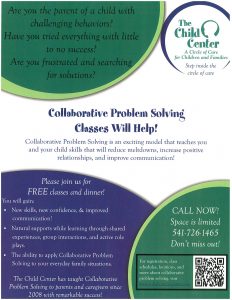 The Child Center is presenting a series of four classes for parents on collaborative problem solving.  Collaborative problem solving is an exciting model that teaches you and your child skills that will reduce meltdowns, increase positive relationships, and improve communications.
Parents with a child in elementary or middle school will find the strategies used in collaborative problem solving useful and effective.  If you are struggling with your child's challenging behaviors or are frustrated and searching for a more effective way to manage your child's behavior, then collaborative problem solving could be the solution you are looking for.
The classes will be held at Elmira Elementary School from 6:00pm to 7:30pm starting on Thursday, October 25th.  Dinner will be served and childcare provided during the class.  This class is offered at no cost to families.
Please call 541-726-1465 to register – space is limited!
Lane County Public Works wants to be sure that parents have a voice in potential herbicide use near school bus stops.  You can enroll your child's bus stop into the No Spray Area program by filling out a short form available on the Lane County website at www.lanecounty.org/vegetation or by calling 541-682-8521 to request a paper application.
School Bus Stop No Spray Letter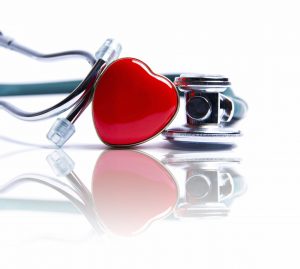 We are in need of donors!  The Elmira High School Blood Drive is Tuesday, October 2 from 8:30am to 1:30pm in the auxiliary gym.
Anyone is welcome to donate and you can sign up with any National Honor Society student by emailing Mrs. Hunt: khunt@fernridge.k12.or.us or online by visiting www.redcross.org and using sponsor code: ElmiraHS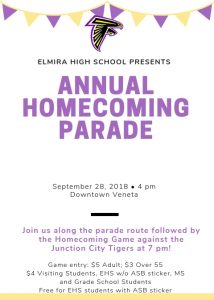 It's Homecoming Week!  Students are busy decorating hallways, planning their Homecoming Assembly and preparing for the Annual Homecoming Parade this Friday, September 28th at 4:00pm.
The parade route begins in the parking lot near Cup of Joe and will make its way through downtown Veneta before finishing at the high school.  Come join our students, staff and community members in support of our Elmira Falcons as they take on the Junction City Tigers!
Homecoming Parade – 4:00pm ~  Football Game – 7:00pm
                  Go Falcons!
Thank you Fern Ridge School District Teachers
This week give us the opportunity to acknowledge our dedicated K-12 teachers who are working together every day to inspire our students to reach for their highest potential.
From teaching students to read in Kindergarten to showing them how to achieve their post-graduation goals; the teachers of Fern Ridge School District are a talented group of individuals who make a difference in the lives our kids.
We are proud of our teaching staff and want you to know how much we appreciate all that you do.  Thank you Fern Ridge School District Teachers!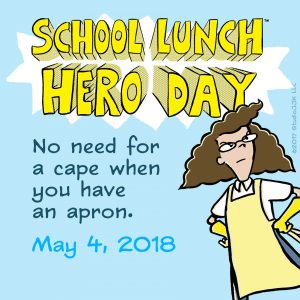 Today is School Lunch Hero Day and next week is School Nutrition Employee Week .
We want to recognize the men and women who work hard serving over 750 meals a day to the staff and students of our district.
They work in every aspect of food service from administrative duties to delivering, preparing and serving food, navigating student food allergies and they do it all with a smile.
A great big THANK YOU to our lunch heroes:
~Veneta Elementary: Desta & Jessica ~Elmira Elementary: Lori & Millie
      ~Fern Ridge Middle School:Jill, Sabrina & Alese
~Elmira High School: Coleen, Bev, Renee, Debi, Brian, Pete & VIS (Very Important Substitute) Mary
Today is the day we recognize the many secretaries around the Fern Ridge School District.  School secretaries  are one of the foundations of our schools.  We are lucky that in Fern Ridge we have many outstanding employees in this crucial role!  Please join me in recognizing them today, and thanking them for the work they do each day on behalf of teachers, principals, staff, students and parents!
Congratulations to the 2017-2018 Fern Ridge School District Distinguished Service Award Recipients!
Distinguished Volunteer: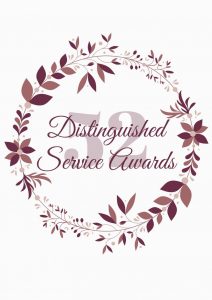 Sherry Cooper
Distinguished Classified Employee:
Pam Zellers, Elmira Elementary
Distinguished Educator:
Kyle Moeller, Veneta Elementary
Distinguished Administrator/Confidential Employee:
Greg Baker, District Office
Distinguished Future First Citizen:
Millie Carpenter, Elmira High School
Distinguished Emerging First Citizen:
Riley Chambers, Elmira High School
Distinguished Community Builder:
Beau Admire, Elmira High School
Please join us at Applegate Elementary School on Thursday, April 19th at 7:00 pm and help us celebrate our FRSD award winners
See the flyer below for information regarding purchasing some Vegetable Garden Starters at the Greenhouse run by the EHS Interact club!