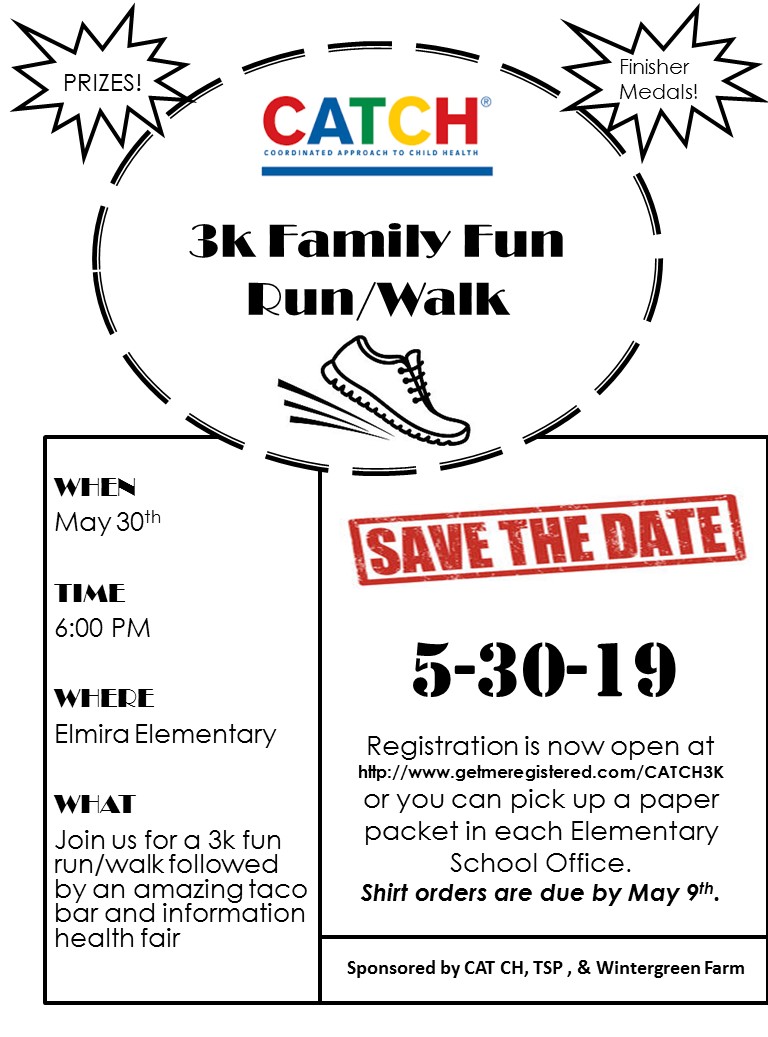 Register online at: https://secure.getmeregistered.com/get_information.php?event_id=132456
FRSD schools will remain open on Wednesday, May 8th.
Fern Ridge families,
Many of you may have heard reports regarding some Lane County School Districts being closed on May 8th.  In Fern Ridge, schools will remain open.
The Oregon Education Association has called upon its members to make May 8th a "Day of Action" to advocate for legislative action to significantly invest in K-12 education so that Oregon schools have adequate resources to serve all students.  Union's planned activities include many districts participating in one-day teacher strikes ("walkouts").  In Fern Ridge our teachers and union leadership have elected to participate in this Day of Action in a way that is least disruptive to families and student learning time.
Our teacher union leadership has been transparent and communicating with me the last few weeks regarding their planning, and I recently have been informed that teachers that participate will be "walking out" after students are released on Wednesday, May 8th.  This type of action shows their support for the larger "Day of Action", while being least disruptive to our students and families.
The missed hours of work/professional development time will be unpaid strike time for teachers, or they must take a ½ day of their personal leave. The Fern Ridge School District and I share our teacher's goal of convincing the Oregon Legislature to make a significant investment in education to provide smaller class sizes, more learning time, increased health and safety services and a well-rounded education.  However, the district does not endorse or condone walkouts that disrupt the work day.
I have been informed that during this walkout many of our licensed staff will be at the corner of Territorial Highway and 126 sharing positive signs regarding supporting students and increased K-12 funding to serve all students.
If additional information becomes available, or something changes, we will communicate immediately with our families.
A special thank you to our wonderful secretary team at EES! We are so appreciative of the time, effort, and heart that you put into our school each and every day!

 
Thank you Brie and Dawn!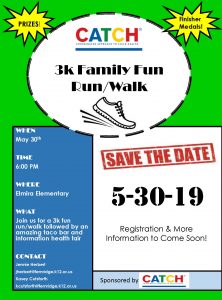 Mark your calendars for May 30th and join us for a 3K Family Fun Run/Walk followed by a taco bar and health information fair!  This event is sponsored by Coordinated Approach to Child Health (CATCH) and will be held at Elmira Elementary School.
More information on registra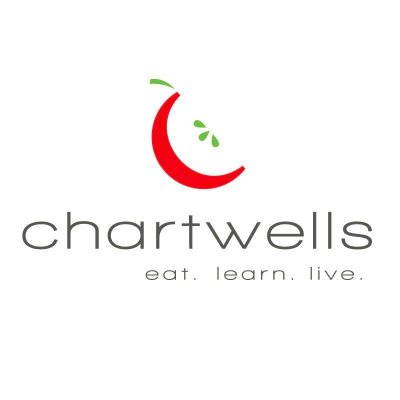 Attention parents or guardians:
Due to the snow storm our server went down and this has caused a problem with our computers in each kitchen transferring the information.
At this time meals can be entered but account balances are not calculating. When it is repaired please be aware that your amount due could be quite high.
We apologize for the inconvenience.
If you have any question please call 541-935-8218 Ext. 2
Renee Ota
Fern Ridge Food Service.
Now that the snow and ice have melted, our district is focusing on the impact the four snow days had on student learning.
The school calendar was revised to restore two school days in June.  School will be in session on June 17 and the final day for students will be June 18.  At this time, the calendar for Seniors remains the same and graduation will take place on June 7.
The Fern Ridge School Board unanimously approved the calendar revisions during their March 18 meeting.  These changes will be updated to the district website calendar later today.
Thank you to our families for your flexibility as we work to ensure that we are providing as much learning time as we can for our students.
Coming Up:

3/19 FRMS Band Assembly
3/19 EES Math Night 5-6pm
3/19 EES PTA 6pm
3/21 BMX Assembly
3/22 Science Fair
3/25—3/29 SPRING BREAK
Hello EES Families,
Just a reminder that our March PTA meeting will be next Tuesday, 3/19 at 6 – 7: 30 pm in the EES Library.  There is also a Family Fun Night on this Tuesday from 5 – 6 pm.  Have fun with your family & then stick around for PTA! 😊
And it's been a busy few weeks for our Auction Team in getting ready for the 7th Annual Spring Auction THIS SATURDAY, MARCH 16th! 
Student Art Gallery Walk starts at 3:30
Live & Silent Auction Starts at 4 pm.  So many fantastic items up for bid!
There will be a food truck on the premises starting at 3 pm.  We will have a kids' area in the cafeteria with crafts & a face painter!
Please join us & help to make this auction a SUCCESS!!
Thank you,
Krista Spencer
EES PTA President