Elmira High School-Home of the Falcons
24936 Fir Grove Lane
Elmira, Oregon 97437
Office: (541) 935-8200, Fax:  (541) 935-8205
Office Hrs: 7:30-4:00 M-F,
School Hrs: 8:20-3:20 M, T, Th, F
Wednesday: 8:20-1:18
Our Mission Statement: The mission of Elmira High School is to meet state standards through active teaching and learning, and provide all students the academic and social skills to become successful members of our global community.
Our annual "staff activity" shared with our students this morning at the EHS Holiday assembly. Enjoy and have a great break! Go Falcons!
State testing at EHS will take place beginning in January of 2017.  For more information about state testing, including the "opt-out" process, please visit the "State Testing Information" link on the right hand side of the page under the "Resources" tab.
Next week, the EHS student leadership class begins it's annual Food and Money drive to support the local Kiwanis Holiday Food Drive. Please see the flyer below if you are are able and willing to participate. The first week is a "Money Drive" and Dec 5th-13th we will be collecting non-perishable food items. Go Falcons!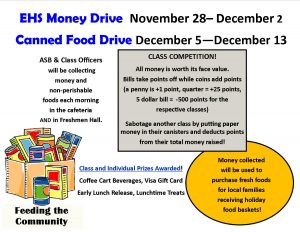 Your child may be eligible for free or reduced price meals (Breakfast and Lunch). This federally funded program is completely confidential and was created to ensure children from households that meet federal income guidelines have access to nutritious meals while at school.
• All information is confidential
• Submit one Free and Reduced Application for all students in your household
• Children in households getting Food Stamps or TANF and most foster children can get free meals regardless of your income.
• Children can get free meals if your household income is within the free limits on the Federal Income Guidelines.
• Your Children can get low cost meals if your household income is within the reduced price limits on the Federal Income Guidelines
For more information please read the Q&A
Apply for the Free and Reduced Meal Program
At all schools in our District today, students participated in the "Great Shake Out" Drills being conducted throughout the U.S., and the world.  You can visit http://www.shakeout.org/ for more information.  Below are some pictures of EHS students and staff during our drill this morning. Nearly 500,000 people are participating in similar drills today in Oregon, and nearly 20 million throughout the U.S.
Parent Teacher Conferences this Wednesday night, 4-8 PM in the EHS Cafeteria. Please park in the North (back) parking lot. If you can't make it Wednesday night, you can drop in on Thursday morning between 8-noon and visit teachers in their room. Progress reports will be handed out Wednesday night for those that attend. Those that were not picked up will be mailed home Thursday. Go Falcons!
Homecoming week is next week here at EHS.  There will be much going on, and plenty of "craziness" throughout the week.  Several days have special schedules due to assemblies.  The annual "parade" will occur Friday at 4:00 PM through downtown Veneta.  The game is Friday night at 7:00, and the homecoming dance is Saturday the 8th from 8:30-11:00.  Guest dance passes (for non-EHS students) are due to the office by Wednesday, October 5th at 8:30 in the morning.  Tickets for the dance may be purchased at the bookkeepers office for $10 or $8 with your ASB sticker.  All school fees must be paid before purchasing a ticket to the dance.
The PSAT is on October 15th at 8:00 am in the cafeteria, doors open at 7:30 am. The cost for the PSAT is free for Sophomores and $10 for Juniors. All students interested in taking the PSAT must sign up with the bookkeeper. If you have any questions, see Ms. Brittany in the Counseling Center.
In today's Oregonian.  Way to go EHS Staff, students and parents!  In addition, a big congrats to this years seniors whose scores showed the rest of the state that Elmira rocks!
http://www.oregonlive.com/education/index.ssf/2016/09/4_diverse_oregon_high_schools.html#incart_big-photo
EHS ATHLETIC HALL OF FAME NOMINATIONS BEING ACCEPTED NOW!!! http://www.fernridge.k12.or.us/e…/ehs-athletic-hall-of-fame/
Last school year, EHS Administration in conjunction with the Booster Club and volunteers, developed a framework to create an EHS athletic Hall of Fame. The first class will be inducted early in 2017. The deadline to apply for this first class is rapidly approaching.
EHS must receive all applications by Nov 1st, 2016. For more information, visit the link on the EHS website.