Elmira High School-Home of the Falcons
24936 Fir Grove Lane
Elmira, Oregon 97437

Office: (541) 935-8200, Fax:  (541) 935-8205
Office Hrs: 7:30-4:00 M-F,
School Hrs: 8:20-3:20 M-F
Our Mission Statement: The mission of Elmira High School is to meet state standards through active teaching and learning, and provide all students the academic and social skills to become successful members of our global community.
On Monday, August 10th, Dr. Shane Gofourth will be conducting Sport Physicals here at EHS on a drop-in basis from 10-2 PM.
Any EHS athlete can attend and the cost is only $20.00. Please spread the word. If you are not sure if you have an updated physical on file (expires every 2 years), we will have that information at the Fall Sport Registration night on August 6th. Thanks to Dr. Gofourth for providing this opportunity to our student athletes.
Thursday, August 6th from 5-8 PM will be Fall Sports registration night here at EHS.  If your student is participating in Football, Volleyball, X-Country, Cheer,or Boys/Girls Soccer, please plan on attending.  Athletes need a current physical on file on the OSAA form (within the last 2 years), paperwork (including insurance information), and $125.00 sport registration fee.  All paperwork must be completed prior to Friday, August 14th to be eligible to participate on the first day of practice, Monday August 17th.
EHS will be holding a summer weeklong program for incoming 9th graders that is based on making good decisions, and preparing students for High School. It will run here at EHS in the library from July 27th-31st from 8:45-3:00. Mrs. Carrie Brumbach is the teacher leading this program, along with several upperclassmen students that will be assisting. If you are registered already and have any questions, or you may be interested in registering, feel free to contact Mrs. Brumbach at cbrumbach@fernridge.k12.or.us
Please welcome our new Volleyball coach, Ms. Mackenize Knox.  Check-out the attached flyer for information regarding the 2015 HS Volleyball Camp that we be held at EHS August 10-14.Elmira Volleyball-1
FYI-Report Cards for EHS students were mailed out yesterday (Wednesday 6-17). I will be working through next week, and then return on Monday July 20th. We will promote school registration and athletic registration dates beginning the end of July. Have a fantastic and great summer vacation with your families. Thank-you to everyone that had a part in making EHS a great place to go to school, and work, in 14-15. There are many many people that give time and energy to provide opportunities and programs to our students. Go Falcons!
EHS will be on a final exam schedule this Thursday and Friday.  See the document attached.  If you have any questions, please feel free to contact the school.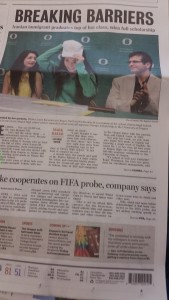 I believe in the newspaper industry they call that "front-page above the fold."  A big congratulations to Ms. Elmira Louie and her family for her academic achievements.  Go Falcons!
Wednesday, May 27th at 7:00 PM:  Awards night it the EHS Gym.
Thursday, May 28th at 6:30-7:30 PM:  8th grade fly-up for incoming 9th graders and parents in the EHS Theater.
Each year US News and World report puts out an article that ranks the nations top High Schools. A few years back, EHS made the list and earned a silver medal. The list of 2014 schools just came out and 28 Oregon High Schools made the list. Once again, EHS has made the cut, ranking as the 24th High School in the state of Oregon. For perspective, we are also the highest ranking 4A school on the list, and one of only two Lane County schools on the Oregon list (with the other being South Eugene). Thanks to all the teachers, parents, students and volunteers that make this possible. Go Falcons!
http://www.usnews.com/education/best-high-schools/oregon/rankings?schooltypepublic=y&schooltypemagnet=y&schooltypecharter=y
Congratulations to the 2015 EHS Valedictorian Ms. Elmira Louie for being awarded one of only 6 of the top scholarships the University of Oregon offers, the Stamps Scholars award. This scholarship pays in full for 4 years all tuition, room, board, book and fees.  In addition students are given a $12,000 stipend that allows them to study abroad or pursue other enrichment opportunities.  You can visit the link below to read about this award!
http://www.oregonlive.com/education/index.ssf/2015/05/meet_the_6_top_students_headed.html#incart_2box_education_index.ssf