6th grade students will be exploring the HJ Andrews Experimental Forest for their field trips this spring. Each sixth grade science class will go on a separate day according to the following schedule:
April 27th: Whitney Davis's 3rd period class
May 4th: James Stoe's 7th period class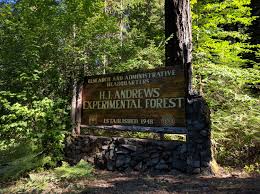 May 10th: Whitney Davis's 5th period class
May 11th: James Stoe's 5th period class
HJ Andrews is located near Blue River and is about a 90 minute drive from FRMS. Students will have a hands-on, experiential learning experience including the opportunity to climb trees under the guidance of the Pacific Tree Climbing Institute. In order to allow students a full day in the forest, they will be returning to school at 5 PM. Parents will need to pick them up from school at 5 PM. If someone else is going to pick up your child or you need to change your child's regular after school plans on that day, please let the office and the classroom teacher know.
Two very important documents will be coming home soon. The first is a permission slip for the field trip itself. The second is a waiver form that families need to complete if they want their child to be allowed to participate in the tree climbing part of the field trip. Parents with an approved criminal history background check on file who would like to volunteer to chaperone should contact their child's science teacher directly.
HJ Andrews Field Trip Permission Slip