I hope everyone is getting is excited about starting a new school year.  Student registration is starting tomorrow.  Fern Ridge Middle School's Registration is at the middle school this year:
Tuesday: 7am to 7pm
Wednesday: 8am to 3pm
Thursday: 8am to noon
At registration, FRMS can take cash or check.  If you would like to pay with a credit card, please pay online by clicking on the link or "FRMS Web Store" under the Parent Resource menu on the right side of the screen.
See you soon!
Supply List: 24 – #2 pencils, color pencils, 1 set of standard dividers, 1 – 2″ binder, small pencil sharpener, highlighters, lined white paper, calculator (TI30 preferably), black or blue pens, zippered pencil pouch, 1 tissue box – give to first period teacher
PE Supplies: shorts, t-shirt (see below PE uniforms), sweats, sweatshirt, non-marking tennis shoes, socks
Beginning Friday, June 24 , the school's office will be closed. Our secretaries will return to the office on Monday, August 15th at 7:30 a.m.
For information on registration, please see the FRMS Calendar in the "Quick Links" box on the top right side of this page.
School supply lists for 2016-2017 are also located in the "Quick Links" box.
Have a great summer!
Per Oregon state law, both the county's immunization rates and individual school rates must be published each year.  Please see the links below if you are interested in that information.
Elmira High School is pleased to offer the Strong Start Summer Program at no cost to students, funded by the Decision Education Foundation, with the goal to help students make a successful transition into High School.  For more information, visit the links below, or contact Mrs. Carrie Brumbach at cbrumbach@fernridge.k12.or.us to secure your spot in the program.
2016-StrongStart-Summer-Program-FAQs
The end of the year is coming quickly.  Here are some things to be thinking about as the year comes to a close. Please encourage your student clean out their lockers.  Students will do the initial cleaning of their locker this week and clean it out completely the second to last day of school.  Students should also check in with the library to see if they have any missing books or fines.  Lastly, the Lost and Found is very full.  If your child is missing anything, I would look there first.
Here our some events the last week and half of school.
June 7: 8th grade promotion planning meeting @ 6:30
June 9: Band and Choir students will have a performance during Enrichment Period
June 9: 5th Grade Parents Fly-Up at 6pm
June 10: FRMS Idol Competition during Enrichment Period
June 10: 4th Quarter Gold Card Event from 3:30 to 5 at FRMS
June 14: 8th Grade lunch, cardboard boat races, and pool party 11-2 (pool time from noon – 2)
June 14: 8th Grade Promotion @ 6pm
June 14: 8th Grade Party 7:30-9:30
June 14: 8th Graders last day of school
June 17: Last Day of school for 6th and 7th Graders
Here is a copy of the 8th grade Save the Date Flyer that was sent home with your 8th grader last week.  The planning committee is meeting today (Monday at 6pm) if you are interested in helping and can make it during that time.  If you have any questions about promotion, please do not hesitate to call Mr. Barsotti.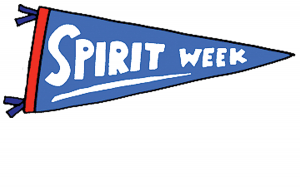 Spirit Week starts on Monday May 9th.  There is class competition to encourage all student to participate.  The Leadership class wants this to be the best week ever.  They hope all the students dress participate everyday.
Monday is Lazy Day! Remember dressing lazy does not mean being lazy in class 🙂
Tuesday is Twin Day! If you have not planned ahead, my guess is that there will be a few students wearing their PE shirts if you want to twin with them.
Wednesday is American Day! Bring on the Red, White, and Blue.
Thursday is Tie Dye Day! If you do not have any tie dye, I would check Goodwill for a shirt for a good price.
Friday is Disney Day! Mickey Mouse's Clubhouse might be coming to FRMS.
Dear Parents and Guardians,
As the weather warms up, the middle school staff deals with a lot more dress code issues. We recognize the current fashion trends sometime make it hard to buy your child clothes that meet the dress code.  Please know that we want to work with your child to help them find appropriate clothes to wear.  The staff tries hard to be consistent while looking at every situation individually. If your child is struggling to find clothes that meet the dress code, please contact the office and we will help. Here is the dress code taken from the handbook with three of the most common issues highlighted in red. Thanks again for all of your support at home.
Peter Barsotti
DRESS CODE
Dress should be appropriate for normal school activity. It should reflect pride and respect. Health and safety are also guides to acceptable school attire. The following are not acceptable school attire and should act as guidelines when choosing school clothes. Also school administration retains the discretion to determine if a garment meets this standard.
 Footwear is required at all times.


The torso of all students will be clothed at all times. If arms are raised above head and the torso is exposed, this is not acceptable.

 Excessive torn clothing will not be allowed. This includes jeans and/or shorts that are purchased with excessive tearing that exposes undergarments or bare skin when those tears fall above the tip of one's middle finger when the arm is extended down one's side.
 Clothing must be worn in an appropriate fashion. Pants worn in a sagging fashion will not be allowed. Waistbands of pants must be worn around the waist. Belts should be worn if pants will not stay up.
 Hair picks, combs, brushes, or bandanas are not to be worn.
 Cosmetic sunglasses will not be worn on the face or on the head in the building.


Any shirt that excessively exposes the underarms will not be allowed.

 Undergarments must not be visible.
 Wallet chains in excess of 12" will not be allowed at school. Other chains are not appropriate at school as well.
 Articles of clothing that cause excessive maintenance problems – for example: cleats on boots, shoes that scratch the floor, and trousers metal rivets that scratch furniture are considered inappropriate.
 Clothing may not advertise alcohol, drugs, or tobacco products, have inappropriate language or pictures or have a suggestion of violence. Garments that suggest a double meaning of lewdness, obscenity, or vulgarity are not to be worn.
 Clothing, hair styles, or make-up that disrupts the educational setting are not appropriate. (Except on school dress up days.)
 Excessive brief garments such as jogging shorts, halter tops, bare midriffs, net tops, spaghetti strap tank tops, or tank tops that reveal under garments, plunging neck lines, bathing suits, see through, strapless or backless garments are not appropriate.


Shorts or skirts are considered too short when they fall above the tip of one's middle finger when the arm is extended down one's side.
Students who choose to break this dress code will be asked to:
 Call a parent to bring new clothes for the rest of the day.
 Wear a shirt provided by the office.
 Wear sweatshirt or jacket throughout the day.
 Change into PE clothes for the remainder of the day.
Dear Parent/Guardian,
This post is to notify you of the upcoming presentation regarding birth control and sexually transmitted infections/HIV for 7th and 8th grade students.  Currently the presentation are scheduled for May 2nd and 3rd. The presentations will happen during science class and be presented by Planned Parenthood.  If you would prefer that your child not participate, please contact your student's science teacher (Mr. Stoe or Mr. Brown) and an alternative placement will be arranged for your child. Also, if you have questions about what will be taught, please contact your child's science teacher. You can contact the science teachers by calling the school or sending the teachers an email.
-Peter Barsotti, Principal, FRMS