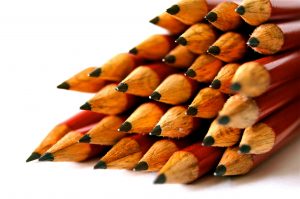 Fern Ridge School District is looking for 3 community members who are NOT officers, agents or employees of the district to serve on our budget committee.
The budget committee will begin work on the important job of reviewing our 2020-2021 budget soon.  Currently there are three open positions:
Position #2 (Term expires 6/30/2022)
Position #4 (Term expires 6/30/2022)
Position #5 (Term expires 6/30/2022)
While the time commitment is minimal, there are a maximum of three meetings in the spring of 2020, the contribution you would be making to the future of fern ridge students is invaluable.
To be eligible for appointment the successful applicants must live in the district and not be an officer, agent or employee of the district.  Applications are available by clicking HERE.  Applications will be received at the District Office until the positions are filled.
                                                                            For more information please call 541-935-2253 ext 1203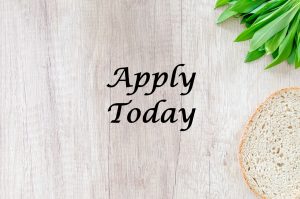 This post is intended to inform and remind folks about the free and reduced lunch program.  Please take advantage of it if you qualify, and if you are not sure, please fill out the application and find out!  It is a tremendous asset to our families and students.  As a reminder, if you qualify for Free or Reduced lunch, breakfast is ALWAYS FREE!  Alan Fullerton our food service director, in conjunction with  his staff, have been working hard to provide healthier and more made from scratch meal options.  Even if you don't use this service consistently, having the option of knowing that  your child can receive free breakfast on those mornings when you are running late, is a great deal!
There are two ways to apply.  Go to this link (click here) print off the application, fill it out and drop off in the front office, or go to this link (click here) and apply directly online.
As a final reminder, you must apply each year.  Those that were eligible in 18-19, remain eligible through September 2019, however beginning Oct 1st if you did not reapply, charges are accruing.  Get your applications in ASAP.  If you have questions, please do not hesitate to contact Renee Ota at rota@fernridge.k12.or.us or 541-935-8218 Ext 2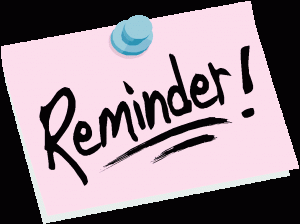 Fern Ridge Middle School and Elmira High School students do not have school Thursday, October 10 due to parent/teacher conferences.
Fern Ridge Middle School Conferences will be held Wednesday, Oct 9 from 4pm to 8pm (in the commons – no appointment necessary) & Thursday, Oct 10 from 8am to 12pm (in individual teacher classrooms – no appointment necessary.)
Elmira High School Conferences will be held Wednesday, Oct 9 from 4pm to 8pm (in the cafeteria – no appointment necessary) & Thursday, Oct 10 from 8am to 12pm (by appointment only – you can contact the high school office at 541-935-8200 or email your student's teacher to set up a time)
 Friday, October 11 is a non-school day for all district students due to a state-wide teacher in-service day.
Have a great weekend!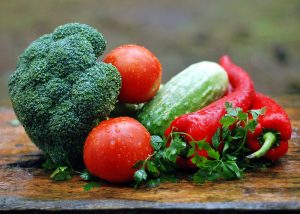 Students in Fern Ridge will begin to see changes in their breakfasts and lunches starting this month.
The food service program is renewing its focus on ensuring all pre-made items, such as chicken nuggets, are whole gran rich and nutritious (under USDA and ODE guidelines)
Fern Ridge students will notice the addition of several new made from scratch  lunch entrees throughout October which will incorporate more whole food ingredients in the meals.
If our students enjoy these new entrees we will look at adding them to our menu cycle throughout the rest of the year.  We will also be taking notes on what styles and concepts are more appealing with students and adjust our focus accordingly.
In addition to the made from scratch meals, turkey and egg breakfast sandwiches will be offered as a choice to elementary school students on Tuesdays and Thursdays to replace some of the higher sugar content breakfast options.
Also, the food service program, in conjunction with the District food advisory committee, have made some changes that reduce waste by eliminating the "single use packs" containing a napkin, straw, and spork moving instead to individual utensil choices.  In addition this group recommended eliminating chocolate milk at VES for the first month of the school  year.  This decision will be reviewed by the building ESSA team at VES, made up of staff and parents, to decide if they would like to continue with that model, return chocolate milk to both breakfast and lunch or simply eliminate it as a breakfast option.
We want to thank Chartwells, our food service provider; Alan, our food service director; and all of the food service staff who work hard each day to provide healthy food for our students!
Information for parents/families regarding the District Wellness Policy.
The policy can be found at:  http://policy.osba.org/fernridg/E/EFA%20G1.PDF
Every three years we do a triennial evaluation report, and post it to the website on the "District and State Reports" page:  http://www.fernridge.k12.or.us/?page_id=5734
Parents that are interested in becoming more involved in the district's wellness policy monitoring and implementation can contact building principals regarding becoming a member of the building ESSA teams.  These teams meet monthly at each building and discuss a wide range of topics, including the District Wellness Policy.
Congratulations to Mirka Chen, the FRSD October Employee of the Month! Mirka has worked as a teacher at Veneta Elementary School for the past nine years, at both the first grade and fourth grade levels. Before teaching at VES, she taught for eight years in Arizona.
Mirka's past students remember her fondly for the extra personal attention that she gives in addition to daily math and reading lessons. She has been known to miss her breaks and lunches so that she can take the time to connect with students in non-academic ways, such as teaching them to knit or paint. As evidence of the connections she makes with students, Mirka was invited to fly back to Arizona a few years ago to attend the wedding of one of her former students whom she had continued to correspond with throughout the years.
Besides reaching students in the non-academic realm, Mirka is also a top notch teacher and has attended many trainings over her career to strengthen her already solid teaching.  Mirka and her 4th grade teaching partner have beat the state average in mathematics on the state assessment tests by 8 percentage points for the past two years.
Mirka is also a team player both at the school and district level.  This year alone Mirka is on two district wide committees in addition to three school committees, including heading up the Safety Committee at VES. If anything needs to get done at VES, Mirka makes sure it happens. She stays late to make sure nothing is left undone, not just in her own classroom, but in the school as a whole.
Mirka's virtues don't end with her school life. Outside of school Mirka enjoys painting, gardening, and hiking. She also does most of her own home repairs in addition to partnering with her family in their commercial real estate holdings. She definitely leads a busy life and we're proud to call her our own!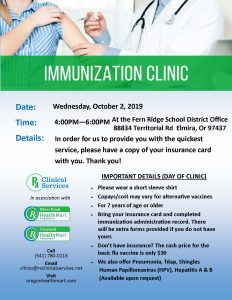 All kids (ages 7 & up)  families and community members are welcome to attend our October 2 flu shot clinic.  The clinic will be held at our district office (88834 Territorial Rd.)
Immunization Tips:
~Wear a short sleeved shirt to the clinic.
~Bring your insurance card (if you do not have insurance coverage the private pay cost for the basic flu shot is $30)
~Bring a completed Vaccine Administration Record (extra forms will be available on site)
~Immunizations are available for children ages 7 and up.
~Copays/Costs may vary for alternate vaccines.
Below are the links to the vaccine information sheets.  If you are interested in a vaccine other than the basic flu shot please RSVP to 541-935-2253 ext 1203.
CHILD CARE AVAILABLE!!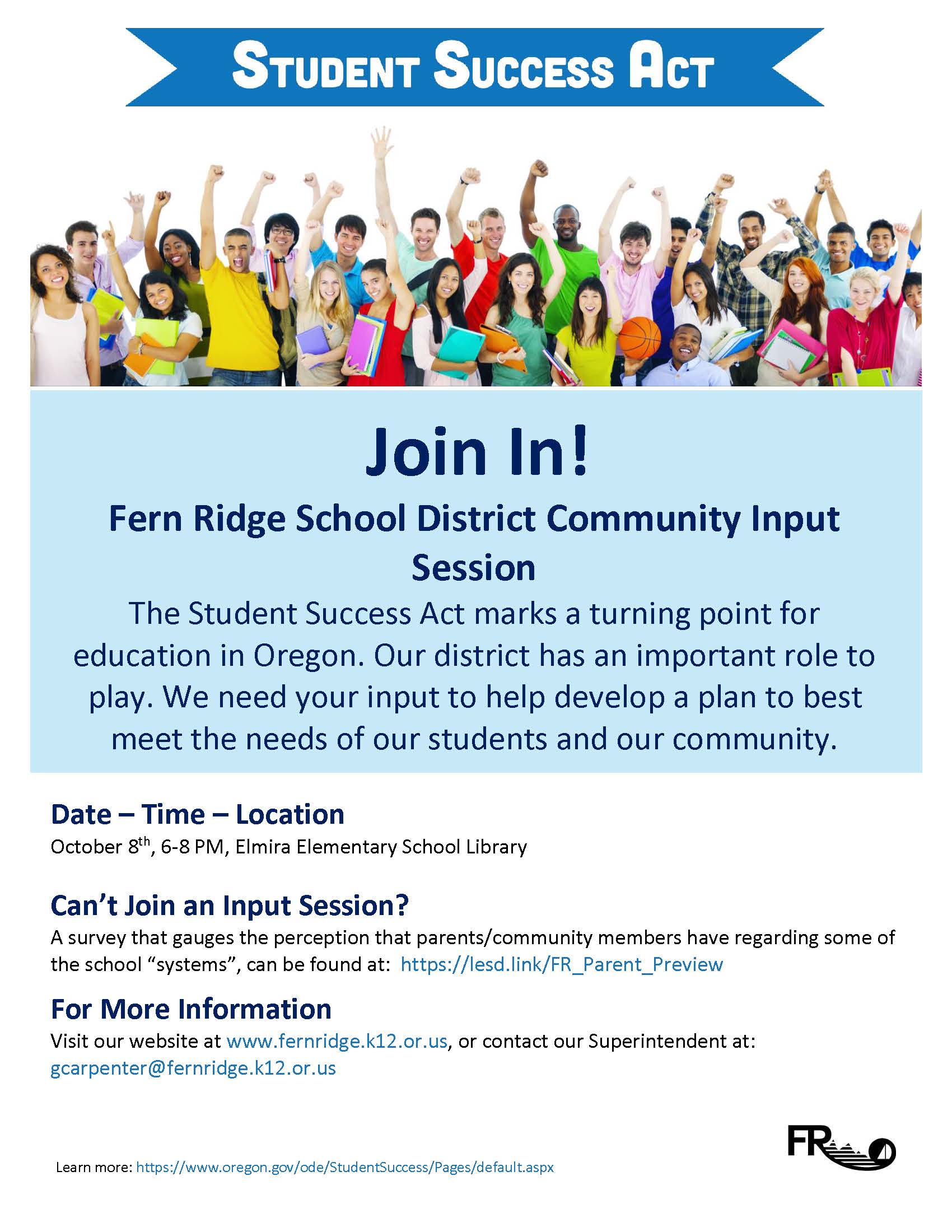 WE NEED PARENT, COMMUNITY MEMBER AND STUDENT FEEDBACK!
Signed into law in May of 2019, the Student Success Act is a game-changer for our schools!  As part of the Student Success Act, the Student Investment Account is non-competitive grant money for Oregon school districts.  The focus for these funds is on key areas for improvement — from reducing class size, increasing instructional time, addressing health and safety needs and ensuring a well-rounded education.  In order to apply for these funds, our district is required to meaningfully engage stakeholders!  We need ALL voices in this conversation.  The Fern Ridge portion of this allocation could be in excess of 1 million dollars.
The first and easiest way to get involved is to complete the survey, at the following link:   https://lesd.link/FR_Parent_Student_2019
The survey in translatable to Spanish through a drop down menu in the upper right hand corner.  Please take a few minutes to complete!
The second way to become involved would be to attend our Community Input Session.  The date for this is Tuesday, October 8th.  The exact time and location is yet to be determined.  As soon as we finalize this information, we will get it out.
Thanks for taking the time to participate and become involved in the future of Fern Ridge Schools.