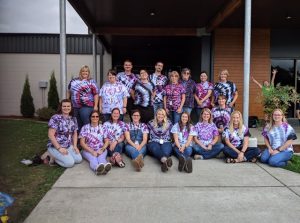 The VES staff took part in a fun team building experience last week, thanks to Tiana Povenmire-Kirk, our very own Fern Ridge School District School Board member. Tiana and her children taught our staff how to fold, tie, and dye shirts so we could all have fun VES spirit shirts to wear this year. Thanks to Tiana and thanks to the awesome staff at Veneta Elementary for showing us your creative side!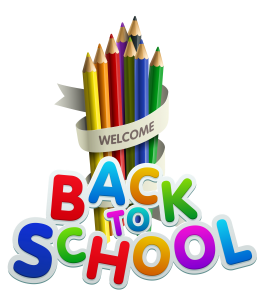 We can't wait to see all of you! School starts on Tuesday, September 3rd, for 1st-5th graders. Kindergartners will be participating in the soft start program the first week, then be joining us full time on September 9th. Doors open at 7:30am for breakfast and/or outside play and classes start at 7:55am. School is out at 2:25pm on M,T,Th,F, and 12:45pm for early release on Wednesdays.
See you soon-it's going to be a great year!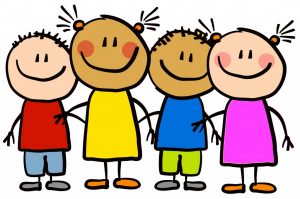 We will be posting class lists at 2:00 pm on Thursday, August 29th. Our classrooms will be open from 2:00-3:00 so students can see their new classrooms and meet their new teachers. Please keep in mind that teachers will still be in the process of getting rooms ready, so classrooms may not be entirely set up yet. We hope you can join us-if not, we'll see you next week!

Just a heads up that we have a big change in our front office this fall, as Lorie Haffner heads to Elmira High School to head up their front office. It's a great opportunity for her and we miss her already!
When you come to registration this week you'll be meeting our new office secretary, Becky Walton. Becky and her husband, William, are parents of twin boys who went through EES, FRMS, and are now freshmen at Elmira High School. Please join me in welcoming her to the Veneta Elementary family!
Veneta Elementary uses Remind for our text messaging services. Recently, Remind put a limit on their free service of 150 people for each class/group.  So instead of having one class/group for VES, we will need to break texts into grade level groupings. We are asking families of K-1 students to sign up for the K-1 grade class/group, families of 2-3 students to sign up for the 2-3 grade class/group, and families of 4-5 students to sign up for the 4-5 grade/class. If you have more than one student at Veneta Elemetary, you only need to sign up for one class/group, as everyone will be receiving the same messages. The old VES group can no longer be used and has been deleted. Parents who want to receive text messages from VES will need to sign up for one of the new groups. Sorry for the inconvenience!
Sign up as follows:
K-1 families: Text @vesk1 to 81010
2-3 families: Text @ves23 to 81010
4-5 families Text @ves45 to 81010.
This information will also be available at registration in the Communication Document.
Thanks and see everyone soon!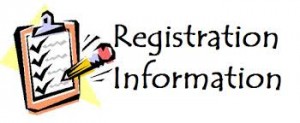 Happy summer everyone! Registration information letters were mailed out last week to returning students. Hopefully you received yours! Similar to last year, we have an online registration option for returning students this year. The letter that was mailed has your login information if you choose to register online. If you don't want to register online, you can always come in and fill out the paperwork during the normal registration period. Please remember that even if you register online you will still need to come in to the school to fill out transportation information and pay the school supply fee. It should go super quick if you've already done the online registration!
New Student and Kindergarten registration is also available online, through the Online Registration link. New students (and Kindergarten students) will need to drop in at registration to provide the additional documentation requested below.
WE CAN'T WAIT TO SEE EVERYONE!
Registration Dates for 2019-2020
Wednesday, August 14th (New students/Kindergarten) 7:00am to 7:00pm
Tuesday, August 20th (All students) 7:00am to 7:00pm
Wednesday, August 21st (All students) 8:00am to 3:00pm
Thursday, August 22nd (All students) 8:00am to 12:00pm
For incoming kindergarten and new students please bring:
Copy of birth certificate
Proof of residency
Current immunization data
Feel free to email me with any questions at lleatham@fernridge.k12.or.us.
Our office opens for the new school year on the afternoon of August 12th. Come see us or call us at 541-935-8225. See you soon!
August 5 – August 8, the Elmira Falcon Football Team and coaches will be hosting their Future Falcon Football Camp. Camp registration is August 5 at 5:30pm. Camp will be from 6pm – 8pm on the practice field. This is for incoming 2nd – 8th graders. The cost is $40 and checks must be made to EHS. Each camper will receive a camp t-shirt at the end. We will learn the basics of offensive positions, defensive positions, and tackling techniques. We also will play some fun games at the end of each day.  Visit the link below to see the camp flyer.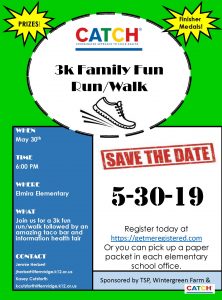 Please join us on Thursday, May 30 for a 3K fun run/walk at Elmira Elementary School!  The run/walk will be followed by a Taco Bar and Health Fair along with prizes and finisher medals!
Click here to Register online or pick up a packet from the office at Veneta or Elmira Elementary School.  The cost is $5 per student or $10 per adult.  View the registration link for more information on a family of four discount.
Thank you Territorial Sports Program, Wintergreen Farm and Coordinated Approach To Child Health (CATCH) for sponsoring this event!