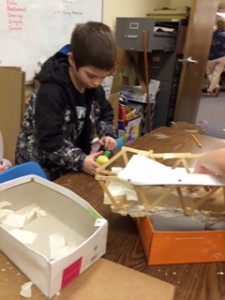 Did you know that both Elmira and Veneta Elementary have grants for TAG this year? Both schools received $5000 from the Chintimini Fund through Oregon Community Foundation to support education and opportunities for the high end learners in our elementary schools. At Veneta, several pull out groups offer enrichment lessons. These include: science, math, writing, chess club, and soon – art class too! Thank you to Chintimini for helping our gifted learners in Oregon and Fern Ridge and thank you to all of the teachers who lead these fabulous groups.
Does your child participate in a group?
What is Giftedness? This is a great article from the Hoagies website – a great resource for gifted education!
The Fern Ridge Talented and Gifted students
are busy with lots of exciting projects!
Last week we visited the airport with TAG students who are interested in engineering. We were able to learn all about airplane engines, try out a flight simulator, see the process of an airplane being made and check out the museum there. The students loved the enriching experience. Eyes were sparkling and brains were whirling.
A middle school girls book club is beginning this week. We will be discussing what it means to be a TAG girl together over snacks and fun. We will be meeting Wednesdays after school, from 1:00-2:00 at Elmira Elementary. We'll be reading Gifted Kids Survival Guide as well as various fiction books with gifted characters. We'll be doing some great self-awareness and community building activities.
There is also a group of students working together to write a local history book. They are busy researching local history to give information to writers to begin writing the chapters in the book. There is a group of students 2nd-12th grade working together to write one book. The management team is exciting to watch as they figure out how to successful work together to get a book written.