Community
Over the past 12 months, the District has been working with Orchid Health to bring a School-Based Health Center to the campus of Elmira High School.  If you have been to EHS in the past several months, you may have noticed the four large sections of a building sitting in the parking lot near the track.  We are currently in the land use and permitting process with the county and hope to break ground in early Spring to have the clinic open to the community by May/June 2021!
For all the details on this partnership, including how it will help our students and the broader Elmira/Veneta community, please read the press release below.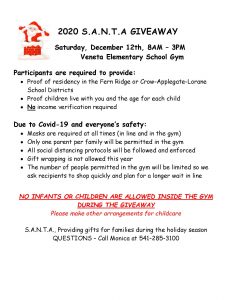 As we start into the cold and flu season I would like to remind everyone that it is important to keep students and staff  home if they show any symptoms of being ill. This is a good time to rethink being sick. "It is just a cold," "I don't feel well but I am going to work anyway." Do these sound familiar? Ever notice that when one person goes to work or school when they do not feel well, everyone around that person then gets sick also?
The following are symptoms of a viral illness:
🌡️Fever
🥶Chills
😔Fatigue (extreme tiredness)
😟Muscle or body aches (not related to exercise)
🤕Headache
😝Sore throat
🤧 Congestion or runny nose
🤭Cough
🤢Nausea or vomiting
😳Diarrhea
It is important to stay home if there are any symptoms of any illness. Remember the basics of preventing disease:
~Practice healthy habits which includes getting enough sleep 😴, drinking water 🥛 and eating healthy foods 🍎
~Get the flu vaccination 💉
~Cough into your sleeve or elbow 👍
~And most important; wash your hands or use hand sanitizer frequently 🧼
~Help the school community reduce the spread of illness this school year. 😷
Nurse Teresa
Hot meals are available in the Elmira High School cafeteria each weekday from 11:00-12:30.
The district has added four additional pick-up sites throughout the community for families to get sack lunches each weekday from 12:00-12:30.
The meals will be picked up and delivered by our bus/transportation staff to the following locations:
Noti Market Parking Lot
DS Mart/Farm Store Parking Lot
Fern Ridge Child Development Center parking lot, located at 25391 Jeans Rd.
5th & Woodland Ave. in Veneta
All you need to do is show up at one of these locations between 12:00 and 12:30,  give a last name, and you will receive both a breakfast and lunch sack lunch for any child 0-18. A REMINDER THAT ALL MEALS ARE FREE.
For the remainder of this week, the EHS pick-up site in the North (back) lot continues to be available from 11:00-12:30.
Beginning Monday, the district will be adding four additional pick-up sites throughout the community, in addition to the 11:00-12:30 EHS site.  Also, the EHS site will begin to serve HOT meals as well (cheeseburgers, chicken sandwiches, etc..).
The additional community sites will be serving cold sack lunches for 30 minutes each day, from 12:00-12:30.  The meals will be picked up and delivered to these locations by our bus/transportation staff. The four sites are:
Noti Market Parking Lot
DS Mart/Farm Store Parking Lot
Fern Ridge Child Development Center parking lot, located at 25391 Jeans Rd.
5th & Woodland Ave. in Veneta (UPDATED)
All you need to do is show up at one of these locations between 12:00 and 12:30 beginning Monday, give a last name, and you will receive both a breakfast and lunch sack lunch for any child 0-18. A REMINDER THAT ALL MEALS ARE FREE.
Another small group of students were able to come to school today at Veneta and Elmira Elementary!  Teachers welcomed this group of K – 3rd Grade students from 8:00 – 10:00 this morning.
We are excited to have some of our youngest students back in class.  Looking forward to seeing these students again next week!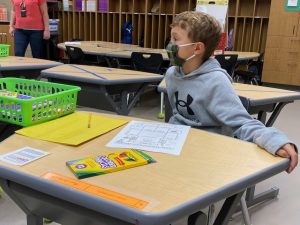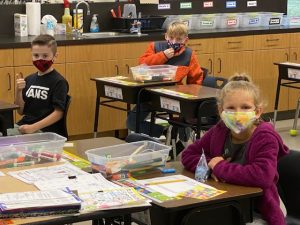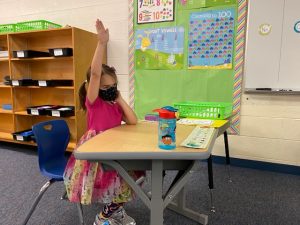 Today, half of our Kindergarten, 1st, 2nd, and 3rd grade students were finally able to come to school.  Students had two hours of instruction at Veneta and Elmira Elementary.  Our second group of K-3 students will be in for two hours tomorrow morning.   Our teachers loved having some of their students back in the classroom and had a few fun projects planned:
Kindergarten students started practicing names.  
                      Rylin is in 2nd Grade, she wrote a recipe and made Jitter Juice.
Blake, a 3rd Grader, got to start his meal worm project.
He named his worm Flash!
Parents, Students, Staff, and Community members,
Over the past few weeks, the punches seem to continue to come.  As we approach the start of the school year, in a variety of forms for our students next week, I ask for your continued patience and grace.  We began the technology roll-out today, and it has gone very well, but there are hiccups.  As we begin to meet with students next week, these "hiccups" will continue to arise, and challenges will continue to be thrown at us all.  Please remain patient and be prepared to show a high level of grace to those that are working hard for our students.  I have asked the same of our staff, in regards to having patience and grace with our students and families.  We all know you also are navigating this new environment and the stress level is high.  Thank you in advance, and please know that the impact the current situation is having on all of us, is certainly recognized and acknowledged.
Today I spent over an hour hearing from Superintendents from Mckenzie, Mill City, Santiam, Phoenix-Talent, and others who have had their communities decimated. They, like us, are within a week of starting school.  Many of their communities have had 50% or more of their students and staff lose their homes. Entire communities and neighborhoods gone.  Lives lost. Realities altered. Basic needs are going unmet. Unable to return to their communities for possibly weeks to come.
As we continue to move forward and navigate the upcoming challenges we are surely going to experience, a reminder that we have a lot to be thankful for in Fern Ridge.  Take care of yourselves, and reach out to the District if we can support you in any way.
Gary E. Carpenter, Jr.
Superintendent, FRSD 28J
As a reminder, the district holds a virtual google meet each Wednesday at 3:30.  These meetings can be accessed through the following link: https://meet.google.com/wro-ifnp-ans
Thanks to everyone that participated and asked great questions in our virtual meeting yesterday.  I mentioned that I would type up something today in response to questions I did not have the answer to or simply missed in the chat box.  Below are those 3 questions and answers:
1. Will traditional grading be used in 20-21 (or Pass/No Pass like in the Spring of 2020)?
The final answer to this might take a little more research/work.  In the ODE guidance, under the Assessment and Grading sections is where this is addressed.  Under the "required" segment of this guidance it states (among other things), that in hybrid or Comprehensive Distance Learning models, districts must "develop and implement an equitable grading policy."  Under the recommended section it states (among other things), "Use assessment to celebrate student strengths, identify needs, document learning as it progresses, and verify student performance in comparison to levels of expectation or proficiency."  To summarize, I would say this gives our teachers and administrators some flexibility and will be something that is decided in the coming weeks.  While grading scales and how we assess may be modified some, letter grades on a transcript are important for many reasons at the High School level so I would anticipate that to continue.  Having said that, know there will be more information to come.
2.  Was there a survey sent out for staff preferences (like the one given to parents)?
There was not.  The survey was given to the community and students, the people that all FRSD employees serve.  However, there was plenty of staff input, and continues to be, on how our staff will meet the needs identified by our community and students within our capabilities, as safely as possible, and in compliance with all the guidance we are receiving.  Our current "model" was what was recommended by the teams of certified, classified, and administrative staff (including M.S. and H.S. student representation) as a part of our re-opening committee that met at each level (Elementary, M.S. and H.S.).  Staff continue to be involved in sub-groups (and make decisions and recommendations) on a wide range of topics.
3.  Finally, there was one question that I missed answering the second part of.  It was around the topic of well-being and stress on staff and students. 
Support around this topic will be incorporated.  What that looks like exactly hasn't been determined.  However, we have a sub-committee (titled Social Emotional Health) who will be addressing this issue.  Luckily we began some mindfulness practice last year.  In addition, we have a district staff wellness committee whose work will look differently in 20-21. There are many resources on this topic, including a section on the ODE website at the following link: https://www.oregon.gov/ode/students-and-family/healthsafety/Pages/COVID19.aspx titled Mental Health & Social Supports.  Our sub-committee will be using these resources and as our teachers return to work it will be something that can be discussed at the beginning of the year at the building level as needs will vary.
Thank you to everyone for their participation, as additional questions arise, the best point of contact will be building administrators.  See you next Wednesday for the latest updates.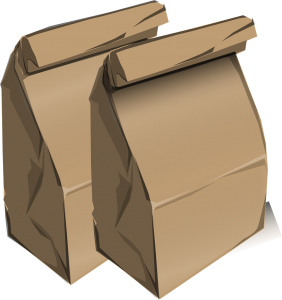 This Friday, June 12th, will be the last day of the FRSD provided meal service.  A big thanks to all the district and Chartwells staff that made this a success.
It appears that beginning Monday, June 29th through August 28th, Food for Lane County will be running a summer lunch program from 11:30-12:30 at Territorial Park.  As I get more definitive information and/or promotional materials on this it will be posted here.
Finally, a big thanks to all our families that utilized this service, your patience, and participation was greatly appreciated!