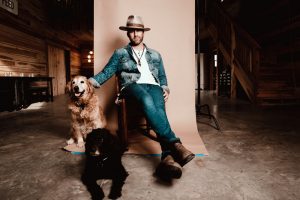 Fern Ridge Middle School is excited to announce that country music star Drake White will be performing via Zoom for FRMS Hybrid students as well as students in Options and Distance Learning.
The concert will be Wednesday, March 31st beginning at 2:00 PM. Drake will sing songs from his albums and talk to students about setting goals, perseverance, and overcoming adversity.  Drake has an especially impactful story to tell as in August 2019 he experienced bleeding in the brain and was hospitalized. As a result, he was temporarily paralyzed and went through extensive hospitalization, treatments, and rehab over the next year on his road to recovery.
The link for the concert will be posted in Google Classrooms including the FRSD Options classroom and the Plan Z classrooms on Wednesday. FRMS Hybrid A Block students who will be on their "At Home Learning" day on Wednesday can also join the live event via Zoom from their home using the links that will be posted in Google Classroom on Wednesday.
We want to thank Ms. Davis and Ms. Hohnstein who worked to make this special event for our students happen.