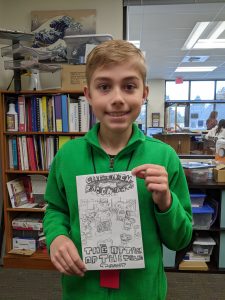 We want to celebrate the work of future graphic novel and comic book artist Jack Reid. Jack is a 6th grade student at FRMS. He has been drawing his own comics since he was in 2nd grade.
He is currently working on a set of comic books inspired by some of his favorite books, the Captain Underpants series by Dav Pilkey. Jack has created his own character, Captain Bacon Pants and plans to feature him in a series of 12 comic books. Each comic book features Captain Bacon Pants fighting crime against criminals like The Talking Toast. Jack writes and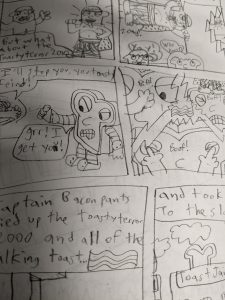 illustrates each comic book, including breaking the story down into panels. Jack says he creates the story in his head, maps how many panels he needs, and then draws and fills in each panel. When he grows up, Jack wants to write graphic novels and create TV shows.
When the 12 book series is complete, they will be available for students to read in the FRMS library.
Keep up the creativity and the hard work Jack. We look forward to seeing all that you will achieve.
To see a sample of Jack's work, click below: