Coming next week- FRMS Student Leadership will be holding a Teens and Tweens Gift Drive to help support the S.A.N.T.A. Project. The S.A.N.T.A. Project is a community project that provides toys and gifts to families in need in the Fern Ridge area. There is no income requirement, all that is needed is proof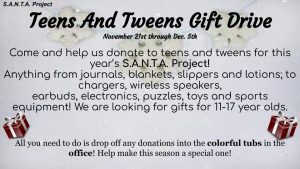 of residency and proof of each child's age. To help support this great cause, FRMS Leadership students will be collecting items aimed at teens and tweens or students between the ages of 11 and 17. This can be journals, blankets, lotions, electronics, puzzles, toys, or sports equipment. Anything that a teen or tween would be thrilled to get for the holiday. Students just need to bring in their unwrapped gift and put it in one of the tubs in the office.
The drive will start November 21st and end December 5th. Please add the FRMS Teens and Tweens Gift Drive to your holiday shopping list. Thank you!!!