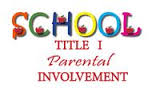 Title One Parent Meeting, September 25th 5:30 to 6:00:
Veneta Elementary receives federal funds to provide additional reading and math support to our students. We are required to hold a parent meeting annually to review our Title program with parents. We will be talking about parent involvement opportunities, how we provide extra help, and some of the plans we have for our Title program this year.
Our Title One Parent Meeting will be from 5:30 to 6:00  Thursday, September 25th at VES in the library.