A reminder that Friday (tomorrow!) is our last day of school and we have a 12:45 release time!
Have a safe, fun summer and we'll see you back here for registration in August. ♥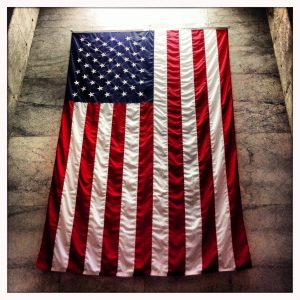 There is no school for students tomorrow, May 27 (teacher work sample day) and in observance of Memorial Day there is no school for students or staff on Monday, May 30th.
Hope everyone has a great (and safe!) holiday weekend.
A quick update on our current COVID situation —  we continue to deal with many staff and students testing positive for COVID-19.  We currently have over 30 folks out district-wide including 10 staff members who are sick.
One of the most impactful ways you can help us maintain in-person instruction is by keeping your student(s) home when they are are not feeling well.  We all need to come together and work to keep school open for these final three weeks. 
Thank you for your continued assistance and partnership!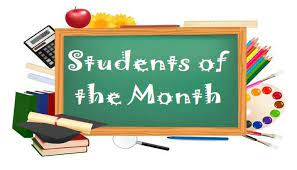 Congratulations to our May Students of the Month! These students were chosen because they demonstrate enthusiasm and positivity. Way to go!!!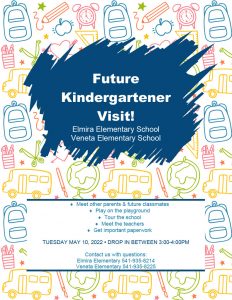 Kindergartener Visit Events:
Both Veneta Elementary and Elmira Elementary are hosting an in-person opportunity to visit your future school and get some info on Tuesday May 10th, 3:00-4:00pm!
Click here to open the pdf version
---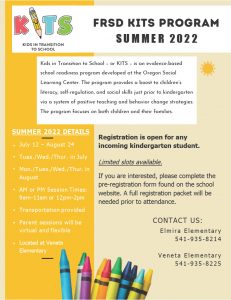 KITS Summer 2022 Program
Click here to open the pdf version
This year, KITS is located at Veneta Elementary for all students (regardless of which school you will attend in the fall).
Click here to sign up and pre-register. Space is limited so sign up soon!
Full registration packet – coming soon!
Hello FRSD Families,
This week we have had a significant increase in the number of known positive COVID cases in the District, in particular among staff at VES.  We are working on trying to stop the spread of COVID within the school community so that we can continue to offer in-person learning to all of our students.
Your assistance in the effort to slow the spread in our classrooms is needed:
Please do not send your child to school if they are sick.
Masking in schools can also be helpful in slowing the spread of illness.
 Please talk with your child to decide if masking is an option for your family.
With upcoming events in all of our buildings (talent shows, book fairs, and more…) there will be a great opportunity to show your effort by practicing social distancing and mask-wearing.  A little extra effort today may mean the difference between in-person learning or online learning in the coming few weeks.
We have made it this far without losing a single day of in-person instruction in the 21-22 school year.  Your help and support is needed.
Thank you for your ongoing effort and support of our school community.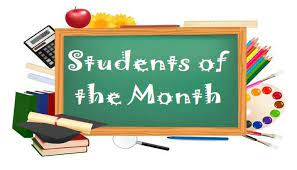 Congratulations to our Veneta Elementary Students of the Month! We're proud of you!
As we continue forward this school year, it is already time to start thinking about planning activities and finalizing budgets for next year!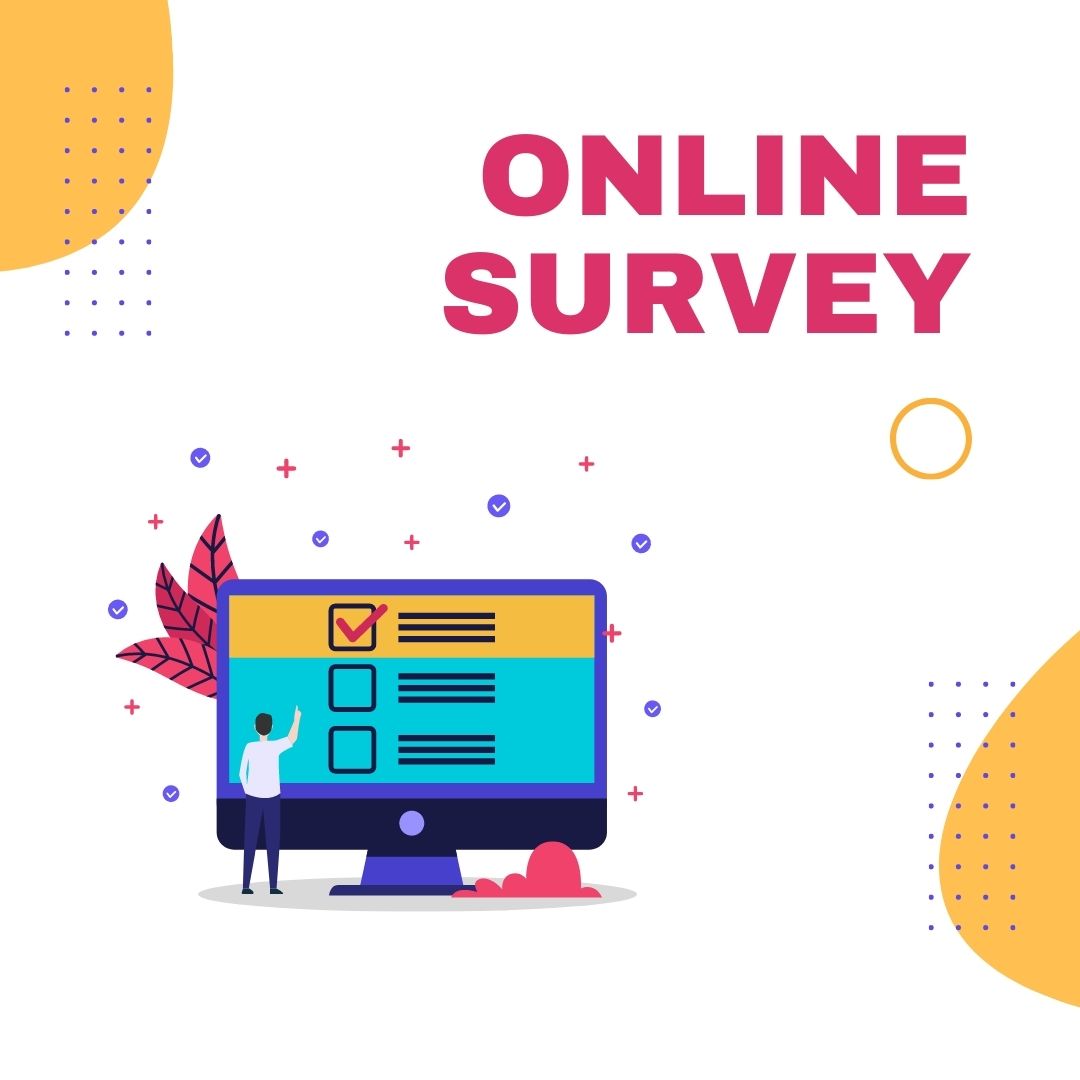 We are asking for our families, staff, and community members to share their input and ideas so that we can build on our past engagement efforts.
Your input helps to guide the planning, direction, and priorities for using Student Investment Account funds.  We will also use this data to make sure our goals are aligned and that we are hearing  perspectives from multiple stakeholders.
Stay tuned— Over the next couple of weeks, the district will prepare its plan for the funds, and share with stakeholders. Continue to check the website for updates!
Please take a few moments to complete the survey below by April 15th:
Thank you so much and we appreciate your time!
Please feel free to reach out if you have any questions, concerns, or would like more follow-up information.
Michelle Marshall
mmarshall@fernridge.k12.or.us
541-935-2253
Click below for our March Students of the Month. These students were chosen for demonstrating patience.
Congratulations!