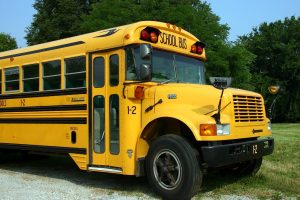 Bus routes have been updated to reflect the new return to learn schedule for Kindergarten, 1st grade and the students in each grade level who were notified.
Click here to access the updated route schedule
If you have any questions about the new schedule please reach out to the bus barn at 541-935-1969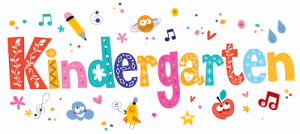 Here are some helpful links as you're getting ready to enroll your child for kindergarten:
Kindergarten Pre-Registration/KITS Interest Form
2021-2022 FRSD Kindergarten Online Registration
Kindergarten Information Night Slideshow
AND…..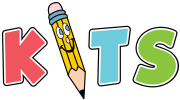 The FRSD KITS Program is back for Summer 2021!
KITS will be in person from July 13th-August 25th: 3 days a week in July; 4 days a week in August
AM & PM Session Times Available: 9-11 & 12-2
Transportation Provided
Parent Sessions will be virtual and flexible
Call Veneta Elementary at 541-935-8225 for more information

 A reminder that our VES Kindergarten Information Night Zoom is TONIGHT, April 15th, from 6:00-7:00pm. You'll get to meet our kindergarten teachers, see some pictures of the school, and hear what our sweet kindergarten students do during the day while at school. We hope to see you tonight!
Join the Veneta Elementary Kindergarten Information Night Zoom:
https://fernridge-k12-or-us.zoom.us/j/81943748049?pwd=Y1RraEpVZWQrZkRORno1eVBZWFNVdz09
Meeting ID: 819 4374 8049
Passcode: 023661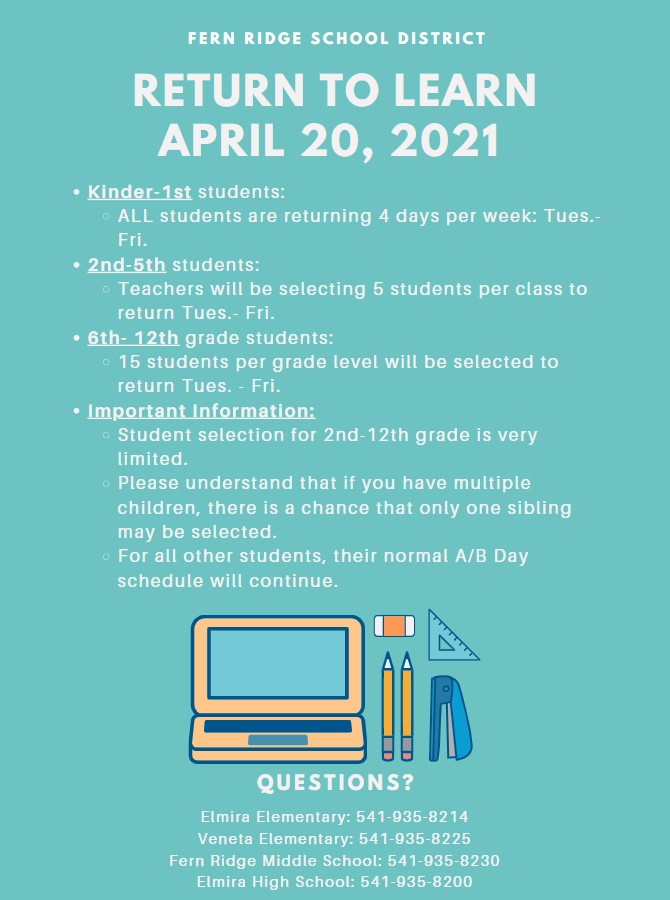 A huge thank you to all the community volunteers who came out Saturday to get the ball fields at Veneta Elementary ready for play. Donations of trucking, excavation work, dirt, and much more made this a VERY successful day.
Big thanks to JT Excavation, Delta Sand and Gravel, Alan Jeffers Trucking, B&R Sheet Metal, TSP, PALS, lots of parents, and some very helpful kids for making this day happen! 
As many FRSD families may have heard by now, the U.S. Department of Education recently denied the Oregon Department of Education's request for a waiver of summative testing for the 2020-2021 school year. Due to this decision, the Fern Ridge School District is currently beginning the process of readying our staff and students for state assessments.
ODE's window for state assessments is April 13-June 11, however, each individual school will set their own testing dates within that window. Due to the nature of this school year, ODE has shortened the blueprint and the time each assessment takes, as well as reducing the number of required assessments at each grade level. The table of required assessments, optional assessments, and approximate test time frame is below. All students will have the opportunity to take all available grade level assessments.
If families do not want their child(ren) to participate in state assessments this year, the link to opt-out of the Math and ELA assessments is below. Please fill out and return to your child's school as soon as possible. They will be accepted until the day before testing begins (dates vary by school). Science has a separate student exemption procedure. See note below for an explanation of that process. If you are not opting your child out, your child will participate in the required (not optional) state testing with their grade level. If you wish for your child to participate in the optional assessment opportunity, please contact your child's teacher and/or school.
Thank you for your continued support!
Oregon Department of Education Summative Assessment Administration Information:
| | | |
| --- | --- | --- |
| Grade Level | Required Administration (except students opted-out of ELA and/or Math per ORS 329.479 or exempted from Science per OAR 581-021-009) and Approximate Testing Time per ODE (Hrs: Min) | Additional (Optional) Assessment Opportunity and Approximate Testing Time per ODE (Hrs: Min) |
| 3 | English Language Arts (ELA) (1:10) | Mathematics (1:00) |
| 4 | Mathematics (1:00) | ELA (1:10) |
| 5 | Science (1:20) | Mathematics (1:00)ELA (1:10) |
| 6 | ELA (1:10) | Mathematics (1:05) |
| 7 | Mathematics (1:05)ELA (1:10) | N/A |
| 8 | Mathematics  (1:05)Science (1:20) | ELA (1:10) |
| 11 | ELA (1:00)Mathematics (0:50) | Science (1:30) |
Opt-Out Link for ELA & Math Assessments:
https://www.fernridge.k12.or.us/?page_id=6919
If choosing to opt-out your child from state testing, please fill out and return to your child's school before the start of the testing window (as designated by your child's school).
Information on Exemption from Science Assessment from ODE's Website:
Oregon Administrative Rule (OAR) 581-022-1910 allows school districts to excuse students from a state required program or learning activity, including state testing, to accommodate a student's disabilities or religious beliefs. This rule governs exemption requests for the state tests in Science and Social Sciences, the English Language Proficiency Assessment (ELPA21), and the Kindergarten Assessment.
Are there eligibility requirements? Yes. Parents may request exemptions under OAR 581-022-1910 based on the student's disability or religion.
What is the process for a parent to make this request? The authority to exempt students from state testing belongs to local school districts. In order for a school district to excuse a student from testing under Oregon law, the student's parent or guardian must submit a written request to the school district listing the reasons for the exemption and proposing an alternative individualized learning activity for the student that meets the same goals that would be accomplished by participation in state testing. Appropriate school personnel must evaluate and approve the parent request.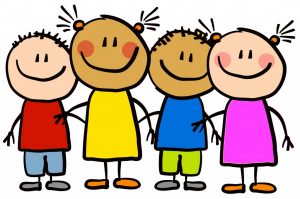 Veneta Elementary School's Kindergarten Information Night is Thursday, April 15th, from 6:00-7:00pm
We will be holding our information night in a virtual format this year, and we hope you'll join us!
Our virtual meeting will provide you with all sorts of details about Veneta Elementary-from our curriculum, to our school schedule, to everything else you can expect when you enter our doors. We can't wait for you to meet our kindergarten teachers and see their classrooms, as well as see videos from around our school. At the end of our night's presentation we will have a Q & A with our kindergarten teachers: Ms. Bliven, Mrs. Connolly, and Mrs. Peirce.  If you have any questions before or after the information night, feel free to call the VES office at 541-935-8225. We'd love to answer your questions and talk to you about our awesome school!
We're looking forward to seeing you on April 15th at 6:00pm!
VES Kindergarten Information Night
Apr 15, 2021 06:00 PM
Join Zoom Meeting
https://fernridge-k12-or-us.zoom.us/j/81943748049?pwd=Y1RraEpVZWQrZkRORno1eVBZWFNVdz09
Meeting ID: 819 4374 8049
Passcode: 023661
Our VES picture day(s) will be Tuesday, March 30th, for A day students and Friday, April 2nd, for B day students. Options students also have an opportunity each day to get pictures taken. Options student times are: Tuesday, March 30th, from 8:30-9:00am and Friday, April 2, from 11:00-11:30am. Come to the office and we'll get you taken care of!
Picture packets are going home this week with in-person students. If you'd like to order online before picture day you may do so at: 
https://my.lifetouch.com/mylifetouch/#/
Picture Day ID: EVT2G324X