Employee of the Month
None of us at FRSD could do the jobs that we do without the support of our maintenance, facilities and custodial staff.  These men and women keep our schools clean, safe and maintained.   While some of us are off for Winter Break these folks are working hard to ensure every building in our district is being taken care of.
We would like to honor two individuals who are a critical part of this team
Jeff Thiessen has been the with Fern Ridge School District since 2004 and has been our Director of Maintenance since 2008.  Jeff spends his days doing a large variety of tasks that might include concrete work, carpentry, plumbing, water testing and just about everything in between.  When he is not keeping our schools looking great and functioning for students he enjoys spending time with his wife, three sons & daughter-in-laws and is a proud Opa to four grandchildren.
Jeff enjoys being outdoors, hunting and his wife tells us that he can craft "really cool things – mostly with wood."  She also let us know that he does not like clutter, cucumbers or being stuck inside.   He is really good at problem solving which is a skill that he uses almost daily in his job with Fern Ridge.  We appreciate Jeff and the great job he does helping to take care of our district.
Mike Mazzei has worked in Fern Ridge School District for 4 years.   The Mazzei family is well known within the district as Mike's brother is a current employee and his dad recently retired from the custodial crew.  Mike spends his day working
with Jeff in maintaining our school grounds.  He takes a lot of pride in his work and is always willing to go the extra mile for staff no matter how big or small the request.
When he is not at work Mike participates in cross-fit and works on his property in Noti.  He is also a talented multi-media producer, video editor and a certified Apple/Mac guru!  He takes on any challenge that comes his way and always goes above and beyond in his work.
Our district is fortunate to have Mike and Jeff on our staff and we want to thank them for the hard work and dedication they give to our students and staff every day.
Congratulat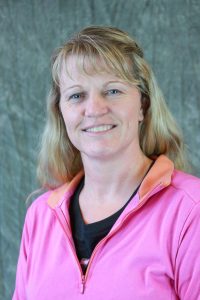 ions to our November Employee of the Month: Colette McBride!
Fern Ridge Middle School has been lucky to have Mrs. McBride as a Physical Education Teacher for over 10 years.  She is always willing to lend a helping hand and serves on the Fern Ridge Middle School Leadership Team as well as the Fern Ridge Middle School Climate Committee.
Mrs. McBride exemplifies the active lifestyle that she loves to teach to her students; she is an avid bicyclist and often rides 25 to 50 miles each day on the roads around Fern Ridge.  She also goes on hikes and enjoys being outside in nature which includes camping trips with her husband, son and two dogs, Ziggy and Jax.
Her son, Keegan, who is also a student at FRMS, wanted everyone to know that his mom is a great gardener and is currently growing strawberries and raspberries.  He also let us know how much his mom loves chocolate but not necessarily raspberry ice cream or any combination of raspberry and chocolate.  Thanks for the tip Keegan!
Fern Ridge School District is fortunate to have such a great addition to our staff.  Congratulations Mrs. McBride!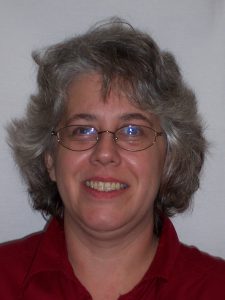 Fern Ridge School District is pleased to announce Delise McCormick as our September 2017 Employee of the Month!  Delise joined our staff in 2011 and has been a valuable asset ever since.  She has served as a Special Education Instructional Assistant at Veneta Elementary and this year will be supporting students at Elmira Elementary. In addition to her duties as an Instructional Assistant, Delise has taken on the role of FRSD Kids In Transition to School (KITTS)  Lead Teacher.  This is the second year that she has worked tirelessly over the summer to help prepare over 40 students for kindergarten.  Not only is her passion for children evident in everything she does at our schools but it also extends to our community.  She loves being with her family and recently hosted 2 exchange students from Japan.  She is an active member of the Fern Ridge Community and in her spare time is  known to paint, decorate and hide rocks throughout Veneta.  Please join us in recognizing the positive attitude and caring nature that Delise brings to us.  Congratulations Delise!