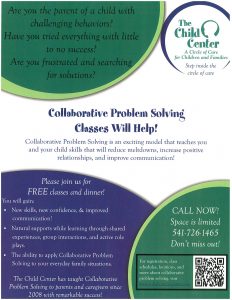 The Child Center is presenting a series of four classes for parents on collaborative problem solving.  Collaborative problem solving is an exciting model that teaches you and your child skills that will reduce meltdowns, increase positive relationships, and improve communications.
Parents with a child in elementary or middle school will find the strategies used in collaborative problem solving useful and effective.  If you are struggling with your child's challenging behaviors or are frustrated and searching for a more effective way to manage your child's behavior, then collaborative problem solving could be the solution you are looking for.
The classes will be held at Elmira Elementary School from 6:00pm to 7:30pm starting on Thursday, October 25th.  Dinner will be served and childcare provided during the class.  This class is offered at no cost to families.
Please call 541-726-1465 to register – space is limited!
Just a reminder that Parent Teacher Conferences for Fern Ridge Middle School and Elmira High School students are scheduled for Wednesday, Oct 10 from 4:00pm-8:00pm and on Thursday, Oct 11 from 8:00am to noon.  There is no school for FRMS or EHS students on Thursday, Oct 11.  (Elementary students are in session on Oct 11.)
Friday, Oct 12 is State Teacher In-service Day – No school for all students.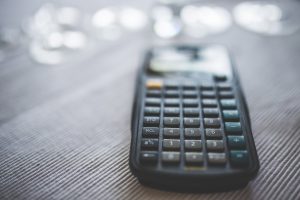 The Fern Ridge School District is currently accepting applications to fill two vacant Budget Committee Positions:
Position #3  (Term expires 6/30/2021)
Position #4  (Term expires 6/30/2021)
To be eligible for appointment the appointive member must live in the district and not be an officer, agent or employee of the district.  Applications are available by clicking HERE.  Applications will be received at the District Office until the positions are filled.
                                                                            For more information please call 541-935-2253 ext 1203
Lane County Public Works wants to be sure that parents have a voice in potential herbicide use near school bus stops.  You can enroll your child's bus stop into the No Spray Area program by filling out a short form available on the Lane County website at www.lanecounty.org/vegetation or by calling 541-682-8521 to request a paper application.
School Bus Stop No Spray Letter
Do you like working with young children?  Do you want to help support families with children from birth to six years old? Do you want to make a difference in the Fern Ridge Community?
Fern Ridge School District is seeking a Family Resource Coordinator to run their Family Resource Center.  The Fern Ridge's Family Resource Center provides outreach and support to families of children who aren't yet in school.  This includes weekly "play" groups to build literacy, numeracy and social skills training in 3 to 4 year olds as well as parent education activities.  The Fern Ridge Family Resource Center is located at the Fern Ridge Middle School, but this position will be actively working at both elementary schools, collaborating with administration and working with staff to identify students and families in need of support.  Candidates should have good organizational and clerical skills.  The position is 15 hours a week during the school year with flexible hours.  Pay range is $14.75 to $15.25
Please visit this link for more information on how to apply for this position: Family Resource Center Coordinator – Part Time Position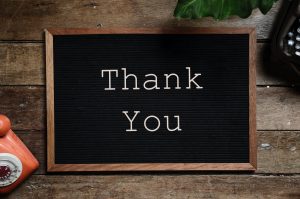 Today is national custodians day!    https://nationaldaycalendar.com/national-custodial-workers…/
Thanks to all the custodians in the Fern Ridge School District that work hard daily in our schools! Greg Baker, Victoria Thoms, Robert Gordon, Pete Mazzei, Ron Wagner, Michael K. McLaws, Michael D. McLaws, Chris Rice and Heidi Kinch.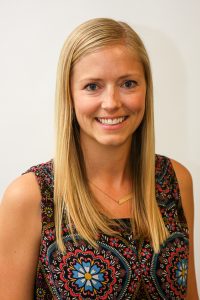 Congratulations to Rachel Frede, our October Fern Ridge School District Employee of the month!  Mrs. Frede has been a teacher for 10 years with 6 of those years being with FRSD at Elmira Elementary School.
Mrs. Frede is married to Mike Frede and they have three amazing kids, Jackson (13), Eleanor (2) and Leo (10 months)  In her spare time she loves being with her family, traveling and is an avid runner.  She has completed multiple marathons, including the Boston Marathon in 2013 and is currently training for the Silver Falls Half Marathon.
She explains that her favorite part about her job is watching her students love for learning grow and expand and being their guide through this process.  She also values building strong relationships with students.  Her classroom community is a place where both she and her students learn and grow together each year, "They challenge and inspire me just as much as I do them.  They keep every single day interesting!"
For the 2018/2019 school year, Mrs. Frede teaches a blended classroom.  This means that each day she prepares to teach all subject areas in both 2nd and 3rd grade.  Some of what she teaches is easy to prepare for all of her students but other skills are specific to each grade level.  Math is an example of a subject that requires planning and preparation for both grade levels along with collaboration with other EES 2nd and 3rd grade teachers.  She serves on the Elmira Elementary School Math Committee and loves to make math fun and challenging for other teachers and all of the students.  She also works on the annual talent show that Elmira Elementary Students present each year.  Thank you Mrs. Frede for your dedication to all of your students and best of luck in your half marathon!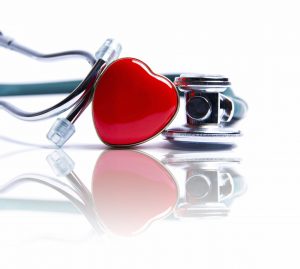 We are in need of donors!  The Elmira High School Blood Drive is Tuesday, October 2 from 8:30am to 1:30pm in the auxiliary gym.
Anyone is welcome to donate and you can sign up with any National Honor Society student by emailing Mrs. Hunt: khunt@fernridge.k12.or.us or online by visiting www.redcross.org and using sponsor code: ElmiraHS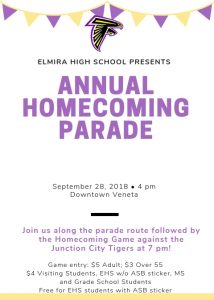 It's Homecoming Week!  Students are busy decorating hallways, planning their Homecoming Assembly and preparing for the Annual Homecoming Parade this Friday, September 28th at 4:00pm.
The parade route begins in the parking lot near Cup of Joe and will make its way through downtown Veneta before finishing at the high school.  Come join our students, staff and community members in support of our Elmira Falcons as they take on the Junction City Tigers!
Homecoming Parade – 4:00pm ~  Football Game – 7:00pm
                  Go Falcons!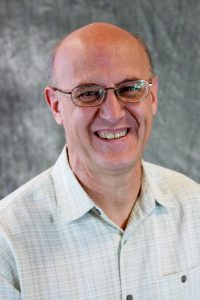 Mr. Greg Baker has worked in the district since 1998 and recently received his 20 year service pin!  He was also awarded the 2018 Distinguished Confidential Employee for Fern Ridge School District.  He first started with the district as a substitute custodian and then worked his way up to his current position as Director of Facilities.   He oversees the custodial crew and the interior maintenance of all Fern Ridge School District buildings.  Work for our custodians continues year round and while most of us are enjoying our summer, spring and winter breaks, Mr. Baker and his crew are busy re-surfacing gym floors, cleaning lockers, deep cleaning carpets, painting and doing the thousand of other tasks that enable our district to function.
Mr. Baker along with his wife Janet (who also works for the school district) and their four children are all Elmira High School graduates.  The next generation of Bakers have arrived in the school district with 3 of their 7 grand children attending Elmira Elementary.
When Mr. Baker is not working you can usually find him spending time with family or adventuring abroad with his wife Janet (they traveled to Panama in 2017.)  He is also an avid reader and enjoys hiking; often planning hikes of 50 miles or more! He approaches his job with a high amount of integrity and is always willing to go the extra mile for staff even if it means working longer hours to get the job done.  His dedication to the staff and students of our district is appreciated and we are excited to honor Mr. Baker this month.