Fern Ridge School District will be hosting an Open House and Ribbon Cutting on January 19th from 6:00-7:00 p.m. Please join us in our new Elmira Elementary School, 88960 Territorial Road, Elmira, OR 97437. The evening will begin outside of the school where School Board Member, Twinkle Morton and students, will cut the ribbon and lead the way to the gym. There will be a short greeting from Gary Carpenter and Michelle Marshall. The grand opening will be a wonderful opportunity for families, community members, and friends to explore the beautiful new building and learn more about the design and layout.
In addition, Elmira High School will be "open" from 6-7 for any community members that would like to tour the new lobby and facilities that have recently been completed.
FRSD IS on a 2 hour delay. Regular routes.
Buses on snow routes, a.m. and p.m.
The Fern Ridge School District joins the other 196 school districts throughout Oregon to celebrate January as "School Board Recognition Month".
Our school board members spend countless hours of unpaid time working to provide the best possible education for our students.   Celebrating School Board Recognition Month is one way to say thanks for all they do.
School board members represent their fellow citizens' views and priorities in the complex enterprise of maintaining and running the community's public schools.
Even though we are making a special effort during January to show appreciation for our school board members, we recognize their contributions reflect a year-round effort on their part. They are dedicated individuals who are committed to improving student achievement and to fighting for the best for all of our students.  Please join us in thanking Twinkle Morton, Andrea Larson, Craig Soderberg, Sterling Pew, and David Bolton for all they do for Fern Ridge School District.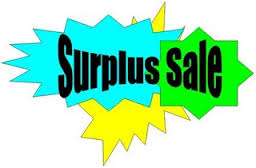 Fern Ridge School District 28J
Old Elmira Elementary School Gym
88960 Territorial Rd, Elmira OR
Saturday, January 14, 2017
9:00 a.m. – 3:00 p.m.
Items include: Student & teacher desks, chairs, tables, storage cabinets, file cabinets, bookshelves, books, pianos, globes, lockers, photography equipment, kitchen equipment, fish aquariums, tools, commercial mixer, computers, kiln, and more!
All items sold as is. All sales are final. All items removed at time of purchase.
Cash/Debit/Credit Cards Accepted.
Regular start time. Buses on snow routes in a.m. and p.m.
In the coming weeks, the FRSD will be discussing how to add back these days that we have lost.  We hope to have a decision soon, so that our students and families are aware and can plan appropriately. The first formal conversation will take place at the board meeting scheduled for next Tuesday, January 17th at EHS.  In our final calendar for 16-17 (which can be seen at the following link: http://www.fernridge.k12.or.us/wp-content/uploads/2016/05/2016-2017-Calendar-Adopted.pdf) potential weather make-up days were built into the calendar that extended the school year by a week.
As soon as a decision is made, we will be sure to get the information out.  Any potential days being added back, will NOT alter the High School graduation date.  The EHS Class of 2017 graduation is set for June 9th.
FRSD is on a 2 hour delay with buses on snow routes. Will update in 2 hours.
The FRSD surplus sale scheduled for today at EES has been cancelled due to the ice storm. It is rescheduled for next Saturday, January 14th.