From the main FRSD webpage: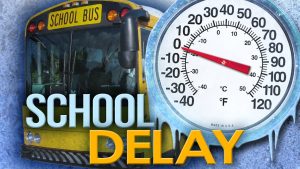 Out of an abundance of caution, the School District in consultation with First Student, is announcing a 2-hour delay for tomorrow, Tuesday the 14th.  Typically we will wait until the morning when the weather pattern is uncertain, however Accuweather is showing an  "expected" pattern in the morning that is problematic.  At 4AM It is expected to be 32 degrees, and then get cooler as follows:  5 AM:  31 degrees, 6 AM: 30 degrees, 7 AM: 30 degrees, 8 AM: 29 degrees.
When the driving conditions turn dangerous after 5:30 or 6:00 AM, it is difficult for the District to change course as parents and students are expecting buses to be there to pick up students.  While there certainly is the opportunity for the roads to be fine in the morning, the District will be operating on a 2 hour delay–based on the forecast and roads that are currently very wet.  Any changes or updates will be shared here.  Please pass along this information.  A phone dialer will go out this evening to all families and FRSD staff.