Do you have or know a child that will be in

kindergarten

next year (age 5 by September 1st)?!
Check out below for some important info – spread the word!
---
Future K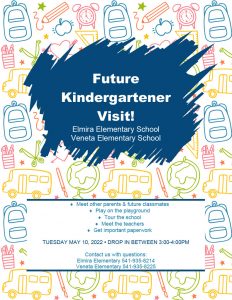 indergartener Visit Events:
Both Elmira Elementary and Veneta Elementary are hosting an in-person opportunity to visit your future school and get some info on Tuesday May 10th, 3:00-4:00pm!
Click here to open the pdf version
---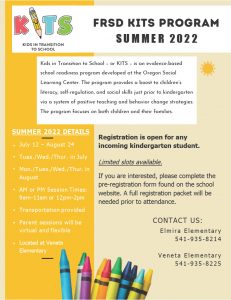 KITS Summer 2022 Program
Click here to open the pdf version
This year, KITS is located at Veneta Elementary for all students (regardless of which school you will attend in the fall).
Click here to sign up and pre-register. Space is limited so sign up soon!
Click here for the full registration packet. Printed copies available at both school offices. Return to either school office when completed.