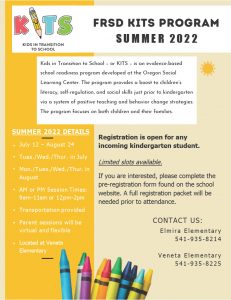 KITS Summer 2022 Program
Click here to open the pdf version
Haga clic aquí para abrir la versión en español
This year, KITS is located at Veneta Elementary for all students (regardless of which school you will attend in the fall).
Click here to sign up and pre-register. Pre-registration is now closed. We still have slots available! Print the registration packet below or pick up a printed copy at either elementary school. Completed packets can be turned in to either school.
Click here for the full registration packet. Printed copies available at both school offices. Return to either school office when completed.