Join us on Thursday, September 23 from 6:00-7:00 pm to learn more about the what it's like to work in the Fern Ridge School District!
Click here for the Zoom link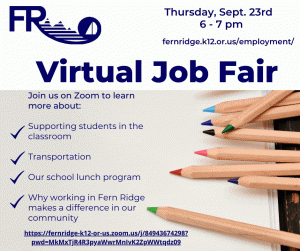 Beginning Monday, September 20th, FRSD Superintendent Gary Carpenter will hold community Q and A Sessions be from 5:30-6:00 PM.  These will occur every month, on the night of the FRSD School Board meetings (typically the 3rd Monday of the month), for as long as they are helpful and utilized by the community.  Each month there will be 5-10 minutes of information shared by the the District, followed by approximately 20 minutes of available time for those in attendance to type questions in the chat. We hope in future months the district will be able to present information on a wide range of topics, however this first meeting will probably be focused on all things COVID-19, although questions on any topic will be accepted. Any questions we don't have immediate answers to will be followed up with the following day.  We hope our families find this useful, please share this with your family and friends.  The link for each meeting will posted on the website as they approach.  The link for Monday's meeting is: https://fernridge-k12-or-us.zoom.us/j/88212696504
Over the past few months and as recently as this last week, you may have seen news stories about disruptions in the supply chain across the country, resulting from effects of the pandemic. Industries, including food and foodservice, as well as construction and automotive, have been impacted by manufacturing and labor shortages across the country in ways that we've never experienced before.
Students and families can continue to count us for great-tasting meals kids love to eat every day, but as you may have already seen, there will likely be more frequent menu changes based on product substitutions from our suppliers.
Understanding these supply chain challenges will likely continue for the next several months, we wanted to reach out and let you know we're doing everything we can to proactively address issues before they inevitably arise. Working in partnership with Foodbuy, our group purchasing organization and the largest procurement organization in North America, some of the proactive steps we have taken, include:
We have changed our ordering schedules to allow distributors more time to identify new sources for out-of-stock products in the event it occurs.
We've identified alternate suppliers and products where we found that existing ones wouldn't be able to meet our needs. For example, we learned our previous supplier for pizza dough would not be able to commit to serving our schools, so we contracted with a new one that can.
In June, we planned menus for this fall and began placing orders for food at that time. This process was designed to help suppliers and distributors plan well ahead for stock we need to serve kids now.
If there's one thing the past 18 months has proven, it's that flexibility is in our DNA. From turning cafeteria operations into emergency feeding programs overnight when the pandemic hit to serving kids in classrooms and through meal-kit pick up sites through the past school year, our team is passionate about the meals we serve your students and they're skilled at quickly adapting to ensure that kids are always fed.
One additional note for families with students who have allergies: please remind your child to be sure to check with the cafeteria manager regarding product substitutions that may not be reflected in the menu posted. We will make every attempt to update Nutrislice in real-time, but out of an abundance of caution, please do not solely rely on the digital nutrition panels to accommodate allergies or medical conditions.
FRSD families,
It has become clear in the last 72 hours, that COVID-19 is running wild in our community.  Most of the cases are a result of students being close contacts OUTSIDE of school, and being forced to quarantine, OR catching COVID-19 from off-campus events or family members, and testing positive a few days later, with or without symptoms, thus requiring isolation for the individual, and contact tracing by the school.
The process of identification, contact tracing, informing families, and working with those in quarantine to provide educational services  has quickly become taxing to our system.  Keeping up with the information, subsequent contract tracing and informing of parents is a critical step to reduce the spread but is very time consuming as well. The district is committed to providing proactive and transparent communication to staff and families regarding this topic.  In the days ahead, we are committed to:
SAFETY PROTOCOLS: Continuing to implement and enforce all of our current campus safety protocols including (but not limited to): screening, cleaning, mask wearing, ventilation upgrades, hand washing, social distancing and use of cohorts where possible.
CLOSE CONTACT NOTIFICATION:  ANYONE that we have identified to be a close contact through contact tracing while the positive person was on campus will be personally contacted. All people identified as close contacts will be contacted directly with a phone call, notified of the exposure, and provided information about appropriate measures that need to be taken.  Typically, all close contacts are identified and notified within 1-2 days of first learning of the case.  Certain circumstances such as complex contact tracing may take longer.
NOTIFICATION OF THOSE "NOT" A CLOSE CONTACT:  Any day that the school is notified of a positive case on campus, all families in the building will be notified via a website post that same day, or first thing the next day depending on timing.  In addition, there will be a phone dialer to all families, when the positive case was on campus in the last 24-48 hours.  The message will be, that at this time we are conducting contact tracing, and that any one identified as a close contact will be notified.  The phone dialer will NOT be utilized in examples where we are notified of a positive case, and the student has not been on campus for over 48 hours from the time we were notified they were positive.
The best ways to prevent the spread of COVID-19 include being vaccinated when eligible, wearing face masks, keeping physical distance from others, staying home when ill, and practicing other good health hygiene habits.  Thank you for helping to protect  your family and school community by following public health officials safety guidance.
A couple key reminders as we welcome our students back to school:
 Be safe on the roads!  Buses and bikes and kids will be moving around our community! Please slow down and drive safely, especially around schools!
If your child is sick, please keep them home.  Below is a guideline to use:
2021-2022-Illness-Guidelines-for-Parents-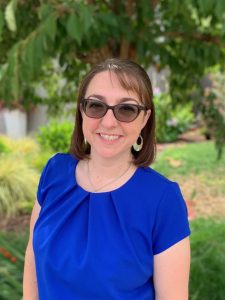 Congratulations to our employee of the month, Callie Johnson!  Callie was one of our super star staff members who went above and beyond to help teachers and students during summer school and KITS!
Callie has been an employee since September 5, 2017 and has helped to support students at all three levels: elementary, middle, and high.
She and her husband of 18 years, Mark have four kids Andrew, Julie, Porter and Max.
She tells us that some of her favorite things are Crumbl cookies, the roller coasters at amusement parks, hiking/swimming and being outdoors.  She loves to bake, enjoys Harry Potter, flamingos, pineapples, math, learning new things and exploring.  She is currently enrolled in college for finance/accounting and in her downtime (wait…..Callie, you have downtime! ☺️) she crochets.
When asked about her day she explained, "no two days are the same and no two children are the same.  It's so fun learning new ways to teach a child and how to connect with them.  School is changing all the time, you need to be able to be flexible with whatever you are given.  It's a challenge at times but so rewarding."
In her time helping in our front offices, she loves, "being able to reassure parent needs and helping them get the answers they are looking for.  Being able to provide for the staff and help out the principals to make their jobs easier or to take on a task to help free up their time to do other things."
Callie enjoys the relationships she builds with kids, hearing about their weekends and things they enjoy.  She also loves to help them learn. If it's a math problem they are struggling with, being able to explain it a different way and seeing their 'ah-ha' moment of understanding is pretty great.
Congratulations Callie and thank you for all of your hard work during the school year and during summer school.  You rock!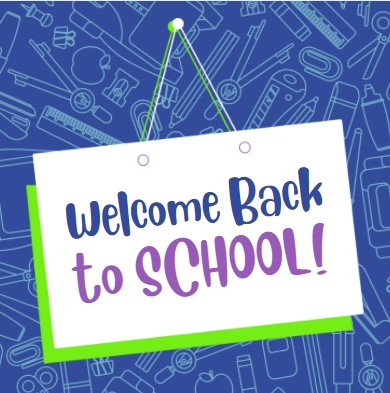 As we approach the first day of school, the staff in Fern Ridge School District would like to share one more WELCOME BACK!
For the 2021-2022 school year, all meals will be served to all children ages 0-18 in the community at our daily Grab & Go pick up site in the back high school parking lot from 11:30 – 12:00 Monday thru Friday.  You'll also receive a breakfast for each child for the next school day.  All meals are free of charge.
Student meals at school are also served free of charge with additional entrée items students at the middle school and high school may purchase.
We are excited and ready to open our doors to students in the coming days, we are also fully aware of the challenges we may face and need to be prepared for.
Please know that the continuing to provide in-person instruction is our top priority. To do that, keeping our students and staff as safe as possible is imperative!  The best way parents can help support that is by keeping students at home when they are showing any symptoms of being sick.  Below you will find resources that will be helpful in answering any questions you may have. We appreciate your support in reopening our schools and look forward to working together in the year to come.
Continue to check FRSD school and district websites for more information.
To Our Fern Ridge Students, Families, Staff, and Community-
We hope you have had an enjoyable Summer Break so far!
Both the State of Oregon and the Federal Centers for Disease Control (CDC) have released their new COVID-19 safety guidance for schools. You can read through the Resiliency Framework for the 2021-22 School year here.
As we prepare to open our doors and welcome back our K-12 students, we wanted to share our reopening plan. Follow the link below to see FRSD's draft Operational Plan regarding fall 2021. This plan will be discussed with the School Board on Monday, Sept. 20, at 6:30 p.m.
While trying to prepare for every scenario is nearly impossible, we feel confident that our district plan will create a safe learning environment for students and staff. The health and safety of our students and staff are our highest priority. To protect everyone's health, we will open schools using safety measures that we have all grown familiar with:
Physical distancing
Face coverings
Ventilation and airflow
Hand washing
Staying home if ill or exposed to someone with COVID-19.
We will continue to communicate with you as the new school year begins. As always, please do not hesitate to reach out to building administrators or district office staff if you have any questions or concerns.
Below, you will find the FRSD Safe Return to In-Person Instruction and Continuity of Services Plan. Please contact Michelle Marshall at mmarshall@fernridge.k12.or.us if you have any questions or would like to provide feedback.
FRSD Safe Return to In-Person Instruction and Continuity of Services Plan
*To continue reading in the boxes that are full, click in the text box and use the arrow down to see remaining text.
Lane County Public Works wants to be sure that parents have a voice in potential herbicide use near school bus stops. You can enroll your child's bus stop into the No Spray Area program by filling out a short form available on the Lane County website at www.lanecounty.org/vegetation or by calling 541-682-8521 to request a paper application.
Lane County Public Works Letter to  Parents
Over the past three weeks, we have experienced nearly as many positive COVID tests with staff and students in our school community, as we have in the past 18 months.  With each positive test, there are actions the district must take, and those are beginning to take a toll.  Those have included disruption to summer school, quarantining  for the student or staff member that is sick, and quarantining (for those not vaccinated) for anyone identified as a meeting the definition of a close contact.
Today we had a positive test within the EHS Football program.  I just met with District staff and multiple football coaches to problem solve this issue.  The nature of football, being a sport that requires significant amounts of "close contact", it does not take much to meet the cumulative 15 minutes within 6 feet standard (when not wearing a mask outside), that defines a close contact.  As a group we agreed the only reasonable course of action is to cease football operations for a total of 14 days.  I have communicated with Lane County Public Health, and they agreed.  We believe this action gives us the best chance of playing football this season.  Football practice will resume on September 1st.  Coaches and athletes that are vaccinated, may continue to practice, but should monitor themselves closely for symptoms.  Coach Peeler and his coaching staff will be reaching out to families that have been most closely connected to the sick student.  If you have any questions, do not hesitate to reach out to him.  Coaches will also be meeting to discuss practices for those students that have been vaccinated, and do not need to isolate, as well as potentially some "virtual practices" or "classroom sessions" over Zoom.
As a reminder to all our student athletes, and staff as well, the best way to protect yourself is with a vaccine, and it is the ONLY way to avoid being required to quarantine when you have been identified as a close contact.  Myself, the H.S. administration, and certainly our football coaching staff are devastated that we have to take this action, we hope for a quick recovery for the sick student, a quick return to football practices and the ability to have a football season this year.  We believe this action gives us the best opportunity to achieve that goal.