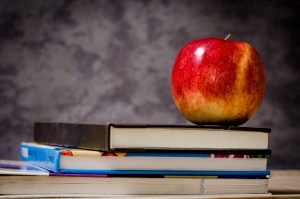 FRSD Community,
As you are probably aware, late in the day on January 19th, Governor Brown along with the Oregon Department of Education released updated guidelines around what it takes to return to in-person instruction, and what protocols must be in place.  You can watch a short 10 minute video summary of this new information from Director Gill, at this link:  (click here).  Since that time, I have been working with our staff, administrators, association leadership, and other community partners to formulate our plan here in Fern Ridge.
Since the beginning of the pandemic back in March, our district has relied on the expertise of our health partners to inform decision making regarding the return to face-to-face instruction.  We have collaborated for months to limit the spread of COVID-19 in our buildings.  We will continue to do that, now that the guidance has changed (Click here to review the ODE research informing the change in the K-12 Metrics Framework).
The logistics of our plan are beginning to come into focus.  We will continue to work on some of the more difficult elements (that of transportation and meals) through the weekend.  On Monday night, January 25th, I will share the specifics of the plan with the FRSD School Board and consider any input they may have.
On Tuesday, Jan. 26th I will hold a Community Q & A  Zoom meeting, and the following night, each elementary school will hold a similar Q and A meeting.  All of these will be at 6:00 PM.  Below are the links.
Tuesday, Jan 26th, 6:00 P.M. FRSD Community Q & A Zoom meeting: (CLICK HERE)
Wednesday, Jan 27th, 6:00 P.M. VES Community Q & A Zoom meeting:  (CLICK HERE)
Wednesday, Jan 27th, 6:00 P.M. EES Community Q & A Zoom meeting:  (CLICK HERE)
While I will not have the final details until Tuesday morning following the board meeting, this is what I would expect:
Grades 6-12:  Under the current guidelines, our county needs to be below 200 cases/100,000 before I will recommend to the board that those grades can return.  Absent that, these students will remain primarily in CDL, with some students coming on campus for 2 hours a day of limited in person instruction.  Returning before the county case count drops below 200 cases/100,000 places the district at an unacceptable level of liability, as we would NOT be following the recommendations of the Oregon Health Authority.
Grades K-3:  In early February (exact dates will be known on Tuesday) we will get students in school every other day, all day on an A/B schedule.
Grades 4-5: One week later will will be adding 4th and 5th graders in the same every other day, all day, A/B model.
K-5 Bridges and SLC Classroom Students:  We will be offering all day, 4 days a week of in-person instruction.
What if we do not want to return?  This continues to be a work in progress, and really depends on the number of students and grades of students that need/request this option.  I do know it will be limited, but we will be getting creative to provide something like this for families that need it.  We have some new technology on order to assist in this area, but timely shipments of ANY K-12 technology is extremely challenging these days. Of course the FRSD fully online OPTIONS program will also be a choice.
Thank you for your continued patience, we all look forward to seeing more of our students in our buildings, beginning in February.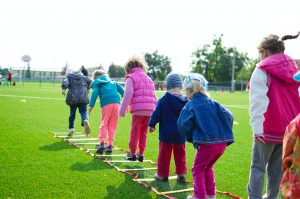 The FRSD Wellness policy can be found at:  http://policy.osba.org/fernridg/E/EFA%20G1.PDF
Every three years  (last done in the Fall of 2019) we do a triennial evaluation report, and post it to the website on the "District and State Reports" page:  http://www.fernridge.k12.or.us/?page_id=5734
Parents that are interested in becoming more involved in the district's wellness policy monitoring and implementation can contact building principals regarding becoming a member of the building ESSA teams.  These teams meet monthly at each building and discuss a wide range of topics, including the District Wellness Policy.
In case you missed it!
Here's the link to the community Q & A session with Superintendent Carpenter: https://youtu.be/gIaXrJhz-Lc
There was one question in the meeting that was unanswered, regarding the end of the Semester at the OPTIONS program, and a change in the availability of content.  The OPTIONS staff will post information regarding this question on their webpage today.  If you have additional questions, do not hesitate to call them at 541-952-7025!
On Monday, January 11th at 6:00 PM, the FRSD will be holding a Community Q and A session with Superintendent Carpenter.  All parents, community members and students are invited.  Some information will be shared regarding our upcoming plans and where we are headed based on the best data at that time, although most of the time will be reserved to answer any questions that folks may have.
For anyone that isn't available to attend, but is interested in the information discussed, it will be recorded and the recording will be posted and shared the next day.
Access/login information to the meeting is below.
Gary Carpenter is inviting you to a scheduled Zoom meeting.
Topic: Community Q and A
Time: Jan 11, 2021 06:00 PM Pacific Time (US and Canada)
Join Zoom Meeting
https://fernridge-k12-or-us.zoom.us/j/81030380437
Meeting ID: 810 3038 0437
One tap mobile
1-669-900-9128
January is School Board Appreciation Month.  We want to thank our school board members who work hard to "providing excellence for every student so that each will reach their greatest potential."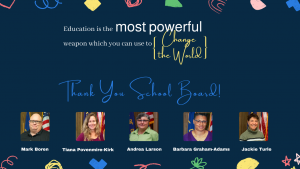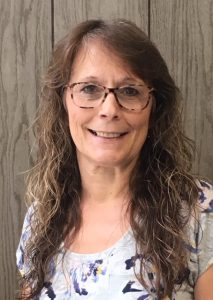 Julie Burton has been an employee with the Fern Ridge School District for 13 years!  She started working in the district on September 4, 2007 and has been helping students ever since.
In a normal year, Julie runs the study hall at Elmira High School for seven periods a day.  This year, being anything but typical, has found her scheduling online IEP meetings for the special education department and working alongside other EHS staff, keeping spirits up for our limited-in-person students.   She is also the EHS Key Club advisor, holding weekly meetings and participating in various community events.
Here's what she enjoys the most at EHS, "one of the best parts of my job is seeing such a variety of students.  Seeing the excitement in their eyes when a topic sparks their interest.  I'm used to kids thinking that I'm strict in their 9th and 10th grade school years and then leaving me in their 11th – 12th grade years because I have bugged them so much to turn in assignments that they're on track to graduate (I call it the natural progression of high school)."
Julie has 5 children and 15 grandchildren.  She and her husband Rod were married a year and a half ago at their favorite spot, Crane Prairie, Oregon with her daughter, Jami performing the ceremony.
When she is not encouraging students and supporting teachers, she loves camping, fishing, and a good book.  Her newest hobby (addiction) is acrylic paint pouring and of course, she loves her Elmira Falcons!
Julie is an outstanding employee who is always wearing a smile.  Her constant "strict" encouragement has helped countless students stay on track to graduate.
Thank you for your positive attitude.
Thank you for working hard to support our students.
Thank you for being a part of the Fern Ridge School District family for the past 13 years.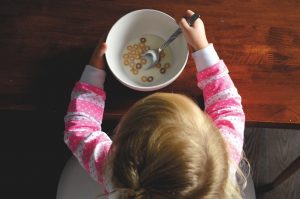 With some students returning to school beginning in January, we need to adjust the ways we get out meals for students.  Below are the options that will begin on Monday, January 4th.  These options will be in place for at least a few weeks, and if we can add a bus stop in the community after a week or two, we will do that.
OPTION 1:  Each weekday (Monday-Friday) from 11:00-12:30 in the EHS North parking lot, there are two meal options.  The options include a "hot meal" or a sack lunch.  Breakfasts for the following morning are available as well.
OPTION 2:  Each Monday night from 5-6 PM, in the EHS North lot, families can pick up a "kit" of meals for the week.  To ensure your family is on the list, and we make the appropriate amount of meals, you should email our food service director, Alan Fullerton, at afullerton@fernridge.k12.or.us, or leave him a message at 541-935-8218, stating the number of children ages 0-18  you will be picking up for.
OPTION 3:  For the approximately 200 students district-wide that will be coming onto campus beginning Tuesday, January 5th, for 2 hours a day, they will have an option to leave school with a sack lunch containing lunch and a breakfast for the next morning.
Please share the above information!
FRSD students and families,
As many of you are aware, on Wednesday, December 23rd, Governor Kate Brown released a statement regarding new guidelines around returning to in-person instruction (click here to read).
The stated goal within this release is to have a larger return to in-person instruction by February 15th and to allow more local decisions based on health metrics and the local circumstances.  In short, this is good news, however, I want to ensure some finer points of the press release are communicated clearly.
While the move from "mandatory" to "advisory" in regards to the metrics is helpful, the current metrics of Lane County would "advise" us not to return students to in-person instruction yet.  In addition, it is expected that NEW metrics (essentially the guidelines we should follow) will be released on or before January 19th.  While I would expect those metrics to allow for a more rapid return to in-person instruction, the current metrics would advise us, due to our case count being over 200 per 100,000 to stay in distance learning, and that a case count of under 200 per 100,000 we should be transitioning back to more on-site learning.  As soon as new metrics are released, I will share them here.  You can access the CURRENT metric table and the Lane County data at this link (click here).
The second piece that is easily overlooked is the statement that says schools must continue "to adhere to required health and safety protocols."  There are restrictions such as the number of students per square foot, allowable cohort size, the number of cohorts a student can be a part of in a given day/week, and transportation limitations, just to name a few.  The entire 90 page Ready Schools Safe Learners Document, the document that outlines how schools must operate (and is changed/updated often), can be found by clicking here.
Finally, to summarize, the District will be sticking with our plan made just before Winter Break to return to Limited-In-Person Instruction for around 200 students beginning Tuesday, January 5th.  Any student that is in this group should have already been contacted by their building.  By tomorrow afternoon, we will have bus routes for these students posted here:  Jan 5th bus routes.  At a minimum, we will stick with that plan through the next update to the metrics, expected around January 19th.  I hope that a significant change in the number of students on campus materializes by the start of the 2nd semester, the week of February 8th.  As always, if you have any questions, do not hesitate to email me at gcarpenter@fernridge.k12.or.us, or contact  your building administrator.
Students and Parents of FRSD,
Thank you for your continued patience and grace as the district works to navigate the limitations and restrictions being placed on us due to the pandemic.  While our staff continue to serve students in creative ways, there is a universal agreement in Fern Ridge that the current environment, while required, is not serving our student's educational or behavioral health needs as well as in-person instruction can.  We are working on a graduated plan that could return a few students on Tuesday, January 5th, and increase to larger groups of students and grade levels beginning the start of the 2nd semester, on Tuesday, February 9th.  I advocate weekly in meetings and emails with other Lane County Superintendents, the Oregon Department of Education (ODE) and state legislators.  I am beginning to see some relief on the horizon and believe the path that ODE,  the Oregon Health Authority (OHA) and the Governor's office are currently discussing will allow districts to make some local decisions that will change the playing field come February.
To review how we have transitioned over the last month or so.  Before Thanksgiving Break, we had a few students on campus at EHS and FRMS who received special services, were without internet, and provided some limited CTE opportunities that are allowable.  Due to the rising infection rate in Lane County, as well as numerous staff needing to quarantine, we chose to discontinue this and move to full Comprehensive Distance Learning on Tuesday, December 1st.  At the elementary school, 4th and 5th grade looked similar to 6th-12th grade students.  Our K-3 students were able to come on campus for 2 hours a day, on an every other day basis.
What has changed?  A couple things have changed over the past few weeks.  The first being we currently do not have a large group of staff needing to isolate/quarantine.  The second being that I am now sent infection rate data from LCPH specific to the zip codes that lie within our district boundaries.  This data shows the # of cases as well as infection rate (with FRSD boundaries) is significantly less than that of the county as a whole.  In addition, ODE continues to find that transmission of the virus in a school setting is limited.  Below I have pasted a quote from a recent ODE release:
"Schools in Oregon that have continued operating in counties with case rates/counts or test positivity, in the "Distance Learning" (red column) have generally not experienced transmission at the school site. Adherence to public health protocols in Ready Schools, Safe Learners Guidance Sections 1-3 appear to be effective in reducing the risk of spread. These protocols include entry screening and exclusion practices, maintaining small cohorts, wearing face coverings at all times, maintaining physical distancing, implementing hand washing routines, readiness to respond to exposure, and more.  Schools in Oregon are seeing COVID-19 cases introduced to schools. When appropriate actions are immediately implemented, the introduction of a case into a school setting does not lead to transmission to others in the school."
WHAT IS ABOUT TO CHANGE?  While it isn't with 100% certainty, the District is PLANNING to implement what is described below on January 5th.  We will be confirming this by Jan 1st. Please continue to watch our website for more information.

MIDDLE AND HIGH SCHOOL:  Following winter break, January 5th, middle and high school students will return to a very similar model that they were in prior to Thanksgiving Break.  Over the last day or two, FRMS and EHS staff have contacted the students that receive these special services and will have the option to return for 2 hours of limited in-person instruction (LIPI).
ELEMENTARY SCHOOLS:  Following winter break, January 5th, limited-in-person instruction will resume for Kindergarten – 5th grade students, but on a much smaller scale than we were in previously.  Much like older grades, students coming on campus will be limited to those receiving special services or have no internet.  Just like the MS and HS, over the last day or two, elementary staff have contacted the students/families that receive these special services and will have the option to return for 2 hours of limited in-person instruction DAILY Tuesday-Friday.
If you did not receive such a call, rest assured we are doing everything we can with the goal of returning many more students by the start of the 2nd semester.  Clearly, many of these decisions are out of our hands, but for the first time in awhile I am beginning to see the light at the end of the tunnel.  I am looking forward to having more options that we will be able to consider.  Finally, we would ask that anyone that is returning in January that travels out of state over the break to NOT return until they have quarantined for 14 days.  This is recommended, but not required.  We hope to get bus routes and pick-up drop off times for those that will be riding the bus, out the week before we return.
If you have any questions, do not hesitate to reach out to your building administrator or to email me directly.  The best way to contact them over the next 2 weeks will be through email:
EHS Rick Gardner: rgardner@fernridge.k12.or.us
FRMS:  Olivia Johnson:  ojohnson@fernridge.k12.or.us
VES:  Lisa Leatham:  lleatham@fernridge.k12.or.us
EES:  Michelle Marshall:  mmarshall@fernridge.k12.or.us