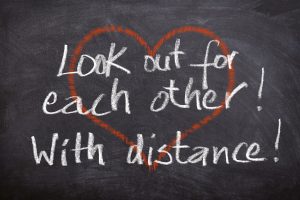 Lane County Public Health has let us know that there has been an increase in the number of school age children who are testing positive for the COVID-19 virus. The County has completed contact tracing and has found the  increase is not because students have returned to the classroom but because more school age children are going out and about. 
Reported cases are related to visiting with friends and family, attending parties, sleepovers or play dates. 
This is a confusing time for students. It is hard to understand why they can go to the school, but cannot go to be with their friends.  As a parent, trying to explain this to your child can be difficult. 
Some talking points that might help:
At school, masks are required to be worn by everyone in the building; when you are out with friends or family not everyone may wear a mask.

At school, staff help students keep their masks on; when out with friends or family you may forget to wear your mask.

Masks / face coverings help to keep you, your friends, and family safe.

At school there are reminders to stay 3-6 feet apart; it is hard to say 3 feet from your friends and family.
Parents of teens:  If you would like some additional talking points for teens, email me at tparsons@fernridge.k12.or and I can share some ideas with you.
Remember just because you cannot see it doesn't mean it isn't there. 
A person can be infected with the COVID-19 virus and not have any symptoms. This is one of the reasons it spreads so easily. With the County numbers going back up, it can impact students being at school and being able to be out in the community.   It is not being at school that spreads the virus.  Spread happens when we stop guarding and protections against the virus.  As a parent we have to make choices for our children, sometimes they are hard but needed choices.
Keep up the good work and help to keep our community safe. 
Nurse Teresa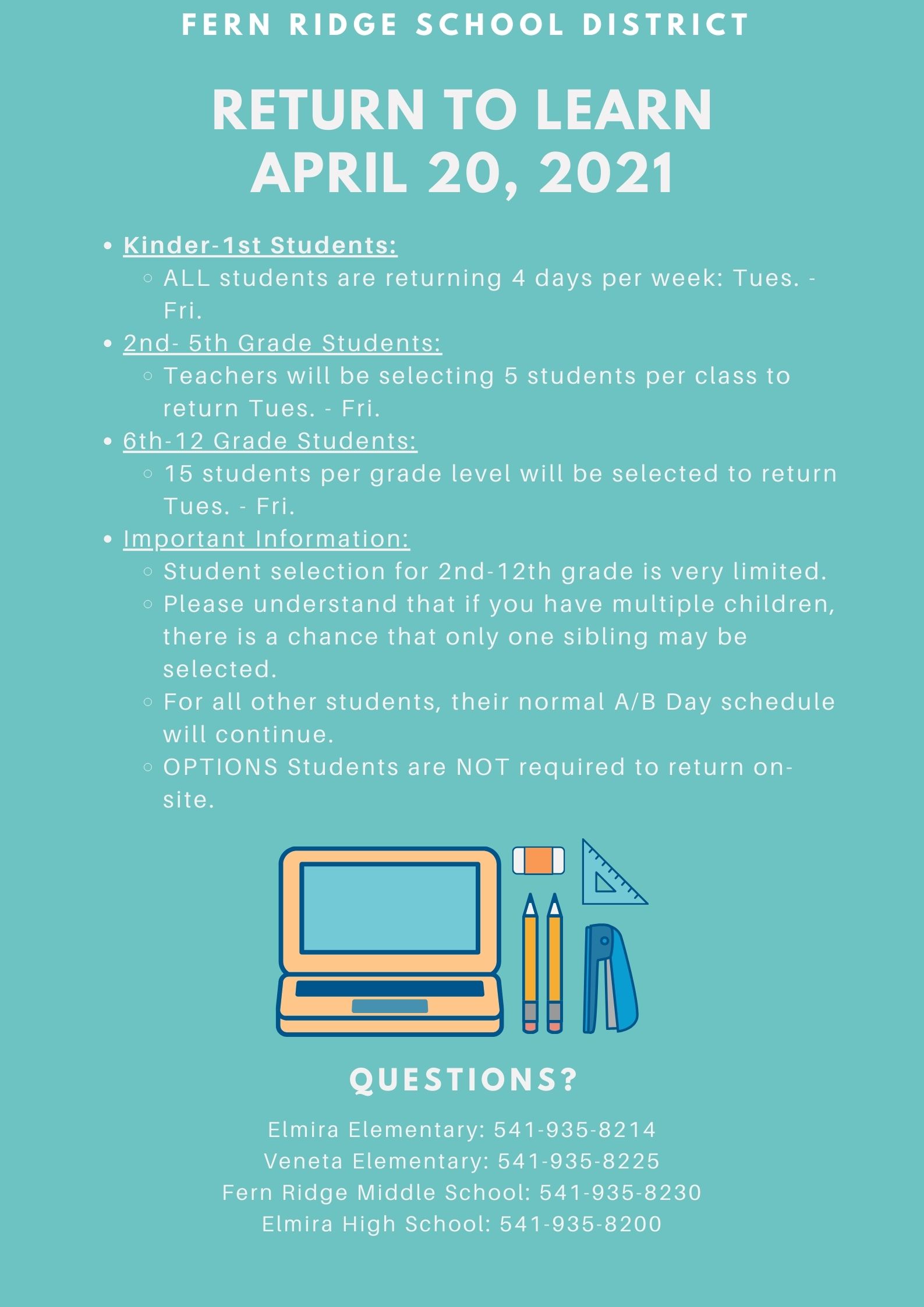 As many FRSD families may have heard by now, the U.S. Department of Education recently denied the Oregon Department of Education's request for a waiver of summative testing for the 2020-2021 school year. Due to this decision, the Fern Ridge School District is currently beginning the process of readying our staff and students for state assessments.
ODE's window for state assessments is April 13-June 11, however, each individual school will set their own testing dates within that window. Due to the nature of this school year, ODE has shortened the blueprint and the time each assessment takes, as well as reducing the number of required assessments at each grade level. The table of required assessments, optional assessments, and approximate test time frame is below. All students will have the opportunity to take all available grade level assessments.
If families do not want their child(ren) to participate in state assessments this year, the link to opt-out of the Math and ELA assessments is below. Please fill out and return to your child's school as soon as possible. They will be accepted until the day before testing begins (dates vary by school). Science has a separate student exemption procedure. See note below for an explanation of that process. If you are not opting your child out, your child will participate in the required (not optional) state testing with their grade level. If you wish for your child to participate in the optional assessment opportunity, please contact your child's teacher and/or school.
Thank you for your continued support!
Oregon Department of Education Summative Assessment Administration Information:
Grade Level
Required Administration (except students opted-out of ELA and/or Math per ORS 329.479 or exempted from Science per OAR 581-021-009) and Approximate Testing Time per ODE (Hrs: Min)
Additional (Optional) Assessment Opportunity and Approximate Testing Time per ODE (Hrs: Min)
3
English Language Arts (ELA) (1:10)
Mathematics (1:00)
4
Mathematics (1:00)
ELA (1:10)
5
Science (1:20)
Mathematics (1:00)

ELA (1:10)

6
ELA (1:10)
Mathematics (1:05)
7
Mathematics (1:05)

ELA (1:10)

N/A
8
Mathematics  (1:05)

Science (1:20)

ELA (1:10)
11
ELA (1:00)

Mathematics (0:50)

Science (1:30)
Opt-Out Link for ELA & Math Assessments:
https://www.fernridge.k12.or.us/?page_id=6919
If choosing to opt-out your child from state testing, please fill out and return to your child's school before the start of the testing window (as designated by your child's school).
Information on Exemption from Science Assessment from ODE's Website:
Oregon Administrative Rule (OAR) 581-022-1910 allows school districts to excuse students from a state required program or learning activity, including state testing, to accommodate a student's disabilities or religious beliefs. This rule governs exemption requests for the state tests in Science and Social Sciences, the English Language Proficiency Assessment (ELPA21), and the Kindergarten Assessment.
Are there eligibility requirements? Yes. Parents may request exemptions under OAR 581-022-1910 based on the student's disability or religion.
What is the process for a parent to make this request? The authority to exempt students from state testing belongs to local school districts. In order for a school district to excuse a student from testing under Oregon law, the student's parent or guardian must submit a written request to the school district listing the reasons for the exemption and proposing an alternative individualized learning activity for the student that meets the same goals that would be accomplished by participation in state testing. Appropriate school personnel must evaluate and approve the parent request.
The new guidance around social distancing and changes to the Ready School Safe Learners guidance has taken some time to work through and problem solve.  Below is a description of our current plan/goals, along with some additional information on this topic.
All of our staff are in full agreement that the best thing for our students is to get them all into classrooms, everyday, all day.  Unfortunately, the social distancing restrictions in place regarding proximity to adults, passing in halls, cohorting, and maintaining 6 feet while eating meals have us approaching this slowly. We are doing our best to ensure that we DO NOT find ourselves having to backtrack due to a potential outbreak and return to hybrid learning or even Comprehensive Distance Learning.   If you have questions, do not hesitate to contact your building Principal.
Kinder and 1st Grade Students:  Beginning April 20th, all of these students will return to a 4 day a week model (Tuesday-Friday).
2nd – 5th Grade Students:  Beginning tomorrow, teachers will begin to identify 5 students per classroom that are MOST in need of additional in-person instruction.  The families of these students will be contacted (the goal is by the end of the day Monday, April 12th) to offer this opportunity.  It is not required.  If a particular family, based on their situation, does NOT want to return 4 days a week, that is fine.  In that case, we will just move down the list of students.  IF OUR RETURN OF K-1 GOES WELL, WE WILL BE REASSESSING IN A FEW WEEKS, AND LOOK TO BRING BACK ALL 2ND AND 3RD GRADERS FOUR DAYS A WEEK.
6th-8th Grade Students:  At FRMS, similar to grades 2-5, we will be expanding to bring in 15 more students per grade level 4 days a week (an additional 45 students).  FRMS staff will be reaching out to you before Monday the 20th to offer this opportunity to the parents of our students most in need of additional in-person instruction. If you or your student are not interested in this opportunity, just let us know when contacted.
9th-12th Grade Students:  At EHS, the model is exactly the same as at FRMS.  15 students per grade level (about 60) will be contacted about moving to a 4 day a week model.
What will it look like for 2nd – 12th grade students that return 4 days a week, but whose peers have not all returned to 4 days.  It will look different at each level, stay tuned for more detailed information that will be shared on their school website.  If you have specific additional questions, do not hesitate to contact the building principal.
Transportation:  We hope to get the names of returning  students to First Student by the end of the day Monday so that they can begin the work of adjusting route pick-up and drop-off times.  As soon as updates/changes are made, we will get this information out.
Food Service:  This plan will require adjustments in our food service plan.  There WILL be an opportunity at the K-8 level for single breakfasts to be picked up and taken home each day for any student that attends all 4 days of the week.
OPTIONS Program Students:  This change MAY have some of our K-1 OPTIONS families considering a return to their home school.  We would ask these parents to make this decision by Wednesday, April 14th.  By that date, please make the decision to either remain in OPTIONS for the remainder of the 2021 school year OR notify both the OPTIONS Program and the school that you would like to return 4 days a week.  A reminder, this is just for Kindergarten and 1st grade students for now.
FRSD Families,
As many of you are aware, over spring break, the State released new guidance that allows for a reduction to "3 Feet of Physical Distancing under Certain Conditions."  Since that time, I have been in communication with building administrators, association leadership, and other partners to identify how this change could assist us in expanding our in-person instruction offerings.  Unfortunately, the 6 feet of physical distancing requirement remains in tact any time students are eating, passing in the hallways, and between staff and students at all times as well as between staff and staff at all times.
A final decision on when/how we can expand our in-person offerings, and I do expect us to expand, will be made soon.  As early as the next 24 hours and no later than the end of this week.  Any changes would begin the week of April 19th (start of 4th quarter) at the earliest.  Unfortunately the restrictions still in place will prevent us from bringing back all students every day.  Having said that, I am doing everything in my power to get more students in, each day, at all levels, K-12.  Stay tuned.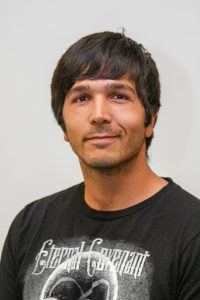 Cameron Robertson has worked as an instructional assistant in the Structured Learning Classroom at Fern Ridge Middle School since September of 2018.
Cameron helps out with small group instruction in reading and math, supervises students during lunch and has Zoom meetings to assist distant learning students one-on-one.
When not helping students, Cameron enjoys watching movies, playing Pokémon, writing music and poetry, and reading.  His favorite things are burritos and his least favorite thing is stubbing his toe (we hear ya on that one!).
On Friday evenings, Cameron runs a free drop-in time for teens at the Veneta Alliance Church.  This is a place where kids can hang out, eat snacks, and even play a vintage Star Wars arcade game.
When asked about his family, Cameron describes them as rambunctious but very, very close.  He has two brothers, two sisters, and a baby nephew.
He tells us the best part of his job is when he gets to interact with kids, building relationships with them and being able to help out.
Thank you Cameron,  our staff and students appreciate all of the work you do to be a positive role model for our students.  Congratulations!
All Fern Ridge Schools will be closed from Monday, March 22 thru Friday, March 26 for Spring Break.  Classes resume for students on Tuesday, March 30.
Food service staff are also taking a break next week – there will be no meal service March 22 – March 26.   They will start serving meals again on Monday, March 29.
There will be no tech support during the break and the district office will be closed on Thursday, March 25 and Friday, March 26.
Everyone have a safe break!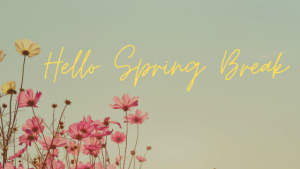 As with much of everything else this school year, Outdoor School will be different.  Due to health regulations, overnight camps are not currently allowed in Oregon. However, we are pleased to be working with Camp Wilani (located 5 minutes from Veneta) to offer a 4-day program to ALL 5th grade students, as well as all 6th grade students who were unable to have an outdoor school last Spring!  Camp Wilani's Leadership Team was trained at the BEETLES Institute at UC Berkeley and are excited to teach our FRSD students!
May 4th – 7th: ALL 6th grade students (FRMS, OPTIONS)
May 11th – 14th: ALL 5th grade students (EES, VES, OPTIONS)
Important Details:
This is a DAY Program only, students (A day and B day) will report to school every day TUES-FRI for the week of their Outdoor School

Outdoor School will happen rain or shine- outside! Please plan and dress accordingly

Students will be in small cohorts at Outdoor School based on their A/B schedule

Students, staff, and volunteers will be required to wear masks throughout the day

Look for more information to come (permission forms, volunteer forms, etc.)
More Information Needed?
 Call or email the school with any questions: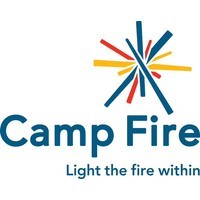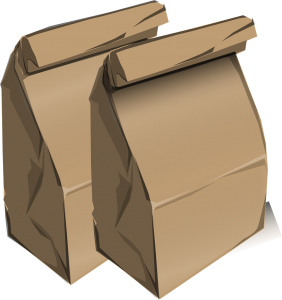 Starting Monday, March 8th, FRSD's food service will begin offering an additional weekly meal pick-up option.
Families with students who have returned to in-person learning are able to order an Add-On Meal Kit which will supplement the hot lunches our students are able to receive during their in-school days.
Each meal kits include 5 breakfasts & 3 cold lunches.  We hope this will help to alleviate some of the logistical concerns for families' meal options on their student's non-school days.
If you're interested in an Add-On Meal Kit for your family, please email Food Service Director, Alan Fullerton at afullerton@fernridge.k12.or.us and include your last name, how many kits you would like to order and if your student(s) are on an A or B day schedule.
These Add-On Meal Kits will be available for pick up during our normal weekly pick-up time in the back EHS parking lot on Monday evenings from 5-6pm.
To minimize waste, we will only be producing as many of these kits as are pre-ordered so please be sure to reach out if you would like to participate!