Another small group of students were able to come to school today at Veneta and Elmira Elementary!  Teachers welcomed this group of K – 3rd Grade students from 8:00 – 10:00 this morning.
We are excited to have some of our youngest students back in class.  Looking forward to seeing these students again next week!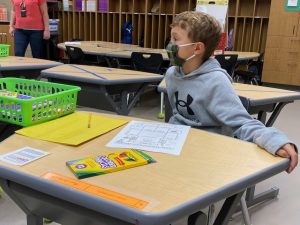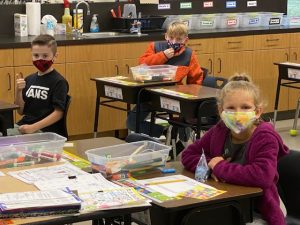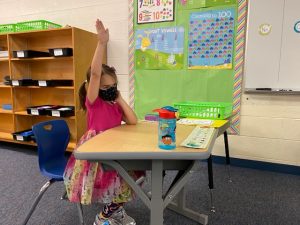 When we get questions during our weekly Q and A that I do not have the answer to, I get the answer, and post it here.  In yesterday's Q and A, a question was posed that was something to the effect of "How does the County calculate the case rate/100,000 metric that is used to guide schools, currently at 30.6".  I asked that question to Lane County Public Health, and below is their response.  I hope it is helpful.
"You're correct - it's the number of new cases per day for the week, divided by the population 
(~378k I believe), and then multiplied by 100k.  It's important to note that the numbers are 
based on the date of symptom onset, not when LCPH receives the test result, which is why the 
numbers can sometimes shift throughout the week. The metric is based on all new cases/positive
tests, so the "infectious" or contagious number you might hear about is calculated differently
and doesn't impact OHA/LCPH's school metrics."
Today, half of our Kindergarten, 1st, 2nd, and 3rd grade students were finally able to come to school.  Students had two hours of instruction at Veneta and Elmira Elementary.  Our second group of K-3 students will be in for two hours tomorrow morning.   Our teachers loved having some of their students back in the classroom and had a few fun projects planned:
Kindergarten students started practicing names.  
                      Rylin is in 2nd Grade, she wrote a recipe and made Jitter Juice.
Blake, a 3rd Grader, got to start his meal worm project.
He named his worm Flash!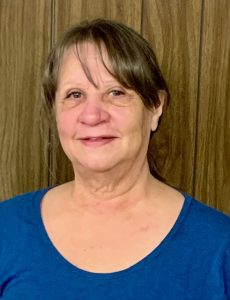 We are excited to announce that we now have a school nurse on staff!
Teresa Parsons, MSN, RN will be working in our district to support our students, families, and staff by providing health assessments, health education/care, and helping us navigate the many health requirements we have during this pandemic.
Nurse Teresa comes to us after serving as a public health nurse, nurse educator, and 11 years of experience as a public school nurse.   She will be working out of the health rooms in all four of our buildings as she supports our students and families.
Welcome Nurse Teresa, we are so excited to have you join our Fern Ridge community!
Bus routes and times are currently being updated and will be linked on THIS post, at the bottom, as soon as they are ready!  In addition, classroom teachers will be calling "bus-riders" to confirm their pick-up time later today.  If you have any questions, once the routes are posted, please call the school.
Speaking of buses being on the road.  Tomorrow is the first school day in quite awhile that our youngest students will be moving around the community, early in the morning, coming to school. All of our buses will be out as well.
1. Please drive extra slow through the school zones and be on the lookout for walking students.
2. Please pay attention to the flashers on our school buses and yield/stop as necessary.
3. Give yourself a couple extra minutes if you have an AM commute tomorrow.
Thanks for your help in getting all of our students to school (and home) safely!
Tonight at 5:30 we held a virtual meeting for our K-3 Parents to inform them of our work today, and our plans going forward.  Thank you to the families that were able to participate in this informational opportunity.  We can feel the frustration that families students and staff are experiencing.  Our goal is to move towards a model that allows our youngest students to have in-person instruction as much as possible given the new county metrics and ODE guidelines.
You may be aware that the exception we were hoping to open under is no longer an option due to the 30.6 per 100,000 case rate in Lane County.  However, we ARE able to reopen for Limited in Person Instruction (LIPI) if we can meet very specific guidelines.  This includes no more than 10 students per cohort and students can be in no more than 2 cohorts including transportation.  The transportation piece is one of the most complex issues of our plan moving forward.  For any family that can transport their student, or carpool with another,  please know THIS IS A TREMENDOUS HELP!
While the parameters are restrictive, we feel that it is critical to offer in person instruction for our youngest learners.  Our teachers, instructional assistants and administrators are committed to this.  We are working with parents, teachers and transportation to ensure that this is possible.  Below is our plan:
Beginning Thursday, September 24th, and continuing through Friday, October 9th:

Students will start on their A / B Day.

A Days = Tues/Thur & B Days = Wed/Fri

Students will be on site from 8:00-10:00 AM

2 hours for LIPI

The 2 hours will focus primarily on Math and Reading

On days that students are in school:

Teachers will spend some time introducing instructing on other subjects (Social Studies, Science, Art, PE, etc.) that students will work on when they go home in the afternoon.
On days that students are NOT in school:

Students will bring home Applied Learning Packets for their off-days (will not exceed 2 hours, and be appropriate to each grade level-will focus on Math and Reading)

Teachers will have a system for daily communication

TRANSPORTATION:  New pickup and drop off times will be communicated with families by tomorrow afternoon.
Over the next 2 1/2 weeks we will be looking into 3 different options of expansion, they are:
Continuing with how we are going.
Adding CDL in the afternoons and checking out chromebooks to our K-3 students for PM instruction with their teachers
Going to an AM/PM model that would have A day kids attending EVERY day from 8-10, and B Day kids attending every day from 12:30-2:30
Where we fall will depend on the following factors:
How well our model is working
County health/metric data
Information and availability of another 200-300 chromebooks
Family feedback and input!
All the staff are excited to see our K-3 students beginning this Thursday.
Meals are still available, and students will have an opportunity to eat breakfast when they arrive, and be sent home with a lunch if they would like one!
We will have another K-3 check-in virtual meeting, next Thursday at 5:30.
Thank you so much for your continued flexibility as we all navigate these challenges!  It is appreciated very much.
 Chromebook checkout for students continues today.  We will be set up at the District office, and operating 1-4.  If those times do not work for your family, please contact your building principal to help coordinate.
Meals DO START TODAY.  Meals are served out of the High School Cafeteria (North lot).  You do not need to get out of your car, just circle the parking lot loop in a counterclockwise direction, stop at the cafeteria, and you will be helped.  Meals are free for all students 0-18.  All you have to do is provide your last name.
Limited In-Person Instruction students (grades 4-8) that were scheduled to attend today from 9 AM-11AM IS CONTINUING! The OPTIONS program activities still begin today, and 4th-12th grade students that were to begin CDL today are STILL doing so!
The rise in COVID cases in Lane County (released late yesterday), combined with the fact that we had not yet started in-person instruction, prevented us from starting school today and the staff is crushed at these turn of events!  We are already working on a plan to get our K-3 students in school this week!  We will share information during a 5:30 ZOOM parent meeting tonight.  We need some time to confirm our plan follows ODE guidelines, and can work with our facilities, food service and transportation  If you cannot make that meeting, we will post all of the information immediately following.  Stay Tuned!  The login information for the meeting is below.
Gary Carpenter is inviting you to a scheduled Zoom meeting.
Topic: Parent Meeting for K-3 In-person instruction Options
Time: Sep 22, 2020 05:30 PM Pacific Time (US and Canada)
Join Zoom Meeting
https://fernridge-k12-or-us.zoom.us/j/95408108332?pwd=WXgvTHVGb0NvTms4MUh5ZnA4V2Zadz09
Meeting ID: 954 0810 8332
Passcode: 587979
One tap mobile
+16699009128,,95408108332# US (San Jose)
+12532158782,,95408108332# US (Tacoma)
Dial by your location
+1 669 900 9128 US (San Jose)
+1 253 215 8782 US (Tacoma)
+1 346 248 7799 US (Houston)
+1 646 558 8656 US (New York)
+1 301 715 8592 US (Germantown)
+1 312 626 6799 US (Chicago)
Meeting ID: 954 0810 8332
Find your local number: https://fernridge-k12-or-us.zoom.us/u/aEJTsBtr6
Attention EES and VES K-3 Families- We have an important message for you regarding K-3 in-person instruction:
FRSD was informed late this afternoon that Lane County COVID metrics will NOT allow us to open for K-3 in-person instruction beginning tomorrow, September 22. Based on State of Oregon guidelines, we must be under 30 cases per 100,000. Lane County's latest metric is 30.6 cases per 100,000.  While this news is extremely frustrating, we are working on a plan in conjunction with LCPHA to move to "limited in person instruction" by Thursday, September 24 for our K-3 students. More details on this tomorrow.
Any students in grades 4-8 who were already scheduled to begin limited in person instruction will still begin tomorrow.  
EHS CDL students, still begin tomorrow.  OPTIONS students, still begin tomorrow.
Again, K-3rd graders WILL NOT be attending school until further notice.
We apologize for the short notice and realize the implications for our families. Please know this is beyond our control. Expect and look for more information on district and school websites soon. 
Thank you for your continued support and patience as we navigate through these challenging times.  Food service WILL still be operating out of the EHS North parking lot from 11:00-12:30!  Come down and pick up a lunch and a breakfast!
A phone dialer is going out with this message in a few minutes.  It will repeat again in the morning!
If you missed the chromebook checkout days/times over the last week, they will continue Tuesday through Friday (the 22nd-25th) at the District Office.  The District Office is located across from the Middle School at 88834 Territorial Road.
We will be moving the chromebooks over here, as well as the other technology needed for checkout, this evening and tomorrow morning.  The checkout will occur every afternoon for the rest of the week from 1PM – 4PM.  If you cannot make that timeframe, and still need a chromebook, please contact your building administrator.  They can work to get your chromebook and login-information for you, and meet  you early in the morning, or in the evening.
The weekly community Q and A sessions will continue for two more weeks.  They occur at 3:30 on Wednesday afternoons.  As a reminder, the direct link to these is https://meet.google.com/wro-ifnp-ans
In yesterday's session there were two questions I was not 100% sure on, below are those questions, and the answers.  Thanks to everyone that attends these, and shares the information with the community.
 Q:  Can non-FRSD kids get free meals once food service begins?

A:  Yes.  We have received Federal Waivers that allow any child/student ages 0-18 that shows up to get a meal (breakfast and lunch) free.  At our pick-up sites, all that will need to be given is the last name.  You many only access one pick-up site per day.

Q:  Can you confirm the Options start date:

A:  Yes, it will be Tuesday, September 22nd, just like all other district programs (except limited in person instruction at EHS this is currently delayed one week due to a student positive COVID test).  The first week will certainly look different that it will in week 2, or week 3.  The focus will be less on curriculum and instruction, and more on showing care and connection with our students, practicing simple skills such as logging into zoom and other technology functions as well as "training" students on how to use their devices and engage with teachers daily.
GC