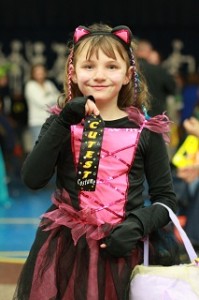 Elmira Elementary celebrated the fall season with a successful Harvest Carnival on Saturday, October 26th.  Students and friends who attended enjoyed food, games, candy and fun at this event sponsored by our PTA.  Everyone who came into our haunted gym discovered an evening filled with student art, a haunted house and a festival of food as well as games all for the price of supporting our students and school.  There was something for everyone at our Harvest Carnival  and many Veneta, Elmira, Noti and Walton families enjoyed the fun. Thanks to all who helped, especially  to our wonderful PTA.
Coming  in November,  we are hosting an assembly featuring Esther Stutzman.   This assembly is scheduled for November 15th at 12:30 PM. Esther Stutzman is a Coos and Komemma / Kalapuya  Native American and is an enrolled member of the Confederated Tribes of Siletz. Esther lives in Yoncalla, Oregon.  She is a storyteller and history keeper. She tells only Coos and Kalapuya Native American stories. We are lucky to have Ester as a guest telling her stories to our students. (Stories in Esther's culture are regarded as private property, as are her Native American songs.) Esther has thirteen stories she shares with the public and will be at EES to share them at our school. Some of her  stories tell of a time when animals and people could talk together.   After we feature our guest Esther, we then move toward the end of the month into conference time, book fair time and time off for the holidays.
At EES we have conferences and no school for students on November 25th and November 26th followed by holiday celebration days with no school on November 27th, 28th, 29th.  Make sure you attend the book fair in the gym during conference time.  Make an appointment to see your teacher, buy a book and discover your teacher's reading wish list for her class.  November will be colorful, fun, and full of activities at Elmira Elementary.  Call our office at 541-935-8214 for more information.