School Closure
A reminder that Tuesday through Friday, throughout the FRSD community, there are 10 locations from 8-9 AM where any child 0-18 may receive a "meal sack" that contains a breakfast and lunch.  Click here for a list of the sites.
A new opportunity that has become available is weekend meals.  We have gotten approval to serve weekend meals.  We will do this through the site at EHS that runs every day from 11:00-12:30.  Each Friday, any family that comes by the EHS "drive through" during this time, will also have the option to receive meals for Saturday and Sunday.  Please pass along!
It has been a while since we have posted the updated 2-week lookback return to school metric "table."  Below is that graphic with updated information as of today.  It shows that Lane County has continued to report a rising number of COVID-19 infections.  District administrators are meeting regularly to review these metrics and review them with our staff. The goal will be to share by Friday, December 18th, what the plan will be when school resumes in January.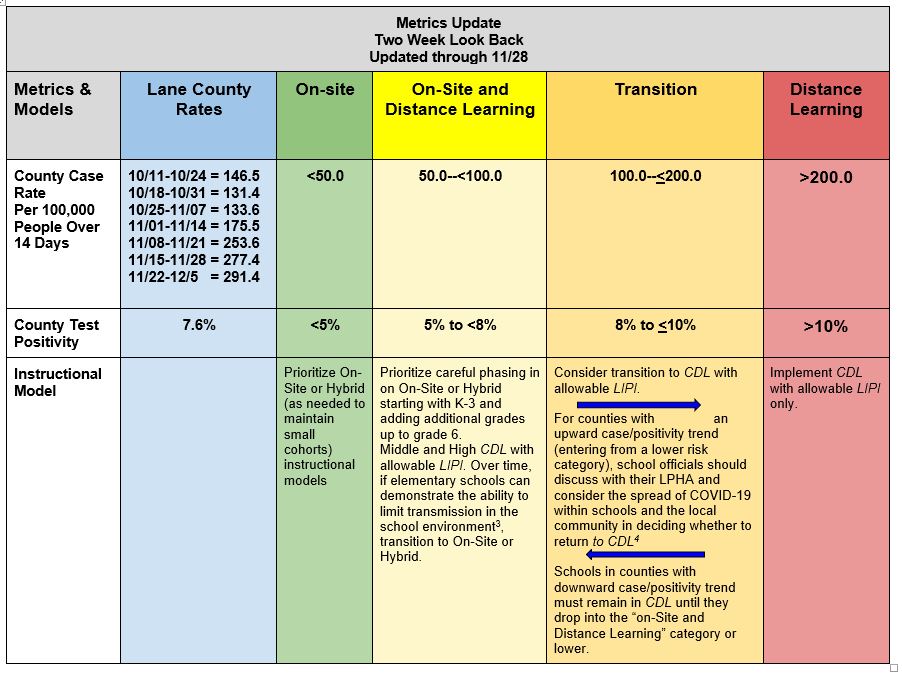 Beginning today, all students K-12 are in Comprehensive Distance Learning.  With that being the case, the need for technology support could increase.  Below are some expanded options.
District Office is open from 1-3 PM for students/parents that need tech support.
District Office is now also open from 8-9 AM for students/parents that need tech support.
The Oregon Department of Education has started a technology helpdesk.  It can be found at oregonhelpdesk.org  This website will be able to answer questions in multiple languages.  It is limited in that if you need a new charger, or a new device, that isn't something they can help with, but any general device operational questions, or questions around software or programs, they should be able to assist with.  This resource is open in the evenings and weekends.  Monday -Friday 6:00-10:00 PM, and Saturday and Sunday 4:00-8:00 PM.
Finally, the front offices of all the schools will remain open during CDL, so if you have an issue the building may be able to assist with, feel free to call the school as well.
In conjunction with our transportation and food service providers, we will be implementing the following meal distribution plan for as long as the District remains in CDL (Comprehensive Distance Learning). If you have any questions, do not hesitate to call your respective school.  This plan begins the week of Nov 30 – Dec 4th.
EHS Site for daily meals (Monday-Friday): From 11:00-12:30 each day of the week (Monday-Friday), food service staff will continue to serve meals through the "drive-up" in the North parking lot at EHS.  There are both hot and cold options, and all you need to do is circle around by the cafeteria door, give your last name and the number of children to receive both a lunch and breakfast for the following day.
EHS Site for a "weekly meal" pick-up (Monday night only): Every Monday night from 5:00-6:00 PM, a family may pick up a meal "kit" that contains fruit, vegetables, milk, sandwiches, and breakfast items for the week.  You need to place your order by either emailing our food service director at afullerton@fernrige.k12.or.us, or by calling your school and asking them to forward the information to Mr. Fullerton.  You just need to include the last name and number of children ages 0-18 that you will be picking up for.
Daily bus stops (Tuesday-Friday):  Every Tuesday through Friday morning, FRSD buses will be at 10 locations throughout the community from 8 – 9 AM.  The buses will have available a daily meal kit that includes lunch and breakfast for the day in one bag. The 10 sites are:
1.  Fern Ridge Child Development Center on Jeans Road
2.  The Noti Market
3.  The DS Mart
4.  5th and Woodland
5.  Veneta Elementary Parking lot
6. Ray's Parking lot
7.  Church on the corner of Hunter & Huston
8. Baker Rd. (the end)
9. Fleck & Central
10.  Oak Island & Legacy Ct.
Please share this information however you can, and access this resource daily!  Thank you to our transportation and food service departments for working with the District to provide these opportunities!
Students and Parents of the Fern Ridge School District.  Over the past 2 weeks the district has been reviewing the new requirements imposed by the state, evaluating infection rate data, and coming up with a plan for what school will look like in the coming weeks.  On Monday the 23rd the new County infection rate data was released that has the two week "look-back" rate at an all-time high of 253.9/100,000, up from 175.5 the previous week, and 133.6 the week before that.  That information, combined with the Governors requirements released December 13th, including isolation/travel requirements placed on staff and students, necessitates this move to Comprehensive Distance Learning from December 1st-December 18th.  Below are the bullet point details of this change, and what these three weeks will look like in December:
For the vast majority of students in grades 4th-12th, and FRSD OPTIONS program students, nothing will change.
The primary changes will be for:

Kinder-3rd grade students will no longer be coming in for Limited In-Person Instruction, a daily schedule is currently being worked on by administrators, in conjunction with teaching staff and will be released soon.  Especially at the youngest grades, the amount of daily CDL will probably start a bit more slowly, and grow over time as we see what is working well, and what isn't.
Our  handful of 4th-12th grade students that have been coming in either daily, or every other day, will not be able to do so during this period of CDL.

We are working on a plan to make school meals more accessible, and will have that information posted as soon as it is available.
While some instructional staff will be working from home, the front offices of all schools as well as the District Office Building will remain open.
We currently have a drop in "tech-support" time at the District Office from 1-3 PM. In addition to that, we are now adding a morning time from 8-9 AM.
Currently, this decision is being made only for the 3 weeks in December, over winter break, new information, requirements and data will be evaluated and a decision will be made regarding any changes that will occur in January.
We realize there is no replacement for face-to-face interaction with our students and we look forward to students and teachers returning to school buildings as soon as it is safe to do so.  The district is continuing to engage parents, teachers, school leaders and policymakers throughout this process. For now, our students will continue learning from home and we will do everything possible on our end to get back to in-person learning as soon as possible.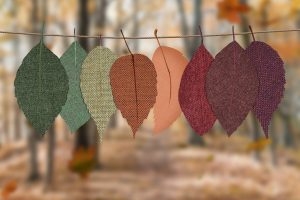 All FRSD schools are closed from Monday, November 23 thru Friday, November, 27
Enjoy your break and stay healthy!
EHS had an accidental pull of a fire alarm on campus this afternoon.  We wanted to emphasize that this was an accident and at no time was there any concern about a fire in the building.  The fire department responded and confirmed this as well and our maintenance department quickly reset our fire alarm after the incident.  Thanks to everyone for your concern.
Reminder:  We WILL be able to offer this the week of Thanksgiving, on Monday, November 23rd (there is NO SCHOOL at all that week).  We will take orders beginning Monday, November 9th and continue through Wednesday November 18th (DEADLINE TOMORROW).  You can place your order (just need last name and number of children ages 0-18) by either emailing our food service director at afullerton@fernridge.k12.or.us, or by calling your local school and asking them to forward the information to Mr. Fullerton.  Once your order is placed you just need to show up at EHS between 5:00 and 6:00 PM on the 23rd to receive the meals.
Pre-ordering allows the food service staff to order the right amount of product, and ensure nothing is going to waste! We hope that many families will participate!  Any questions, you can also call Mr. Fullerton at 541-935-8218.
Due to new restrictions from Governor Kate Brown, the FRSD Board of Directors will be meeting virtually during tonight's schedule school board session.
Public comment can be emailed to mcook@fernridge.k12.or.us and any comments received by 4:00 pm will be read into record during the meeting.  Please ensure that your full name and address is included and that the material can be read within the three minute time limit
Meeting Information:
Topic: November 16, 2020 School Board Meeting
Time: Nov 16, 2020 06:30 PM Pacific Time (US and Canada)
Join Zoom Meeting
https://fernridge-k12-or-us.zoom.us/j/84436142479
Meeting ID: 844 3614 2479
One tap mobile
+16699009128,,84436142479# US (San Jose)
+12532158782,,84436142479# US (Tacoma)
Dial by your location
+1 669 900 9128 US (San Jose)
+1 253 215 8782 US (Tacoma)
+1 346 248 7799 US (Houston)
+1 646 558 8656 US (New York)
+1 301 715 8592 US (Washington D.C)
+1 312 626 6799 US (Chicago)
Meeting ID: 844 3614 2479
Find your local number: https://fernridge-k12-or-us.zoom.us/u/kwN6qHjg
With winter approaching, I wanted to share our current plans should a school closure be necessary.  If the District closes for weather (snow, ice, loss of power, etc..) there will NOT be any remote classes for that first day.  However, this is only a 100% commitment on the first day of the closure.  On day 1 of a closure due to weather we will let our students and families enjoy the excitement of a no-school day.  As that day progresses and we look at the possible length of a closure, teachers and administrators will get together to discuss if we will resume virtual/remote classes, and if so when and for what grades.  Please pass along this information to anyone that needs it.
A reminder that our "Emergency Information" page can be found here: https://www.fernridge.k12.or.us/?page_id=478
At this page you can sign up for Flash Alert Notifications (updated 2020 snow routes coming) https://www.flashalert.net/login/.  On the morning of a weather delay, we will also post information on the website, social media, and do a district wide phone dialer.