Employee of the Month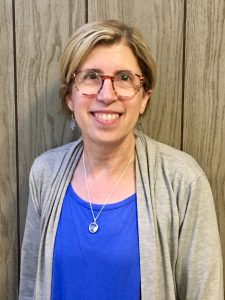 Our January employee of the month, Mari Jones,  has worked for the Fern Ridge School District for 30 years!  Most of this time was spent teaching at Elmira Elementary School.  Currently, she is the Title teacher for both Elmira and Veneta Elementary Schools.
Mrs. Jones is married to Skip who is a musician and performs at many local venues.  Their son, Kenny has  Bachelor of Fine Arts in Acting with a minor in dance.  Their family enjoys sharing time together cooking, watching movies, playing games and music.  They especially love anything art related and attend plays, movies, music venues and concerts.  Mrs. Jones tells us that their favorite place to vacation is the beach.  She personally loves to read, spend time with family, research and learn (on just about any topic) bike and bird watch.  She does not like hot weather, getting up early, liver or wasting time.
She is a teacher who wears many hats in our district including serving as president of the Fern Ridge Education Association, she helps as the District Wellness Coordinator, has written many grants for us, and participates on several committees including; key communicators, every student succeeds, literacy and many many more.   She is a tireless advocate for students and teachers alike.  Her service, at so many different levels of the district,  demonstrates how dedicated she is to the field of education.
Mrs. Jones tells us that she enjoys sharing her knowledge with her peers.  "Fern Ridge has been so fulfilling for me as a professional.  The district leaders have supported me to grow and thrive as an educator and teacher leader.  I appreciates how rare that is when I talk to others."  She also enjoys helping student become confident and competent learners who are good readers, writers, mathematicians, critical thinkers and problem solvers.
Thank you Mrs. Jones for your 30 years of service and for striving everyday to make an impact on the staff and students of our district!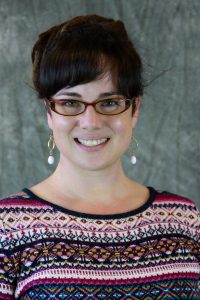 Sarah Bennett has been chosen as our December Employee of the Month.  Sarah has been an English Language Arts teacher at Fern Ridge Middle School since August of 2017.  Her favorite thing about teaching is working with the incredible students at FRMS.  She tells us that middle school students make her laugh and their curiosity about the world is contagious.  "Each day is different and brings new joys and challenges!"  She currently teaches sixth and seventh grade language arts along with an art and cultural connections class at the middle school.  She is one of the district mentors for new teaching staff and has previously led the FRMS literacy committee.
When she is outside of her classroom, Sarah likes to spend time with family and friends and work in her garden.  She is an avid reader and writer and has been working on her own novel for two years!  She aspires to be the next J.K. Rowling or John Grisham.  Sarah is also a semi-pro skier, has spent time in St. Croix and her all time favorite hobby is roller-skating.
Sarah and her husband are the proud parents of two fur babies, one cat and one dog.  She is also the proud step-mom to two adult children.  Keenan, who is traveling the world and Jacobi, who is in college at Pioneer Pacific.
She tells us that she is inspired by people making a difference in our world, by music that makes her move, unique art, witty writers, delicious food and most of all…her mother.
Congratulations Sarah!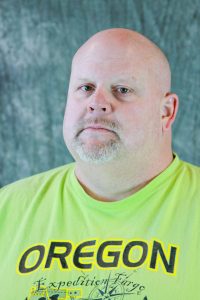 Our November employee of the month is Mr. Scott Shannon.
Mr. Shannon has been an educator since 1989.  He forever changed Fern Ridge when he joined the teaching staff of Elmira High School on August 31, 1999.  As a teacher, co-worker and coach he always brings his unique perspective, love of kids and sense of humor everywhere he goes.  He has taught social studies, health, and food/nutrition classes.
In addition to teaching, he has also coached countless student athletes for over 30 years.  In his time with Fern Ridge he has served as an assistant baseball coach, head girls soccer coach and head wrestling coach.  Mr. Shannon has given up countless summers and time away from his own family to take many wrestlers on the long road trip to Fargo, North Dakota to compete in the tournament that is held there every year.
When he is not teaching or coaching he enjoys golfing, being a "Papa" to his grandson, Oliver and "Papa Scott" to William.
A bittersweet congratulations as he has announced that 2019-2020 will be his final year of teaching in Fern Ridge.  We will miss the antics and fun times that he brings everywhere he goes and wish him the best of luck!
Congratulations to Mirka Chen, the FRSD October Employee of the Month! Mirka has worked as a teacher at Veneta Elementary School for the past nine years, at both the first grade and fourth grade levels. Before teaching at VES, she taught for eight years in Arizona.
Mirka's past students remember her fondly for the extra personal attention that she gives in addition to daily math and reading lessons. She has been known to miss her breaks and lunches so that she can take the time to connect with students in non-academic ways, such as teaching them to knit or paint. As evidence of the connections she makes with students, Mirka was invited to fly back to Arizona a few years ago to attend the wedding of one of her former students whom she had continued to correspond with throughout the years.
Besides reaching students in the non-academic realm, Mirka is also a top notch teacher and has attended many trainings over her career to strengthen her already solid teaching.  Mirka and her 4th grade teaching partner have beat the state average in mathematics on the state assessment tests by 8 percentage points for the past two years.
Mirka is also a team player both at the school and district level.  This year alone Mirka is on two district wide committees in addition to three school committees, including heading up the Safety Committee at VES. If anything needs to get done at VES, Mirka makes sure it happens. She stays late to make sure nothing is left undone, not just in her own classroom, but in the school as a whole.
Mirka's virtues don't end with her school life. Outside of school Mirka enjoys painting, gardening, and hiking. She also does most of her own home repairs in addition to partnering with her family in their commercial real estate holdings. She definitely leads a busy life and we're proud to call her our own!
Custodians are the unsung heroes of a school district.  They are found working hard behind the scenes to ensure that buildings are ready for everything from a regular school day to sporting events.  Our September employee of the month is one of our custodial staff and we are excited to be able to recognize the dedication of Ms. Heidi Kinch!  Heidi began working for the district in January of 2017 and has proven herself to be a valuable part of our district and Elmira Elementary School.
Heidi and her older brother grew up in the Elmira area.  She enjoys reading (a lot), learning new things, writing, building and working in her garden.  Some of her favorite creative adventures include wire sculpting, color-pencil painting, lapidary, jewelry-making, calligraphy & lettering and sewing.
Heidi brings her strong work ethic and a quiet smile to work everyday.  She tells us that she enjoys learning about and using the maintenance equipment, being able to help people and having the satisfaction of a job well done.  She also appreciates the independence and ownership she can take in her work.  "It takes a lot of hard work every day (and year round) by all the district custodians to keep the district schools clean and safe/operational.  I like to tell people that I get paid to work out!"
At the elementary school, Heidi is sometimes approached by curious students.  One of her favorite conversations with one such student happened while she was mopping the floor.  The student asked, "are you going to 'swamp the deck'?"
She also mentioned that she greatly appreciates the many kind and considerate people she works with and when others recognize the effort that goes into taking care of the school facilities, express appreciation and do their part, even the smallest gesture to help out, it makes even a hard day much easier.
Thank you to Heidi for your hard work, positive attitude and attention to detail!  You make Elmira Elementary a great place to work!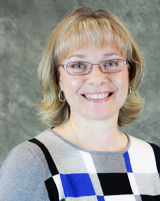 Congratulations to Laurie Ruell, our August employee of the month!  Laurie has worked for the school district since October of 2004.  During her first year she worked as a secretary and then moved into a bookkeeping position.  In October of 2005, Laurie was selected to assist in the business office and be our go-to accounts payable employee.
Laurie works hard year round to assist our business manager and the payroll department.  She processes orders for the district and takes care of all things accounts payable.  She enjoys coming to work because of the co-workers she gets to interact with every day.  Laurie always has a smile on her face and enjoys both working with the public and completing all the accounts payable paperwork that truly keeps our district operating smoothly.
When she is not working at the district office, Laurie enjoys going for walks with her husband, Mike as well as working in her yard and reading.  However, those of us who get to work with her know how much she loves sharing time with her kids and grandkids.  She has four beautiful grandchildren, Maelee (5), Nash (2), Jace (3) and Dane (1) who all brighten the walls of her office space!
Thank you Laurie for always being willing to help no matter the request and for doing such an amazing job taking care of so many details (big and small) that are crucial to our school district.  We couldn't do our jobs without you!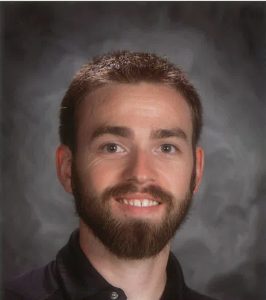 Our final employee of the month for the 2018-2019 school year is Pete Mazzei.  Pete is a custodian at Fern Ridge Middle School and has worked for the district since June of 2010.  He was nominated for this award because he is constantly proving himself to be a valuable part of the staff at FRMS.  He is always willing to stop what he is doing to help a student, staff member or parent volunteer.  In addition to his custodial duties, he also serves on the middle school safety committee.
Pete works hard each day to ensure that the building is clean and ready for students to arrive the next school day.  While students and staff are looking forward to a summer break in the next few days, Pete and the entire custodial crew are busy preparing for their summer cleaning schedule. During the summer break for staff and students, custodians are working harder then ever to strip and re-finish gym floors, deep clean classrooms, staff areas and locker rooms.  They work tirelessly to get the buildings ready for students to return in September.
Pete enjoys weightlifting and atv riding in his spare time.  He says that his favorite part about his job is the hours that he works because he gets to interact with staff and students during the course of his work day.  Thank you Pete for all that you do for our middle school staff and district!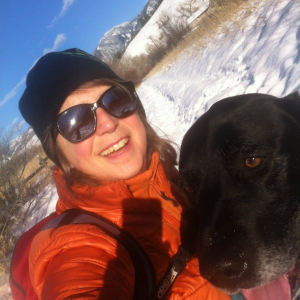 Debra St. Hilaire or "Ms. Saint" as she is known at the high school is our May employee of the month.  Ms. Saint has worked for the Fern Ridge School District since 2008.  In her own words here is some insight into this deserving educator:
Of all the adventures experienced in life, the most life changing and cherished is my son. Henrik transformed me the moment he was born, I knew him as though he'd been in my life for eons. He has allowed me to love deeper and more completely than I could ever have imagined while bringing me endless joy!  At 22, Henrik's a reflective and conscientious young man being true to himself in finding his path. Initially enrolled in Astro-Physics at UCLA, he's completed two years of medical work at a hospital and clinic, and contributed to three medical research studies. He competed in cycling, Judo, picked up bouldering, and bought himself a violin to "stretch" himself, eventually performing with UCLA's Game Orchestra. Henrik graduates in June with majors in Economics and French. He loves the challenge of programming and data crunching and we have our fingers crossed that he lands his dream 'gap year' job at Rand Corporation in Los Angeles.
Things that make me 'tick'…  crisp air on my face while the rest of me remains warm. I love snow, sun, hiking, cycling, extended meandering walk-a-bouts and animal trails that get me lost within familiar territory, cross-country skiing, and road tripping with the flexibility to change routes or destination or pace. I'm addicted to designing and remodeling my home, and having my own tools so I can complete projects without hiring them out. I forgive myself when I make mistakes and take the freedom to laugh at them as I learn.  I love sleeping under the stars on my roof every night of summer!
What Elmira students give to me is complete and unexpected. These kids bring me so much joy that I literally tear up when talking about them to others. They are 'present' and real, and supportive of each other in spite of differences. They have made my life incredibly full and I love soaking up their energy and innocence. When I describe what I do to friends, it feels as though I'm talking about 'playtime' because I get to have so much fun while guiding and tricking students into learning. Teaching these kids is by far the most rewarding, challenging and satisfying of all my professions, and I am profoundly fortunate!  Thank you for sharing your kids with me.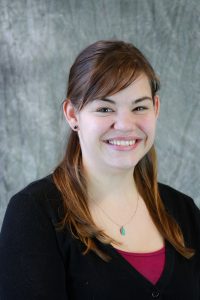 In September of 2012 Fern Ridge was fortunate to hire Billie Perrier as a classroom teacher at Elmira Elementary School.  She and Kevin Perrier have been married for 12 years and together they have two daughters.  Kenna is almost 3 and Tessa just celebrated her first birthday!
Mrs. Perrier has taught both Kindergarten and First grade at EES.  Her passion for teaching and willingness to collaborate with peers is evident each and every day.
She is active in the Rural Schools Network Professional Development and is a Teacher-Leader with the Professional Learning Communities Initiative.   She strives to create a safe and welcoming learning environment in her classroom for all of her students and has excellent classroom management skills.  Her principal let us know that Mrs. Perrier is always looking to improve and often volunteers for extra activities such as serving on the reading committee, being a teacher representative on the EES Parent-Teacher Association and has worked on multiple grants for the school.
When asked what her favorite part of her job is, Mrs. Perrier replied, "Every day I walk into a room full of love and smiles plus I get to work with incredible people.  It is truly an honor to be a first grade teacher, I get the privilege of teaching children how to read, which is magical."
Mrs. Perrier's love of teaching and dedication to her students help make Elmira Elementary an even better place for all students and staff.  Congratulations Mrs. Perrier!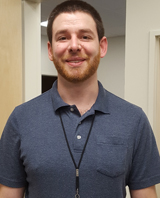 Mr. Siegal has been the music teacher at Fern Ridge Middle School since August 2017.  Each day he instructs Beginning Band, Intermediate Band, Advanced Band, Choir, Guitar and Intro to Music.  He teachers and plays the flute, clarinet, saxophone (alto, tenor, baritone), trumpet, trombone, baritone, tuba, guitar, ukulele and piano.  Of those instruments, Mr. Siegal is most skilled on percussion (drum set), clarinet, piano and ukulele.  (As you can see FRSD students are fortunate to have such a talented teacher!)
He tells us that his favorite thing about his job is working with students in different areas of music and seeing/hearing their musical development and hearing from them how music is a part of their lives.  Observing the musical improvement of individual students and the ensembles throughout the year is exciting and rewarding.  He also really enjoys being able to play different instruments throughout the day.
Mr. Siegal is very interested in percussion traditions from around the world.  His interest in world music has led him to travel to Ghana, West Africa to study traditional drumming and also to Salvador de Bahai, Brazil to study samba-reggae.  When he is not practicing drums, piano or ukulele, he enjoys hiking and fishing.  During the summer months he enjoys backpacking in the Cascades.
This summer, Mr. Siegal is getting married to his finance, Jaclyn Teixeira.  They have been together for 10 years after originally meeting in their 8th grade Spanish class.  They are planning to be married in their home town of Dartmouth, Massachusetts and will then travel to Portugal.
Our students and district are lucky to have Mr. Siegal as a teacher.  Congratulations!