General Information
Check out the new 2020-2021 School Year Information Page on the Fern Ridge Website  (located at the far right of the navigation tabs in red).  It is a work in progress, but in the coming weeks lots of information will be located in this one location for families.
Here you will find the weekly recordings of the community Q and A sessions with Superintendent Carpenter along with information on the paths available to FRSD families and many other links to resources and information.
Good morning FRSD Families.
I know many of you are anxious about what school will look like in the fall, and understandably have many questions.  On June 10th, the Oregon Department of Education released its "READY SCHOOLS, SAFE LEARNERS GUIDANCE FOR SCHOOL YEAR 2020-21" document.  If you are interested in reading it, it can be found by clicking here.
Since it was released, our staff has been reading and re-reading the information, as well as attending many trainings and virtual meetings to hear what others around the state are considering.  Over the next two weeks, we will continue to brainstorm ideas that comply with this guidance, leading up to a team of staff, students, and parents that will begin to meet on Tuesday, July 7th, to begin to plan what school will look like in our District.
We have developed a survey with the help of Lane ESD that will compile some data for this team to review as we begin the planning process. You can access the survey by clicking here, and we ask all of our parents to fill it out.  The survey will remain open through Friday, July 3rd.  Thank you in advance for your participation.
Gary Carpenter, Superintendent, FRSD 28J
This week schools are accepting Chromebooks, textbooks, and library book returns from students and families.  If you have materials to return but are unable to make it to the schools during the listed times please contact your school office directly to make other arrangements.  Our staff will continue to observe social distancing protocols as materials are returned.  Thank you and have a wonderful summer!
Elmira High School (541) 935-8200
Wednesday, June 10th – Friday, June 12th from 8:00 am to 2:30 pm
Fern Ridge Middle School (541) 935-8230
Monday, June 8th – Tuesday, June 9th from 8:00 am to 2:30 pm
Elmira Elementary School (541) 935-8214
Monday, June 8th from 10:00 am to 12:30 pm and 1:00 pm to 3:00 pm in the bus loop.
Tuesday, June 9th to Friday, June 19th from 8:00 am to 2:30 pm
Veneta Elementary School (541) 935-8225
Monday, June 8th from 10:00 am to 12:30 pm and 1:00 pm to 3:00 pm in the bus loop.
Tuesday, June 9th to Friday, June 19th from 8:00 am to 2:30 pm
FRSD Families:  While things are still uncertain for the Fall, as school districts continue to wait on ODE guidance, we are hopeful and prepared to do the necessary work between now and September to be able to return to school in as close to normal fashion as possible.  Having said that, a tremendous amount of planning needs to take place between now and then.  A clear understanding of the thoughts of our families will be helpful as we begin this work. We understand the start of a normal school year is still 3 months away, and many of you may be unsure of plans for your family.  Hearing from our families now will help us in beginning to plan within the constraints of our budget, staffing and the upcoming ODE guidance.  Within the next week a staff member will be reaching out to you to answer the following question. Please be prepared to share your thoughts when you receive that call. Below is the question, and the three choices of a response:
In thinking of school in the Fall, with what you know now, I believe:

A:  My student will absolutely be back in a FRSD regular "brick and mortar" school in September if school is open.
B.  I am unsure if my student will be returning, our family may be looking at other educational options.
C.  I am certain my student(s) will NOT be returning to "brick and mortar" school in September, even if schools are open.
Thanks for you participation,  you should hear from someone at the school by Friday, June 12th!
FRSD Families, in partnership with DHS and ODE, who have been enrolled in the Free/Reduced Lunch program or who may now be eligible with the current health emergency, will receive $5.70 per child per day in assistance on an EBT (Oregon Trail card for March-June).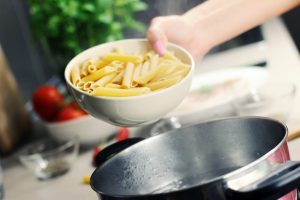 The Fern Ridge School District and Chartwells staff are currently working on getting ODE our updated information.  They, in turn, will pass along to DHS to make this happen.
If you are currently enrolled in the Free/Reduced Lunch program, no further action is needed.  Our understanding is that those who already receive SNAP benefits will receive a supplement automatically on their EBT card.  Those who don't have SNAP will receive an EBT card with the issuance by mail.  The payments will be retroactive to March 16th, 2020.
This program is only available to families with students currently enrolled in FRSD.  Parents/families who have not been on free/reduced lunch may now be eligible due to the current economic/job situation with COVID-19.  Families are encouraged to apply with the school district.  Your information will be picked up with a 2nd data submission to ODE.  The benefit amount will be pro-rated to the 1st of the month of the student enrollment date.  If you would like to pursue becoming eligible now, you should apply immediately.  For information on how to apply, as well as contact information for our food service staff, please visit the following webpage:  https://www.fernridge.k12.or.us/?page_id=337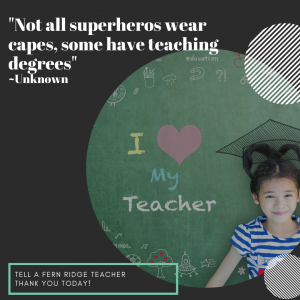 May 4 to May 8 is the week set aside to recognize teachers for the extraordinary work they do with our students.
Great teachers do more than teach reading, writing, and math.  They help set our children up for success in life.  Whether students enter into a trade, go to college, or jump into a career, they are more prepared for life because of the teachers who guided and supported them along the way.
Even when faced with the incredible task of educating students virtually on a moment's notice, our Fern Ridge teachers have shown they are dedicated to their students, no matter the circumstances.
Now more then ever we want to recognize the teachers who step into the lives of their students and make a positive impact.  Please join me by thanking all of our Fern Ridge teaching staff!
FRSD Students and Families:
We made good progress this weekend regarding planning for our Distance Learning framework.  Our goal is to have it ready to go by Monday, April 13th.  Below is some general information for you to consider in the days ahead as we prepare for this rollout.
 WHAT IS REQUIRED?: As I have mentioned before, your level of engagement is entirely up to you, based on your student and personal circumstances.  For some, what we roll out will be a lot to take in, and may be too much to support.  If so, engage at the level you feel is appropriate for your family.  For others, you may wish you had more.  In those cases, reach out to your teachers, and they will work to support you and provide additional learning opportunities and supports.
SENIORS: ODE is getting closer on the proposal for high school seniors.  I do expect it soon.  We are preparing for it and will be able to roll out what that looks like in Fern Ridge with a short turnaround.
Distance Learning for K-8 students.  For at least the first 3 weeks, this will be ONLY through the website and printable weekly plans, lessons, and packets in English (Reading and Writing), Math, and Physical Activity.
Distance Learning for H.S. students. For high school students, this will be through an individual google classroom for various classes/subjects.  All information will also be printable from the website
TEACHER OFFICE HOURS: Teachers will begin to maintain regular office hours to receive and respond to emails and phone calls from home daily from 8 AM-4 PM.  Many will respond and communicate before and after that, as well, if it works better for your families.  They will respond within 24 hours, often much sooner.
TECH SURVEY-DEVICES FOR HS. STUDENTS: We are in the process of conducting a "home technology" survey of our high school students at this time.  Our goal is to have in place by Friday, April 18th, a plan for high school students to sign out a Chromebook for home use…maybe earlier.
PRINTABLE PACKETS: These can/will be accessed one of 3 ways.

Pick up from the school.  The first day they will be available is Monday of each week, although you could pick up any day.  IT IS A HUGE HELP FOR THOSE THAT CAN PICK THESE UP FROM THE SCHOOL
We will mail them to you.
In some cases, we can deliver to your door, either through buses or staff vehicles.

ANSWER KEYS: As a standard, we will not be sending home "answer keys."  However, if you would like a specific answer key for a subject, please work with the individual teacher and or building principal and we will email or mail  you one.
TEXTBOOKS:  At the high school and middle school level, we are still working on a textbook distribution model.  For elementary students, while the physical Language Arts "Journeys" textbook isn't needed for work at home (as we can send home the printed pages, and you can access the textbook online)…Language Arts books WILL be available for pick-up at the school as well, beginning Monday, April 13th.  If you can't make it to the school and want one delivered….we will make that happen as well.
TURNING IN WORK:  For the immediate future, work completed will not be turned in.  However, we will be getting you a colored folder to collect/save the work.  In the coming days/weeks, we will establish a process to turn work in, so be sure and save anything that is completed.
That's probably enough information for now.  Thank you for your continued patience and grace with district staff as we navigate through this. We have many folks working hard each and every day to provide meals for the community, daycare for essential workers, supplemental learning, and now distance learning.
Gary Carpenter, Jr.  Superintendent, FRSD 28J
DISTANCE LEARNING: FRSD Students and Families,  in accordance with the Governor's order on Monday night, the district is diving deep into looking at moving from supplemental learning opportunities, to distance learning.  Our goal is to have the framework of this in place and ready to go by Monday, April 13th.  Until then, please continue to utilize the supplemental resources.  For the families of our Seniors, I continue to wait on guidance from ODE on this.  They continue to say it is on the way, and it continues to get delayed.  As soon as this information is released, we will pass along to our families, along with what the recommendations will look like in Fern Ridge.
MEAL SERVICE:  Today was our first attempt at expanding meal service with 13 different bus routes (2-3 stops per route).  Despite some minor logistical issues we will refine tomorrow, it was a tremendous success.  We were able to serve 886 meals.  Last week in Fern Ridge, we served just under 3000 breakfasts and lunches combined. Thank you to our staff that handed out meals at the service locations, as well as all of the drivers.  For more details on this service, where the buses will stop (and times), please visit the meal section of the  COVID-19 CLOSURE PAGE at this link: (click here).