Due to a problem at the bus barn, Route 11 for Elmira Elementary and Elmira High School is running 25 minutes late this morning – 1-19-16.
Lane County Parks wants to hear from you about a proposed playground design at Perkins Peninsula Park.  A meeting at the park will be held Friday, January 29 from 2 p.m. to 4 p.m.  Written comments may also be sent to David Stockdale at david.stockdale@co.lane.or.us.  See the design concept on the County Parks website under Announcements at: www.lanecounty.org/Parks.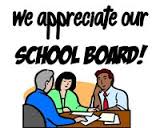 January is School Board Recognition Month.  Our school board members spend countless hours of unpaid time working to provide the best possible education for our students.   Celebrating School Board Recognition Month is one way to say thanks for all they do.
School board members represent their fellow citizens' views and priorities in the complex enterprise of maintaining and running the community's public schools.  They also reinforce the principle of local control over public education, which is an important, highly valued aspect of education in Oregon.
Please join us in thanking Fern Ridge School District Board of Directors Andrea Larson, Twinkle Morton, Craig Soderberg, Sterling Pew, and David Bolton.
Fern Ridge School District is operating on a 2 hour delay today – 1-5-16
All Fern Ridge School District activities and board meeting are canceled for today – 1/4/16.
2016 is just around the corner!!!  Winter Break will be from December 21, 2015 – January 1, 2016.   There will also be No School on Monday, January 4, 2016 for students.  Monday,  January 4, 2016 is a Teacher Workday.  School will resume for students on Tuesday, January 5, 2016.  Have a great Winter Break!
This morning we had a bus go down with a screw in the tire which resulted in the combining of a couple of bus routes.  Route 6 for Veneta Elementary School will be running late this morning.
All school buses will be on their normal routes this afternoon.
Buses will not be traveling on Jeans Road between Cornerstone and Houston due to a law enforcement situation.
Oregon State law (ORS 327.103) requires that all public schools and districts must meet standards set by the State Board of Education. By January 15 of each year, school district superintendents are required by OAR 581-022-1610 Operating Policies and Procedures to report to their communities the district's standing with respect to all of the standards for Public Elementary and Secondary Schools as set out in Oregon Administrative Rules Chapter 581, Division 22.   Continue reading →