News
Just as the buses were leaving Elmira Elementary School Monday afternoon, the school received a bomb threat by telephone.
Staff and students in our after school program were immediately evacuated to Elmira High School.  Lane County Sheriff's Department was immediately on site checking Elmira Elementary School.
The school has been deemed safe, and no bomb was found.  All students and staff are safe.  School will continue as normal tomorrow.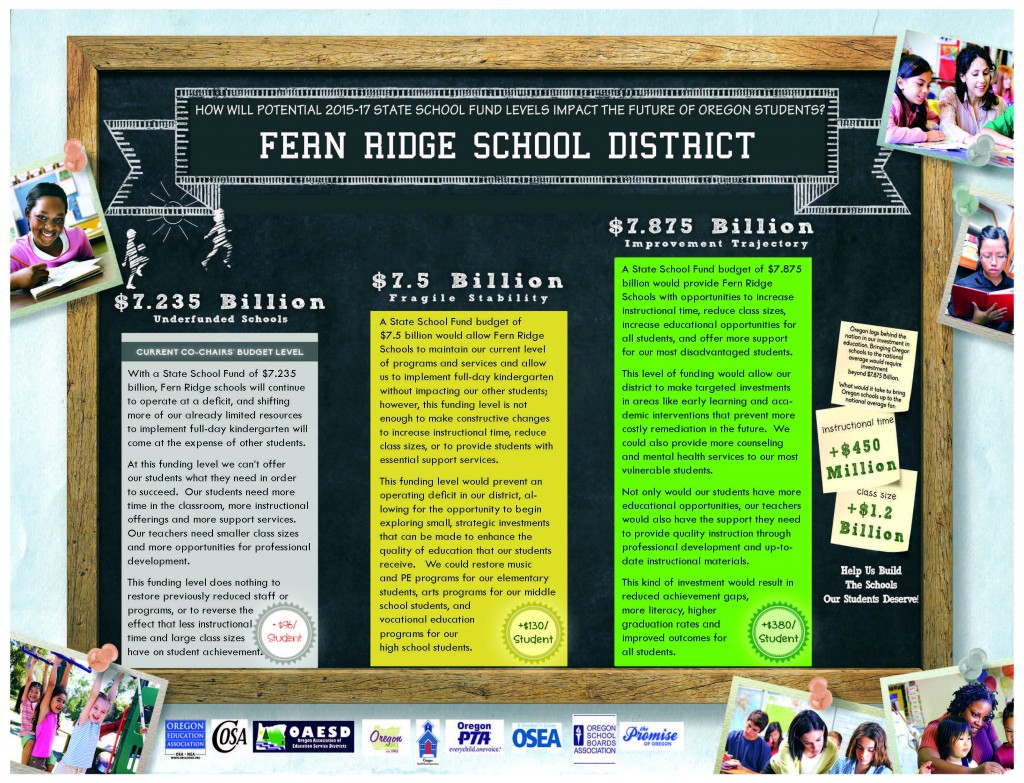 The Oregon Legislature is currently discussing a State School Fund appropriation of $7.235 billion for the 2015-2017 biennium. This level of funding is significantly inadequate and would do nothing to restore previously reduced staff or programs, or to reverse the effect that less instructional time and large class sizes have on student achievement.
Per Oregon Department of Education estimates, Fern Ridge Schools will receive $96 less per student next year then what we are currently receiving.  We will continue to operate at a deficit, and shifting more of our already limited resources to implement full-day kindergarten will come at the expense of all our students. When combined with increased costs and the addition of full-day kindergarten, the scenario being considered by the Legislature means we are facing more lost school days, higher class sizes, and further reduction of what few programs we have left.  In the last twelve years we have eliminated all music and PE programs at our elementary schools, and over 20 course offerings at the middle school and high school.
Below is a link to a one page handout describing what a $7.235 billion funding level means for our district.  Also provided is information on what a $7.5 billion and a $7.875 billion funding level means for our district, some facts about Oregon's education system, and contact information for the senator and representative that represent our district.  Superintendents from across the state are asking their staff, parents, community leaders and school board members to contact legislators and advocate for better school funding.  Please consider reaching out to our legislators; our students deserve stable and adequate funding.  Thank you for your support and action!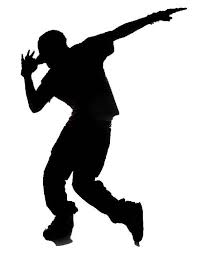 The EHS Mr. Falcon Contest is just around the corner!!  Put  Friday, April 3rd on your calendars for a fun filled evening.  The cost is $8.00 for adults and $5.00 for students if purchased before the night of, at the door, tickets are $10.00/$7.00.  Good luck to contestants Tucker Barnes, Tristan Cornelius, Seth Johnson, Gannon Jones, Ramasas Labastida, Carlos Robertson, and Arashi Wahl.  Head Coordinator is Bailey Mills.  All funds raised stay in the Fern Ridge Community.
EHS did well when compared to other schools around the state in regards to Graduation Rate data recently released by the Oregon Department of Education. The most often used rates are 4 & 5 year Graduation and Completer Rates. The Graduation Rates for 13-14 (both 4 and 5 year) take into account the % of students that earned a regular or modified diploma in this time frame. The state average for 4 and 5 year graduation rates was 71.98% and 75.90 % respectively. At EHS 79.65% of our students graduated in 4 years and 81.65% graduated within 5 years.   Completer Rates take into account students that also earn GED's for example. The state average for 4 and 5 year Completer Rates were 76.90% and 82.15%, while at EHS those same rates were 82.30% and 86.24%. The staff at EHS continues to work to adapt the services and resources available to families to better meet the needs of our students and community.       One of the primary indicators of graduation rates is attendance at school. This is also one of the best and easiest ways parents can support their students throughout High School. Ensuring the school attendance every day is a priority is critical and sends an important message to our students that an education is valuable. Thank you to all the parents that make school attendance a priority.                  NOTE:  If you are confused by the Graduation Rate data in the Register Guard today that shows the FRSD as the lowest in the area with a 56.9% 4 year cohort rate, please be aware that is the result of the EHS rate of 79.65% being combined with the charter school rate (West Lane Technical Learning Center) of 14.04%.
The 2nd grade teaching team of Deanna Greene, Corinne Messman, and Angie Pebworth at Veneta Elementary School have been selected as the Veterans of Foreign Wars Teachers of the Year for VFW District 13 for their outstanding work in civic education during the past year.  The 2nd grade team worked together to teach students about their local community with field trips to city hall, the Applegate Museum, Zumwalt Park, etc.  Their students heard from descendants of some of the Fern Ridge founding families.  Local leaders from the community also were guest teachers in their classrooms.  The three teachers will be honored at a banquet at the Springfield VFW Post on December 14th.  We are very proud of each of them and of the program they put together.  Congratulations!!!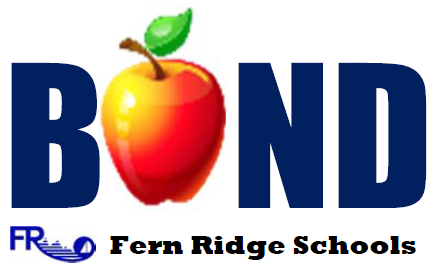 LCG Pence Construction of Salem, OR has been awarded the contract to provide Construction Manager / General Contractor (CMGC) services for the construction projects at Elmira Elementary and Veneta Elementary.  The District received proposals from six firms, which were evaluated by District staff and members of the Citizens Oversight Committee.  Ground breaking for the projects will take place in late spring 2015.  For more information about the bond projects, click here.
Today we received tragic news.  We were informed of a car accident on Hwy 126 just East of Mapleton that claimed the life of two young adults and seriously injured others.  Several of those involved have many close ties, friends and family in the Fern Ridge area.
Elmira High School created a "safe room" where students could go to talk to an adult and or a counselor if they needed to do so.  EHS will maintain this "safe room" again tomorrow as needed.  Several families understandably picked up their students from school today.  In the coming days we trust families to make the best decision for their student regarding school attendance.
We are here to support students and parents in whatever way that we can.  Our thoughts and prayers are with the Mapleton High School community and the many families affected by this tragedy in our local area.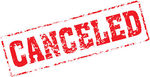 Due to a power outage, the regular board meeting scheduled for October 20, 2014 at 6:30 PM at Elmira Elementary School has been canceled. Patrons who planned to make public comment at this meeting may e-mail board members.  All agenda items will be pushed to the next scheduled board meeting on Monday, November 3, 2014 at 6:30 PM at the District Administration Office.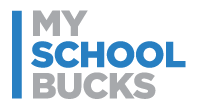 The District's Food Service Program is now accepting payments for meal purchases through My School Bucks, an online payment service that allows the ability to securely pay for school meals online using a credit or debit card.  Sign up today to access your student's meal account balances and meal purchases, schedule automatic payments or create low-balance alerts.  There is a fixed $1.95 fee per transaction.  For more information, click here.
Concluding its search for a superintendent to succeed Dennis Friedrich whose term ends June 30, 2014, the Fern Ridge School District Board of Directors is pleased to announce that Dr. Sally J. Storm has been selected to be the district's next Superintendent effective July 1, 2014.  Storm and the Board are working on the terms of a tentative agreement that will be finalized at a public meeting.  The Board anticipates making the official offer for the position at a special board meeting on March 31, 2014.  Press Release.