Employee of the Month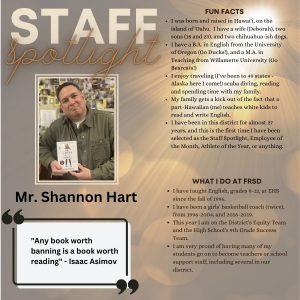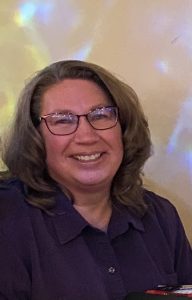 Our June employee of the month has worked for the Fern Ridge School District since August of 2013.  She worked as a media assistant in the library and as a bookkeeper for Elmira High School until the District Office was lucky enough to snag her in 2022.
Julie will take over the Accounts Payable position this July and will manage the purchasing and invoicing for our entire district.
She explained that working at the District Office has been a wonderful experience.
I love the challenges of my job.  I'm always learning something new.  I have really great co-workers and everyone works well together.
Julie and her husband, Bruce just celebrated their 30th wedding anniversary this year!  Their oldest son Jared graduated from Elmira High School in 2017 and their youngest son, Brody is a junior at EHS.
In her free time she enjoys being with her family, having dinner with friends, and enjoys watching movies and sports.  One of her favorite summer past-times is kayaking at Fern Ridge, Horton Pond or on the coast.
She also likes to read, craft and travel…..just enjoying the moments, big or small!
Congratulations Julie!  We're luck to have you on the District Office team!
Congratulations Shelby Humphrey!!   🎉  Our May employee of the month!  🎉
Shelby has been the glue helping to hold the office at Fern Ridge Middle School together.  Seriously, what doesn't Shelby do?!?  She not only serves as head secretary handling phone calls, updating attendance, student registration, immunization information, school purchase orders, petty cash, schedules and hundreds of other things that would take up this entire post!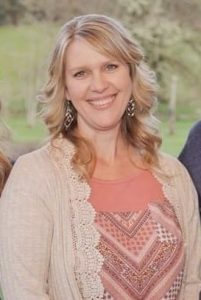 These past few years have been especially challenging with all of the additional COVID related work which meant reaching out to families, rounding up the take home work for students, not to mention monitoring and updating all of the tracking spreadsheets!  This year, she has done all this and more with less help in the office since our Instructional Assistant shortage meant that our other secretary, Casey, had to be assigned to more student supervision duties.
When she is not busy being the rockstar of the FRMS office, Shelby likes to spend time with her husband of 18 years,    Nate Humphrey and their daughters,  EHS 9th grader, Hannah and FRMS 6th grader, Olivia.
Shelby loves to be outdoors at the beach, camping, swimming, rafting, hiking, traveling and she still finds time to read, bake and volunteer.
Her favorite part about being in the office at FRMS is being able to help students and assist parents with whatever they might need.  Supporting teachers, administrators and staff in any way that she can.  "I like making people feel appreciated and truly enjoy being helpful.  I love to see the smiling faces and making a difference in someone's day."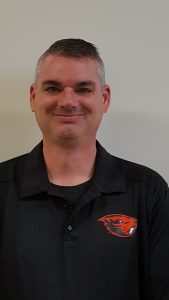 Mike Guill, a teacher at Veneta Elementary since August of 2008, has been selected as our April Employee of the Month!
His day gets started by greeting kids, boosting their spirits, and making the school a welcoming place to be.  He does his best to instill a love of learning in every student that crosses his path.
VES staff members tell us "he works diligently to read with all of his students at their instruction level, regardless of what that is.  He asks for suggestions from other teachers on how to best serve his students, and encourages and supports students' reading in his classroom.  So many students have benefited from him over the years!"
He always quietly encourages staff that he notices are working long hours or he knows are going through a rough patch.  He will anonymously drop off a coffee, a blizzard, chocolate flavored coffee beans, or whatever he feels would make a staff member's day better."
When not teaching and supporting other Veneta Elementary staff members, Mr. Guill is most likely to be found playing disc golf  – he thinks he's terrible at the game but he loves to play!  He enjoys hiking with his wife of 28 years, Fenn, driving through Finley Wildlife Refuge and spotting critters that look like tiny dust balls with legs running across the road (Fenn calls them baby quail) 😉
The Guill's have two daughters, Dana who works at Veneta Elementary School as an instructional assistant and Allison who works at Chintimini Wildlife Rehab.
His favorite thing about his job is "The people I work with because it feels like family rather than a job.  I also love challenging kids to be the best they can be rather than settling for "good-enough"
Thank you for all of the encouragement and support you continue to show students and staff!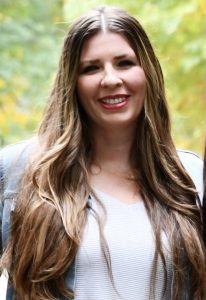 Mandy Storey has been working as a Fern Ridge School District employee since September of 2019, but with all five of her and her husband's children attending FRSD, she really has been a familiar face since 2006!
Currently, you'll get to see Mandy's smiling face in the front office at Elmira High School where she spends most of her day answering phones, assisting parent with questions on everything from sporting events to school schedules to policies.  She works with her student office assistants to show them how to use the phone system and learn office skills they can use outside of school.  She assists administrators and teachers in their daily routines to help make their days go more smoothly, as well as taking daily attendance, putting together morning announcements and welcoming many different substitutes to the building to help out staff.  Mandy is also a very pivotal person in the school's Leadership class helping bring school spirit to all at Elmira High School.
"My favorite part about my job is seeing the students in the morning and welcoming them in with a smile.  I like to ask how their morning is going and hear about their days.  I let them know I'm invested in their success.  So even when it has been a tough morning, I can typically get a smile out of them by letting them know I am HAPPY to see them and that they made my day by being present."
In Mandy's free time she enjoys going to dinner with friends, hiking, being in the outdoors and watching fun movies and TV shows with her family.  She has been married for over 19 years to her husband James and together they have Justice, William, Gracie, Brady, and Scarlett.
Mandy tells us that her all time favorite place to go is the beach.  "Any day at the beach is a great day for me."  She hopes to be able to travel more in her down time and hopes to one day travel the world with her husband.
Thank you Mandy for all you do to help keep Elmira High School running smooth and making it a welcoming place for students!
Fern Ridge roots run deep with our February employee of the month! Not only is Emilee Russell a graduate of the Fern Ridge School District, but so are her two siblings and her mom works in the middle school library. Before joining the district as a teacher, Ms. Russell worked as an Instructional Assistant at Elmira Elementary for two years while in college.
Ms. Russell came to work for the school district in September of 2020 as an elementary teacher in the Options program.  This year, she is teaching Kindergarten at Elmira Elementary School.
"My favorite part of my job is seeing students' confidence and self-esteem grow.  Every chance I can, I love to show them their progress and remind them of things they used to have difficulty with and now are so much stronger at. I feel lucky to have the chance to help kids develop an excitement and love for learning!"
One of her favorite things to do each morning is greet students:
  "I have learned that in just a quick minute each morning, you can make a kid feel special and cared for and happy to be at school."
This year, Ms. Russell has joined the math committee and is one of the coordinators for the Talented and Gifted (TAG) program.  "I am loving learning more about TAG and meeting and working with students from all over the district."
This is the first year she has taught Kindergarten and she is so thankful for such a supportive team and everyone who helped her learn the ropes in a new grade level.
When she is away from the classroom, she enjoys snow skiing, crafting, jogging and reading.  She and her boyfriend just moved from Eugene to Elmira with their two dogs, Ace and Willie.  Together they love road trips and she is slowly but surely visiting the National Parks.
Mrs. Klingsporn nominated Ms. Russell for this recognition because of her "super flexibility in moving to the EES Kindergarten position and how she dove in deeply to support students"
Elmira Elementary (and the entire district) appreciate Emilee's positive attitude, calm presence and laughter.  Thank you Emilee!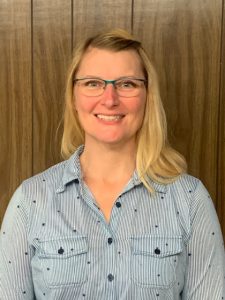 Congratulations to Candice Stansell, our December 2021 Employee of the Month!
Candice has worked in Fern Ridge for a little over a year in our OPTIONS program and has quickly proven herself an invaluable member of our team!
She assists with grading, attendance, downloading student lessons, helping parents on the phone and greeting families.  "There is never any down time in our department; I like that it keeps us busy."  Her favorite thing about her job is getting to be in charge of her department's Wellness Challenges and learning new technology skills.
"I have some pretty great co-workers that I get to work with and learn from."
Candice and her husband Nick moved to the area from Springfield where Candice ran a Daycare/Preschool for 21 years.
In October 2019, she started with us as a classified substitute before she joined us full time in OPTIONS.
She has two boys of her own; Grant 20 and Coleman 23.  She also has three step kiddos; Emma 12, Autumn 22, and Jaren 24 and a 5-year old grandson 🙂
She loves to craft, bake, collect rocks and play games with her kids but her all-time favorite way to spend her time is by going camping in their converted van.
With recent staffing changes, Candice has gone above and beyond to ensure our OPTIONS students have all of the resources and help they and their families need.
Congrats Candice!
Our November Employee of the Month has been teaching in Fern Ridge for 30 years!  We are excited to highlight the dedication of Mrs.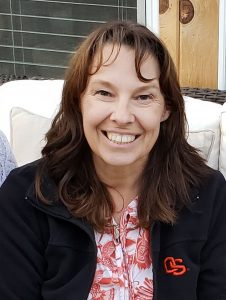 Marian French who has spent the majority of her time in Fern Ridge teaching Social Studies to our middle school students.
Mrs. French started working for the Fern Ridge School District in August of 1991.  Since that time, she has dedicated countless hours to our students while also raising a family.
Her husband, Derek, volunteers with the high school's soccer, cross country, wrestling and track teams.  Their sons are both EHS graduates.  Darin was the valedictorian in 2014 and Daniel was the Salutatorian in 2017.
When she is not busy with her students or teaching summer school or mentoring new teachers at the middle school, Mrs. French enjoys cooking, gardening, home improvement and spending time with her family and friends.
When asked about her favorite part of the job she told us, "Every day has its different rewards, challenges and surprises!"
Congratulations Mrs. French!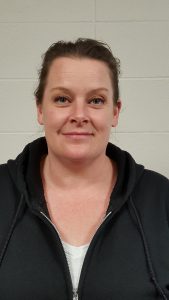 Congratulations to Jaime Weaver, our FRSD October Employee of the Month!
Jaime has been an invaluable member of our Fern Ridge staff since January of 2011.  She is an integral part of the Special Education department at Veneta Elementary and is responsible for scheduling all of the meetings between parents and the Special Education teachers, the Speech-Language Pathologist, and our Behavior Specialist!  In addition to helping all of these staff, she also keeps our school safety maps updated and helps out where ever there is a need at the school.
Once her school day is over, she stays and works at Fern Ridge Child Development Center taking care of Veneta Elementary and Elmira Elementary students in afterschool program.  When she isn't busy assisting staff and taking care of kids, Jaime enjoys fishing, travel, gardening and spending time with her family.  Jaime's two sons have both attended school in Fern Ridge.
Thank you Jaime for always keeping our Special Education staff organized and for taking such good care of all our students!