Employee of the Month
Our November Employee of the Month has been teaching in Fern Ridge for 30 years!  We are excited to highlight the dedication of Mrs.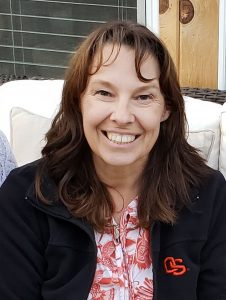 Marian French who has spent the majority of her time in Fern Ridge teaching Social Studies to our middle school students.
Mrs. French started working for the Fern Ridge School District in August of 1991.  Since that time, she has dedicated countless hours to our students while also raising a family.
Her husband, Derek, volunteers with the high school's soccer, cross country, wrestling and track teams.  Their sons are both EHS graduates.  Darin was the valedictorian in 2014 and Daniel was the Salutatorian in 2017.
When she is not busy with her students or teaching summer school or mentoring new teachers at the middle school, Mrs. French enjoys cooking, gardening, home improvement and spending time with her family and friends.
When asked about her favorite part of the job she told us, "Every day has its different rewards, challenges and surprises!"
Congratulations Mrs. French!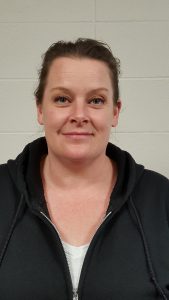 Congratulations to Jaime Weaver, our FRSD October Employee of the Month!
Jaime has been an invaluable member of our Fern Ridge staff since January of 2011.  She is an integral part of the Special Education department at Veneta Elementary and is responsible for scheduling all of the meetings between parents and the Special Education teachers, the Speech-Language Pathologist, and our Behavior Specialist!  In addition to helping all of these staff, she also keeps our school safety maps updated and helps out where ever there is a need at the school.
Once her school day is over, she stays and works at Fern Ridge Child Development Center taking care of Veneta Elementary and Elmira Elementary students in afterschool program.  When she isn't busy assisting staff and taking care of kids, Jaime enjoys fishing, travel, gardening and spending time with her family.  Jaime's two sons have both attended school in Fern Ridge.
Thank you Jaime for always keeping our Special Education staff organized and for taking such good care of all our students!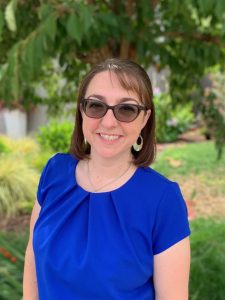 Congratulations to our employee of the month, Callie Johnson!  Callie was one of our super star staff members who went above and beyond to help teachers and students during summer school and KITS!
Callie has been an employee since September 5, 2017 and has helped to support students at all three levels: elementary, middle, and high.
She and her husband of 18 years, Mark have four kids Andrew, Julie, Porter and Max.
She tells us that some of her favorite things are Crumbl cookies, the roller coasters at amusement parks, hiking/swimming and being outdoors.  She loves to bake, enjoys Harry Potter, flamingos, pineapples, math, learning new things and exploring.  She is currently enrolled in college for finance/accounting and in her downtime (wait…..Callie, you have downtime! ☺️) she crochets.
When asked about her day she explained, "no two days are the same and no two children are the same.  It's so fun learning new ways to teach a child and how to connect with them.  School is changing all the time, you need to be able to be flexible with whatever you are given.  It's a challenge at times but so rewarding."
In her time helping in our front offices, she loves, "being able to reassure parent needs and helping them get the answers they are looking for.  Being able to provide for the staff and help out the principals to make their jobs easier or to take on a task to help free up their time to do other things."
Callie enjoys the relationships she builds with kids, hearing about their weekends and things they enjoy.  She also loves to help them learn. If it's a math problem they are struggling with, being able to explain it a different way and seeing their 'ah-ha' moment of understanding is pretty great.
Congratulations Callie and thank you for all of your hard work during the school year and during summer school.  You rock!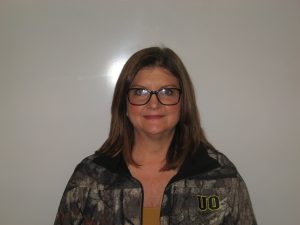 Our June employee of the month, Teri Moen, has worked for the Fern Ridge School District for over twenty years.  She started here on September 1, 1998.
Teri manages the learning center at Elmira High School where kids who are struggling come for extra help.  She meets with the parents of students who are on Individualized Education Plans (IEP), works with the students daily and writes their IEP plans.  She serves on several committees and is active in the teacher's union.
When she isn't helping students, she loves to camp, crochet, and craft but her favorite past-time is following her two grand-daughters around watching them play on travel softball teams.  She also likes all things sour gummy and dislikes bullies!
She has been married to her husband, Jim for almost 28 years and is blessed with two beautiful daughters, Kyleigh & Mckenzie.  She has two handsome son-in-laws, Ryan & Brandon and 9.5 grandchildren: Jayden, Jordan, Layla, Taylor, Jack, Connor, Lace, Presley, Cove and Dejàlyn (due in September).
Teri loves building relationships with kids who struggle.  "Helping a kid to discover that they really "can" do it."  She also appreciates working with an amazing team.
Congratulations Teri,  we appreciate all of the work you do in our special education department!
Congratulations to Dawn Northey!  Dawn is the well-deserving May employee of the month for Fern Ridge.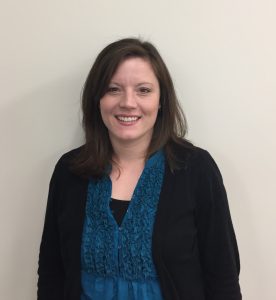 She started with Fern Ridge as an Instructional Assistant in the fall of 2013 before transferring into a secretary position at the middle school.  Dawn became the head secretary at Elmira Elementary in August of 2017 where she has been keeping the office organized ever since.
To list all of the wonderful ways that Dawn helps to take care of EES would take many more pages!  A few of her daily tasks include answering phones, helping families with in-person and on-line registration, processing all of the registration paperwork, collecting student body fees, tracking classified and licensed substitutes for the building and helping with time sheets, staff schedules, coordinating volunteers, keeping track of all the student transportation updates, and countless other jobs that make EES run as smoothly as possible.
One of the things she likes most about her job are the wonderful people she works with and the families she is able to serve.  "I enjoy doing it because I know that families appreciate it…..sometimes it involves searching the internet for a form or a phone number, or setting up transportation for them so they don't have to make one more call in their busy day.  The list goes on, but it brings me great joy to serve them."
When she is not welcoming families and running the office, Dawn enjoys spending time with her two fantastic girls, Maddie and Mackenzie.  Maddie is a senior and Mackenzie is a junior at Elmira High School.   She loves being outdoors hiking, exploring, and kayaking down the many wonderful rivers here in Oregon.   She also enjoys family game nights (with all you can eat ice cream!) family movies, traveling to new places, reading a good book, and anything chocolate.
A huge thank you to Dawn for all of the countless ways you help our Elmira Elementary students, families, and teachers.  Congratulations!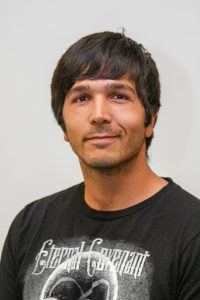 Cameron Robertson has worked as an instructional assistant in the Structured Learning Classroom at Fern Ridge Middle School since September of 2018.
Cameron helps out with small group instruction in reading and math, supervises students during lunch and has Zoom meetings to assist distant learning students one-on-one.
When not helping students, Cameron enjoys watching movies, playing Pokémon, writing music and poetry, and reading.  His favorite things are burritos and his least favorite thing is stubbing his toe (we hear ya on that one!).
On Friday evenings, Cameron runs a free drop-in time for teens at the Veneta Alliance Church.  This is a place where kids can hang out, eat snacks, and even play a vintage Star Wars arcade game.
When asked about his family, Cameron describes them as rambunctious but very, very close.  He has two brothers, two sisters, and a baby nephew.
He tells us the best part of his job is when he gets to interact with kids, building relationships with them and being able to help out.
Thank you Cameron,  our staff and students appreciate all of the work you do to be a positive role model for our students.  Congratulations!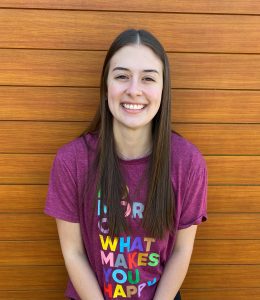 The ever changing environment of the past year has created an opportunity for our March Employee of the Month, Emily Bliven, to shine and take a leadership role at Veneta Elementary.
Emily has been a kindergarten teacher in our district since August of 2018.  In her three years she has already made a big impact!
As online learning became a reality, Emily stepped in with both knowledge and patience as staff members sought help for technology training.  From our PE teacher to our principal, staff at VES have turned to Emily for help.  She's always willing to drop everything to take care of any request.
Emily has taken on a leadership role this year by serving on the re-opening committee and serving as the union representative for VES licensed staff.  She also lends a hand on the Talent Show Committee, Earth Day Committee and the Equity Committee.  In the classroom, she tells us she loves getting to build relationships with students and witness their learning in action.  She also enjoys learning from and collaborating with her co-workers "who make me a better teacher."
When she is not teaching, helping out another staff member or serving on a committee, Emily is busy completing her Masters Degree and planning a July wedding with her fiancé, Chase.  She loves to be outdoors walking, hiking, playing with their one-year old retriever, Revel, reading and spending time with family and friends.
Congratulations Emily and thank you for always being willing to lend a helping hand to your VES team!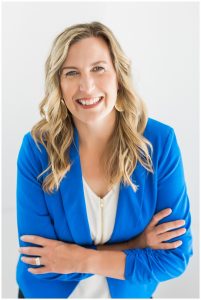 Michelle Cook has been an employee with the Fern Ridge School District for over 14 years!  She started working in the district in September of 2006 and has been supporting FRSD staff, students and families ever since.
Beginning as an Elementary School Secretary, Michelle is currently the Administrative Assistant to the Superintendent and the School Board.  She is a tremendous support to not only the board and Mr. Carpenter, but to all staff and families in our district.  While her duties have a large scope and touch on a wide range of topics (especially this year), some of the consistent areas of support she provides include supporting staff and community members who come to the District Office, posting all of our jobs and setting up interviews, publishing board packets and taking minutes at board meeting, processing volunteer background checks and supporting staff with license renewals just to name a few.  Michelle says one of the favorite things about her job is "helping our staff and families when they have a question or a problem."  She goes on to say that "being able to connect someone with a resource or information they need is always the best part of my day."
Michelle has 2 boys, Coltyn (16) and Brendon (14).  They have attended Fern Ridge schools since Kindergarten and are students at Elmira High School.  When Michelle isn't busy supporting all of us, she loves to hang out with her family, plan the remodel of a recently purchased farmhouse, and finding a quiet place to read.  She loves hanging out at the beach, and says that "playing around in the mountains or backpacking are some of my favorite things to do."  Her favorite mountain summit memory is Shasta, and a hike she wants to definitely do again is the three sisters loop.  She goes on to say that climbing Kilimanjaro is on her "mountain bucket list."
Michelle is an outstanding employee who is hard working, super intelligent, and fun to work with.  Mr. Carpenter mentions that she is "a tremendous asset not only to the board and I, but to all the staff students and families of Fern Ridge School District."
Thank you for all that you do Ms. Cook.  You are greatly appreciated, and congratulations on being our February 2021 employee of the month.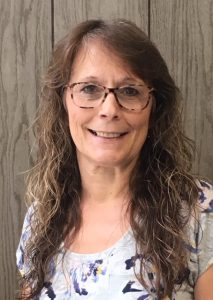 Julie Burton has been an employee with the Fern Ridge School District for 13 years!  She started working in the district on September 4, 2007 and has been helping students ever since.
In a normal year, Julie runs the study hall at Elmira High School for seven periods a day.  This year, being anything but typical, has found her scheduling online IEP meetings for the special education department and working alongside other EHS staff, keeping spirits up for our limited-in-person students.   She is also the EHS Key Club advisor, holding weekly meetings and participating in various community events.
Here's what she enjoys the most at EHS, "one of the best parts of my job is seeing such a variety of students.  Seeing the excitement in their eyes when a topic sparks their interest.  I'm used to kids thinking that I'm strict in their 9th and 10th grade school years and then leaving me in their 11th – 12th grade years because I have bugged them so much to turn in assignments that they're on track to graduate (I call it the natural progression of high school)."
Julie has 5 children and 15 grandchildren.  She and her husband Rod were married a year and a half ago at their favorite spot, Crane Prairie, Oregon with her daughter, Jami performing the ceremony.
When she is not encouraging students and supporting teachers, she loves camping, fishing, and a good book.  Her newest hobby (addiction) is acrylic paint pouring and of course, she loves her Elmira Falcons!
Julie is an outstanding employee who is always wearing a smile.  Her constant "strict" encouragement has helped countless students stay on track to graduate.
Thank you for your positive attitude.
Thank you for working hard to support our students.
Thank you for being a part of the Fern Ridge School District family for the past 13 years.
Congratulations to our December employee of the month, Elizabeth Skenzick!!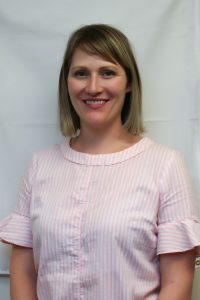 Mrs. Skenzick has worked for the Fern Ridge School District since August of 2017 and is a first grade teacher at Elmira Elementary School.
She and her husband Nick have two children, Logan and London.  Logan is a 5th grader and London is a 3rd grader and both get to attend the same school where mom works!
In addition to teaching, Mrs. Skenzick demonstrates her leadership both outside of the classroom by her involvement in many school committees including; Math, Every Student Succeeds, Wellness, and Art.  She also serves as the Communication Liaison with OMBI for the Fern Ridge School District Staff Mindfulness Program.
When asked what her favorite thing about her job is, she had several answers:
Fern Ridge's sense of community and the feeling that we all support each other at the school and district level.
Being part of an awesome 1st grade EES/VES team.
Having a supportive and positive principal.
Giving students the tools to track their own goals and progress, so that they feel excited to learn and proud of their growth.
I love my students, and I miss them when they move on to the next grade!
In her spare time, she enjoys creating content for Teachers Pay Teachers (why are we NOT surprised!), writing, reading, gardening, playing games with her kiddos, paleo baking and cooking.
Thank you Mrs. Skenzick for your leadership in the classroom and for all of the ways you make Fern Ridge School District a great place for staff, students, and parents!