Congratulat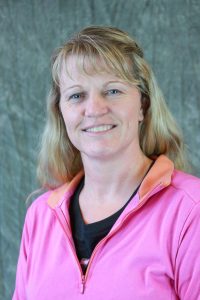 ions to our November Employee of the Month: Colette McBride!
Fern Ridge Middle School has been lucky to have Mrs. McBride as a Physical Education Teacher for over 10 years.  She is always willing to lend a helping hand and serves on the Fern Ridge Middle School Leadership Team as well as the Fern Ridge Middle School Climate Committee.
Mrs. McBride exemplifies the active lifestyle that she loves to teach to her students; she is an avid bicyclist and often rides 25 to 50 miles each day on the roads around Fern Ridge.  She also goes on hikes and enjoys being outside in nature which includes camping trips with her husband, son and two dogs, Ziggy and Jax.
Her son, Keegan, who is also a student at FRMS, wanted everyone to know that his mom is a great gardener and is currently growing strawberries and raspberries.  He also let us know how much his mom loves chocolate but not necessarily raspberry ice cream or any combination of raspberry and chocolate.  Thanks for the tip Keegan!
Fern Ridge School District is fortunate to have such a great addition to our staff.  Congratulations Mrs. McBride!