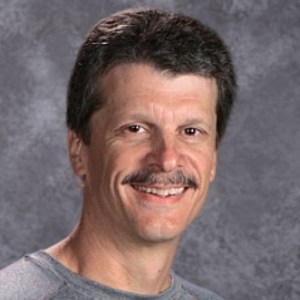 This month, we would like to honor our Head Varsity Boys Basketball Coach, Nick Garman, as our employee of the month.
Nick has been the Elmira High School Head Boys Basketball Coach since June of 2006.  He explained that the relationships he develops with the kids and his coaching staff along with other school staff members are some of his favorite things about the job.  "The excitement of the games and watching high school players grow into successful, hard-working young men is very rewarding as well."
As the head coach, Nick plans the daily practices, attends required meetings and makes sure he assists wherever he is needed.  He tells us that the kids and coaches make the job really fun.  "The kids give me energy and keep me feeling younger and, hopefully my coaching staff and I provide them with some good character building and we all are better people for having worked together!"  His enthusiasm for his team is often apparent in his "kick moves" that fans have come to expect when the Falcons are playing well.
When he is not working with EHS athletes, Nick plays slow pitch softball (for the past 36 summers!) and spends his time working around his farm.  He likes movies (comedies and action) and enjoys reading and listening to mystery/thriller books, especially on his drive to Elmira from Cottage Grove and back during basketball season.  Nick has been married to his wife, Konnie for 29 years and their daughter, Kaylee is a senior at the University of Oregon.
We want to thank Coach Garman for his years of coaching and enriching the lives of countless student athletes and this community.