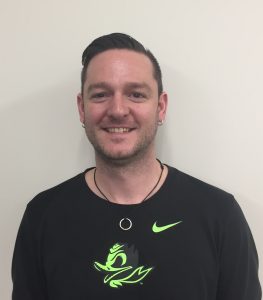 Mr. Jesse Light has been selected as our November Employee of the Month!  Mr. Light and his wife (also named Jessie) have two sons, both of whom were born abroad.  Maximus Indigo Vintor Light is 5 and was born in Doha, Qatar, and Tristan Phoenix Moon Light George is 7 and was born in La Ceiba, Honduras.
As you can imagine a favorite pastime of the Light family is traveling!  Mr. Light has been to over 30 countries and has visited 40 states.  In addition to being born out of the country, both of Mr. Light's sons are on their second passports!  This summer their family plans to travel to France, Germany, Hungry, Austria and Slovenia.
Mr. Light has been a teacher at the Fern Ridge Middle School since September of 2016 and has been a teacher for over 7 years.  He has taught students grades 5th to 12th and coached soccer, volleyball, basketball and knowledge bowl.  When asked what his favorite thing is about his job he told us, "middle schoolers are hilarious, a constant surprise, an endless wonder and still love to have fun."  Mr. Light enjoys teaching and says he will teach anybody, anywhere, anything.  We want to thank Mr. Light for bringing his energy, enthusiasm and love for teaching to Fern Ridge Middle School!