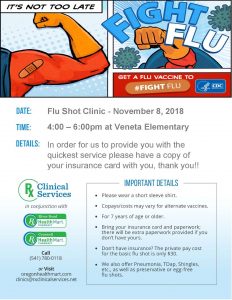 All students, community members and staff are welcome to the flu shot clinic that will be held in the Veneta Elementary Library on Thursday, Nov 8 from 4:00-6:00pm.
Flu Shot Tips:
~Wear a short sleeved shirt
~Bring your insurance card – if you don't have insurance the private pay cost for the basic flu shot is $30.
~Bring a completed Vaccine Administration Record (extra forms will be available on site)
~Immunizations are available for students ages 7 and up
~Copays/Costs may vary for alternate vaccines.
Below are the links to the vaccine information sheets:
Flu
Shingles
TDap
Pneumococcal
Please call 541-935-2253 ext 1203 if you have any questions