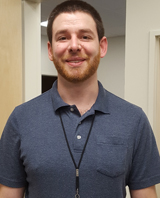 Mr. Siegal has been the music teacher at Fern Ridge Middle School since August 2017.  Each day he instructs Beginning Band, Intermediate Band, Advanced Band, Choir, Guitar and Intro to Music.  He teachers and plays the flute, clarinet, saxophone (alto, tenor, baritone), trumpet, trombone, baritone, tuba, guitar, ukulele and piano.  Of those instruments, Mr. Siegal is most skilled on percussion (drum set), clarinet, piano and ukulele.  (As you can see FRSD students are fortunate to have such a talented teacher!)
He tells us that his favorite thing about his job is working with students in different areas of music and seeing/hearing their musical development and hearing from them how music is a part of their lives.  Observing the musical improvement of individual students and the ensembles throughout the year is exciting and rewarding.  He also really enjoys being able to play different instruments throughout the day.
Mr. Siegal is very interested in percussion traditions from around the world.  His interest in world music has led him to travel to Ghana, West Africa to study traditional drumming and also to Salvador de Bahai, Brazil to study samba-reggae.  When he is not practicing drums, piano or ukulele, he enjoys hiking and fishing.  During the summer months he enjoys backpacking in the Cascades.
This summer, Mr. Siegal is getting married to his finance, Jaclyn Teixeira.  They have been together for 10 years after originally meeting in their 8th grade Spanish class.  They are planning to be married in their home town of Dartmouth, Massachusetts and will then travel to Portugal.
Our students and district are lucky to have Mr. Siegal as a teacher.  Congratulations!