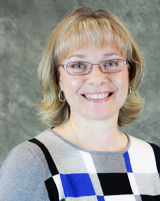 Congratulations to Laurie Ruell, our August employee of the month!  Laurie has worked for the school district since October of 2004.  During her first year she worked as a secretary and then moved into a bookkeeping position.  In October of 2005, Laurie was selected to assist in the business office and be our go-to accounts payable employee.
Laurie works hard year round to assist our business manager and the payroll department.  She processes orders for the district and takes care of all things accounts payable.  She enjoys coming to work because of the co-workers she gets to interact with every day.  Laurie always has a smile on her face and enjoys both working with the public and completing all the accounts payable paperwork that truly keeps our district operating smoothly.
When she is not working at the district office, Laurie enjoys going for walks with her husband, Mike as well as working in her yard and reading.  However, those of us who get to work with her know how much she loves sharing time with her kids and grandkids.  She has four beautiful grandchildren, Maelee (5), Nash (2), Jace (3) and Dane (1) who all brighten the walls of her office space!
Thank you Laurie for always being willing to help no matter the request and for doing such an amazing job taking care of so many details (big and small) that are crucial to our school district.  We couldn't do our jobs without you!