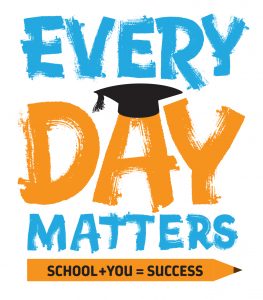 One in 6 Oregon children is chronically absent.  Being chronically absent is defined as missing 10% of the school days throughout the course of the year.  Over the last year our district has been working closely with the Oregon Department of Education to try new and innovative things to encourage regular school attendance for all of our students.
Attendance matters for students at all grade levels. Students who attend school regularly are more likely to read at grade level and to build a strong foundation as they move from preschool and kindergarten to high school.  On the other hand, students who are chronically absent are at risk of falling behind.  Chronically absent students in Fern Ridge perform lower academically than their peers, have lower GPA's, and are at a higher risk of not receiving their high school diploma.
The link below has lots of information for not only educators, but families and students as well.  Things such as attendance trackers and tips for "getting out the door."  Each school in Fern Ridge has these attendance trackers in magnet form, for your refrigerators, that you can use at home.  If you would like one, please contact  your school.  Also, here at the District Office we have "Every Day Matters" yard signs.  If you are willing to put one up at your home or local business, please stop by and pick one up.
Being absent from school is sometimes necessary, life happens!  However emphasizing the importance of regular school attendance is an important and valuable gift you can give your student!
https://every-day-matters.org/