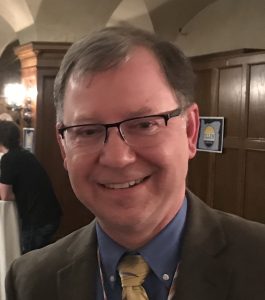 Despite these challenging days, we want to recognize Forrest Cooper for his outstanding contributions to our district!  Mr. Cooper has been an employee since August of 1995.  He and his wife Sherry have two sons, Ian and Jeremy.  Both Sherry and Ian are instructional assistants at Fern Ridge Middle School.  Jeremy is a recent Oregon State University graduate.
Mr. Cooper cheers on the Oregon Ducks, enjoys playing guitar/singing, outdoor activities, remodeling, hunting, steak dinners, gospel fellowship, and almost any kind of pie!  However, he is not a fan of cold, wet winters or virtual meetings.
This year, he teaches six different classes, including two advance placement courses in math, social studies, and computer technology.  He serves as a local officer in the teacher's association and also dedicates 20 hours a week as the state board regional officer for the Oregon Education Association.
When asked what he enjoys the most about his job and he said, "the kids, always the kids in my classroom, and I miss them right now!"  He also appreciates the dedicated staff he works with and the district leadership team.  "We work well together because we all understand that our first priority is educating and nurturing the kids in our community."
Mr. Cooper is a leader both in and out of the classroom.  He brings many gifts and talents to our Fern Ridge community and we want to thank him for his many years of dedication.
3 Responses to April Employee of the Month