mcook
I am so sorry to tell you all that one of our students, Corbin Sexton, has died. Our thoughts and sympathies are with his family and friends.
All of the students were given the news of the death by their teacher in first period this morning. I have included a copy of the announcement that was read to them.
The manner of death was suicide. Suicide is a very complicated act. Although we may never know why Corbin ended his life, we do know that suicide has multiple causes. In some cases, a mental health condition is part of it. But these conditions are treatable. It's really important if you or your child are not feeling well in any way to reach out for help. Suicide is preventable and there are resources in our community support your child and family. I am including some information that may be helpful to you in discussing suicide with your child.
Members of our Crisis Response Team are available to meet with students individually and in groups today as well as over the coming days and weeks. Please contact the school office if you feel your child is in need of additional assistance. Note that children who have serious thoughts of suicide already may be at greater risk due to exposure to the suicide of a peer. If you or your child needs help right away, call the National Suicide Prevention Lifeline at 1-800-273-TALK (8255), the Lane County Child and Adolescent Crisis Line at 541-689-3111, call 911, or take your child to the nearest crisis center or emergency department.
It is safe and healthy to talk to your child about suicide and grief, while these conversations may be uncomfortable they can also be lifesaving.
Information about the funeral service will be made available as soon as we have it. If your child wishes to attend, we strongly encourage you to accompany him or her to the service. If the funeral is scheduled during school hours, students who wish to attend will need parental permission to be released from school.
If you have any questions or concerns, please do not hesitate to contact me or one of the school mental health professionals. We can be reached by calling 541-935-8200.
Sincerely,
Rick Gardner
Principal
Elmira High School
 Soctober with Mid Lane Cares
Bring a donation of new socks to Orchid Health for the Soctober sock drive.  For each pair of socks you donate, you'll receive a raffle ticket for a chance to win a gift card.
Socks can be dropped off in the office of the Orchid Health Clinic located at 24934 Fir Grove (near Elmira High School)
All donations stay in our community!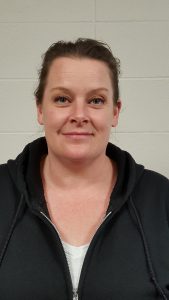 Congratulations to Jaime Weaver, our FRSD October Employee of the Month!
Jaime has been an invaluable member of our Fern Ridge staff since January of 2011.  She is an integral part of the Special Education department at Veneta Elementary and is responsible for scheduling all of the meetings between parents and the Special Education teachers, the Speech-Language Pathologist, and our Behavior Specialist!  In addition to helping all of these staff, she also keeps our school safety maps updated and helps out where ever there is a need at the school.
Once her school day is over, she stays and works at Fern Ridge Child Development Center taking care of Veneta Elementary and Elmira Elementary students in afterschool program.  When she isn't busy assisting staff and taking care of kids, Jaime enjoys fishing, travel, gardening and spending time with her family.  Jaime's two sons have both attended school in Fern Ridge.
Thank you Jaime for always keeping our Special Education staff organized and for taking such good care of all our students!
Join us on Thursday, September 23 from 6:00-7:00 pm to learn more about the what it's like to work in the Fern Ridge School District!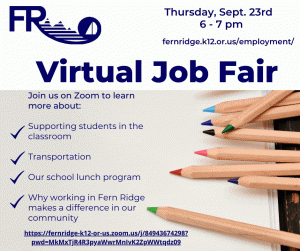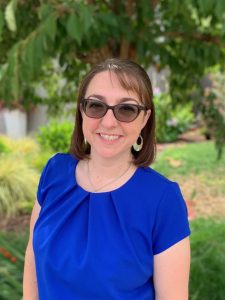 Congratulations to our employee of the month, Callie Johnson!  Callie was one of our super star staff members who went above and beyond to help teachers and students during summer school and KITS!
Callie has been an employee since September 5, 2017 and has helped to support students at all three levels: elementary, middle, and high.
She and her husband of 18 years, Mark have four kids Andrew, Julie, Porter and Max.
She tells us that some of her favorite things are Crumbl cookies, the roller coasters at amusement parks, hiking/swimming and being outdoors.  She loves to bake, enjoys Harry Potter, flamingos, pineapples, math, learning new things and exploring.  She is currently enrolled in college for finance/accounting and in her downtime (wait…..Callie, you have downtime! ☺️) she crochets.
When asked about her day she explained, "no two days are the same and no two children are the same.  It's so fun learning new ways to teach a child and how to connect with them.  School is changing all the time, you need to be able to be flexible with whatever you are given.  It's a challenge at times but so rewarding."
In her time helping in our front offices, she loves, "being able to reassure parent needs and helping them get the answers they are looking for.  Being able to provide for the staff and help out the principals to make their jobs easier or to take on a task to help free up their time to do other things."
Callie enjoys the relationships she builds with kids, hearing about their weekends and things they enjoy.  She also loves to help them learn. If it's a math problem they are struggling with, being able to explain it a different way and seeing their 'ah-ha' moment of understanding is pretty great.
Congratulations Callie and thank you for all of your hard work during the school year and during summer school.  You rock!
Lane County Public Works wants to be sure that parents have a voice in potential herbicide use near school bus stops. You can enroll your child's bus stop into the No Spray Area program by filling out a short form available on the Lane County website at www.lanecounty.org/vegetation or by calling 541-682-8521 to request a paper application.
Lane County Public Works Letter to  Parents
Registration Information
Due to Governor Kate Brown's mask mandate, masks are required at all indoor registration tables
Elmira/Veneta Elementary Schools
Wednesday, August 18th (New Students/Kindergarten) 7:00 am to 7:00 pm
Tuesday, August 24th (All Students) 7:00 am to 7:00 pm
Wednesday, August 25th (All Students) 8:00 am to 3:00 pm
Thursday, August 26th (All Students) 8:00 am to 3:00 pm
Incoming Kindergarten and New Students:  Please bring a copy of your student's birth certificate, proof of residency, and current immunization information.
As in past years, Elmira and Veneta Elementary Schools will have a school supply fee of $30.  The school supply fee covers all needed classroom supplies.
Elmira Elementary School: 541-935-8214
Veneta Elementary School: 541-935-8225
Fern Ridge Middle School
New and returning families can start the registration process online.  Families will still need to stop by the school to pay the registration/activity/planner fee of $10 and purchase a PE shirt for $7.
Wednesday, August 18th (New Students/Incoming 6th Graders) 12:00pm – 8:00 pm
Tuesday, August 24th (All Students) 7:00 am to 7:00 pm
Wednesday, August 25th (All Students) 8:00 am to 3:00 pm
Thursday, August 26th (All Students) 8:00 am to 12:00 pm
Families new to Fern Ridge will need to bring your student's birth certificate, proof of residency, and current immunization information.
Fern Ridge Middle School: 541-935-8230
Elmira High School
Seniors: Wednesday, August 25th 8:00 am to 11:00 am
Juniors: Thursday, August 26th 10:00 am to 1:00 pm
Sophomores: Wednesday, August 25th 1:00 pm to 4:00 pm
Freshman: Thursday, August 26th 3:00 pm to 6:00 pm
Elmira High School: 541-935-8200
The School Board Meeting and Notice for Monday, August 16, 2021 to be held virtually at 6:30 pm has been posted.  Due to a significant rise in COVID-19 infection rates both in Lane County and here in our local community, the Board will be meeting virtually for the August and September meetings, at which time a return to in-person meeting will be re-evaluated.
This meeting can be viewed on Zoom with the information below.
Public comment will be accepted via email at mcook@fernridge.k12.or.us.  Please submit you email comments by 4:00 pm on Monday, August 16, 2021.  Comments must be able to be read into record within the three minute time limit and include the full name and address of the sender.
Agenda items include: Flag Salute, Public Comment, Approval of Minutes, ART, Inc Report, Orchid Health Clinic Update, English Language Learner Report, Superintendent's Report, West Lane Charter School Annual Review, Budge Committee Vacancies, OPTIONS Program Course Approval, School Board Meeting Adjustment for March 2021, Personnel: Licensed, Non-Licensed Personnel Report, Late Items/Closing Comments.
To access the agenda click here.  This will take you to the Fern Ridge SD 28J BoardBook site where you can review board meeting agendas, attachments, and minutes.  For more information contact 541-935-2253 Ext. 1203 or www.fernridge.k12.or.us.
Join Zoom Meeting
https://fernridge-k12-or-us.zoom.us/j/84995702828?pwd=cUNyb1FmaUFCbzl0OU9FUmFTbWwzdz09
Meeting ID: 849 9570 2828
Passcode: 910482
One tap mobile
+13462487799,,84995702828# US (Houston)
+16699009128,,84995702828# US (San Jose)
Dial by your location
+1 253 215 8782 US (Tacoma)
+1 312 626 6799 US (Chicago)
+1 646 558 8656 US (New York)
+1 301 715 8592 US (Washington DC)
Meeting ID: 849 9570 2828
Find your local number: https://fernridge-k12-or-us.zoom.us/u/kcfqXA0cHI
Pandemic EBT (P-EBT) is part of the response to the COVID-19 pandemic. P-EBT is money for buying food at home for students. Oregon is sending P-EBT to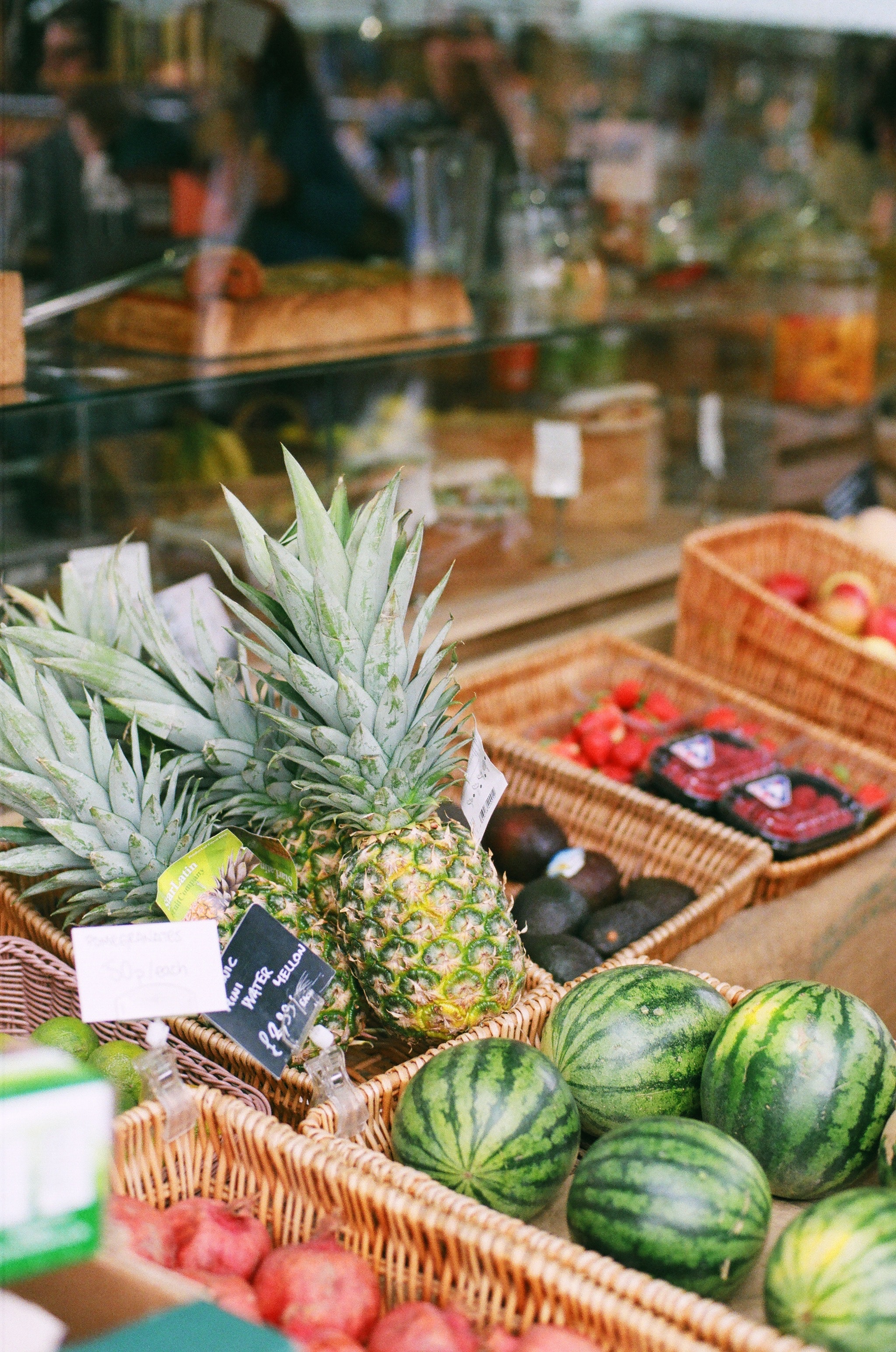 families with eligible students this summer.
Fern Ridge School District offered grab-and-go meals the entire year 2020-21 school year under the Seamless Summer program, so the entire District is eligible to receive P-EBT for 2020-21.  You can still get "grab-and-go" or summer meals from the school while receiving P-EBT.
Benefits are determined at the school level based on the learning model utilized by most of the enrolled students, as well as the type of meal service. Benefit levels may not be adjusted based on individual student schedules.
The grocery money is to make-up for meals students missed while schools and childcare were closed part-time or full-time during the 2020-21 school year.
Non-SNAP households will receive a new card in the mail if you are new to P-EBT or received P-EBT for multiple children on the same card. Benefits will be issued on Oregon EBT cards and mailed to the address on file with the school for students who do not receive SNAP. SNAP households with P-EBT eligible children will receive P-EBT on the same card as SNAP. The PEBT issuance is based on the timeline detailed below and will be different than your normal SNAP issuance date.
P-EBT is intended to reimburse families for the cost of the free meal missed at school. If you opt out, you are letting ODHS know that you don't wish to receive P-EBT benefits for any student in your household. Benefits will not be issued to families who have decided to opt out and will carry over to future years. Benefits are not transferrable and cannot be gifted or donated.
You can change your student's opt-in/opt-out status at any time. If you still wish to decline the benefits, email ODHS by email at ebt.schoolmeals@dhsoha.state.or.us.
Please see the Oregon P-EBT link below for more details:
https://www.oregon.gov/dhs/ASSISTANCE/FOOD-BENEFITS/pages/p-ebt.aspx
We are excited to share with our students and families that Fern Ridge School District expects to fully reopen to full-day, five-day, in-person learning this fall.  We maintain those expectations today in light of the Oregon Department of Education announcement of the Resiliency Framework for the 2021-2022 school year.
There will be many more details to work on before our staff and students return and those details will include things like COVID-19 safety measures.  We will continue to partner with local and state health officials and will keep our families and community updated as we finalize those details over the summer.  We are hopeful that we will be able to make final decisions and share with the community by mid-August.