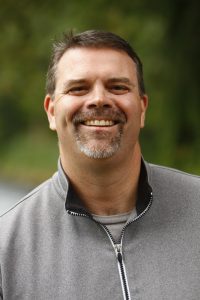 The next principal of Elmira High School will be Mr. Rick Gardner!  Please join the EHS staff and students in welcoming Mr. Gardner who will take over beginning in the 18-19 School year.
On July 1, 2018 Mr. Gardner will bring his 22 years of educational experience to EHS.  He comes to us after having most recently worked at Marist High  School in Eugene, Oregon.  The last 3 years he has served as the Director of Athletics and Facilities, and the 7 years prior to that as an Assistant Principal.  Prior to arriving at Marist, Mr. Gardner worked in the Mckenzie School District as both a teacher and the High School Principal.
Over the past several weeks a committee of 10 have screened applicants, interviewed candidates and conducted reference checks.  Finally, our committee organized and participated in a "community forum" with two outstanding finalists, to help us make this important decision.  It is without question I can say that we had multiple qualified candidates who would have done an outstanding job for us.  Having said that, Rick stood out to the committee as someone that is a great fit for our community.  While we know Mr. Gardner will appreciate the great things we have at Elmira, it will be his charge to assist EHS in reaching new heights in the years to come.   I know he welcomes the challenge.
Again, join me in welcoming Rick, his wife, and his three daughters to the Fern Ridge School District!  Congratulations!
Gary Carpenter, Principal EHS, Superintendent/FRSD