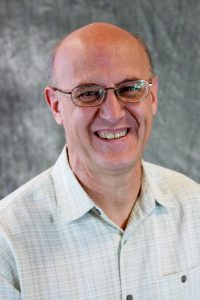 Mr. Greg Baker has worked in the district since 1998 and recently received his 20 year service pin!  He was also awarded the 2018 Distinguished Confidential Employee for Fern Ridge School District.  He first started with the district as a substitute custodian and then worked his way up to his current position as Director of Facilities.   He oversees the custodial crew and the interior maintenance of all Fern Ridge School District buildings.  Work for our custodians continues year round and while most of us are enjoying our summer, spring and winter breaks, Mr. Baker and his crew are busy re-surfacing gym floors, cleaning lockers, deep cleaning carpets, painting and doing the thousand of other tasks that enable our district to function.
Mr. Baker along with his wife Janet (who also works for the school district) and their four children are all Elmira High School graduates.  The next generation of Bakers have arrived in the school district with 3 of their 7 grand children attending Elmira Elementary.
When Mr. Baker is not working you can usually find him spending time with family or adventuring abroad with his wife Janet (they traveled to Panama in 2017.)  He is also an avid reader and enjoys hiking; often planning hikes of 50 miles or more! He approaches his job with a high amount of integrity and is always willing to go the extra mile for staff even if it means working longer hours to get the job done.  His dedication to the staff and students of our district is appreciated and we are excited to honor Mr. Baker this month.