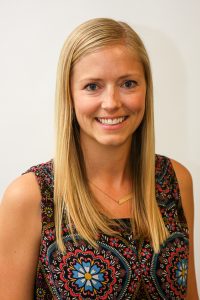 Congratulations to Rachel Frede, our October Fern Ridge School District Employee of the month!  Mrs. Frede has been a teacher for 10 years with 6 of those years being with FRSD at Elmira Elementary School.
Mrs. Frede is married to Mike Frede and they have three amazing kids, Jackson (13), Eleanor (2) and Leo (10 months)  In her spare time she loves being with her family, traveling and is an avid runner.  She has completed multiple marathons, including the Boston Marathon in 2013 and is currently training for the Silver Falls Half Marathon.
She explains that her favorite part about her job is watching her students love for learning grow and expand and being their guide through this process.  She also values building strong relationships with students.  Her classroom community is a place where both she and her students learn and grow together each year, "They challenge and inspire me just as much as I do them.  They keep every single day interesting!"
For the 2018/2019 school year, Mrs. Frede teaches a blended classroom.  This means that each day she prepares to teach all subject areas in both 2nd and 3rd grade.  Some of what she teaches is easy to prepare for all of her students but other skills are specific to each grade level.  Math is an example of a subject that requires planning and preparation for both grade levels along with collaboration with other EES 2nd and 3rd grade teachers.  She serves on the Elmira Elementary School Math Committee and loves to make math fun and challenging for other teachers and all of the students.  She also works on the annual talent show that Elmira Elementary Students present each year.  Thank you Mrs. Frede for your dedication to all of your students and best of luck in your half marathon!