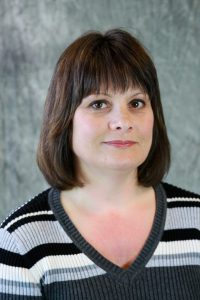 To say that our December Employee of the Month is invaluable is almost an understatement!  Truthfully, Elmira High School could not function without Angela Baker, and her amazing abilities as the high school registrar!  Angela not only enrolls and registers students, she also creates the master schedule for the entire school each semester, ensures that every student is taking the correct courses and has the correct number of credits in order to graduate.  Sometimes finding the right class for students within the master schedule is like working with a puzzle and she is always able to fit things together.
In addition to student support, Angela is also an incredible resource for the staff at EHS.  She works with and helps to manage the student information system that our district uses.  She quickly and efficiently assists staff who may be having difficulties with the student system.  She always makes herself available to students or staff and has been described as the beating heart of EHS.
Angela has worked for the district since August of 2003.  She enjoys gardening, reading, trying new recipes, playing with their dog as well as traveling with her husband and dog in their RV and finding remote places to camp.  She loves interacting with the terrific students and staff at EHS, helping students with scheduling issues and seeing the relief and excitement on the students faces when they graduate.
Thank you Angela for the amazing work you do at Elmira High School!