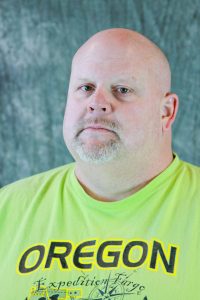 Our November employee of the month is Mr. Scott Shannon.
Mr. Shannon has been an educator since 1989.  He forever changed Fern Ridge when he joined the teaching staff of Elmira High School on August 31, 1999.  As a teacher, co-worker and coach he always brings his unique perspective, love of kids and sense of humor everywhere he goes.  He has taught social studies, health, and food/nutrition classes.
In addition to teaching, he has also coached countless student athletes for over 30 years.  In his time with Fern Ridge he has served as an assistant baseball coach, head girls soccer coach and head wrestling coach.  Mr. Shannon has given up countless summers and time away from his own family to take many wrestlers on the long road trip to Fargo, North Dakota to compete in the tournament that is held there every year.
When he is not teaching or coaching he enjoys golfing, being a "Papa" to his grandson, Oliver and "Papa Scott" to William.
A bittersweet congratulations as he has announced that 2019-2020 will be his final year of teaching in Fern Ridge.  We will miss the antics and fun times that he brings everywhere he goes and wish him the best of luck!