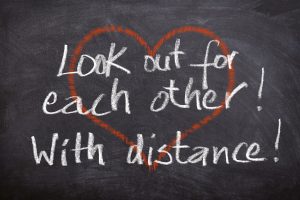 Lane County Public Health has let us know that there has been an increase in the number of school age children who are testing positive for the COVID-19 virus. The County has completed contact tracing and has found the  increase is not because students have returned to the classroom but because more school age children are going out and about. 
Reported cases are related to visiting with friends and family, attending parties, sleepovers or play dates. 
This is a confusing time for students. It is hard to understand why they can go to the school, but cannot go to be with their friends.  As a parent, trying to explain this to your child can be difficult. 
Some talking points that might help:
At school, masks are required to be worn by everyone in the building; when you are out with friends or family not everyone may wear a mask.

At school, staff help students keep their masks on; when out with friends or family you may forget to wear your mask.

Masks / face coverings help to keep you, your friends, and family safe.

At school there are reminders to stay 3-6 feet apart; it is hard to say 3 feet from your friends and family.
Parents of teens:  If you would like some additional talking points for teens, email me at tparsons@fernridge.k12.or and I can share some ideas with you.
Remember just because you cannot see it doesn't mean it isn't there. 
A person can be infected with the COVID-19 virus and not have any symptoms. This is one of the reasons it spreads so easily. With the County numbers going back up, it can impact students being at school and being able to be out in the community.   It is not being at school that spreads the virus.  Spread happens when we stop guarding and protections against the virus.  As a parent we have to make choices for our children, sometimes they are hard but needed choices.
Keep up the good work and help to keep our community safe. 
Nurse Teresa