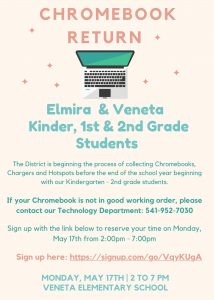 The district is about to begin the process of having students return their Chromebooks (including chargers and hotspots).  We are beginning with ALL Kinder-2nd grade students from EES and VES on May 17th (Not OPTIONS students).  The rest of the schedule is tentative, however our proposed timeline is below.  As each grade level gets fully organized, we will get the information out.
3rd-5th grade:  Beginning week of June 1st
6th -8th grade:  Beginning week of June 1st
12th grade:  June 8th/9th
9th-11th grade:  Beginning week of June 15th
OPTIONS:  Beginning week of June 15th.
As the flyer above describes, the turn-in for K-2nd grade students will be from 2:00-7:00 PM on May 17th AT VES, and you can reserve your timeslot by signing up here.  If your chromebook is damaged, please do not wait until check-in.  In addition, please bring your device to the check-in, fully "charged."
Finally, if you can bring the student device check-in form (click here)  filled out when you arrive at your check-in time, it will make things go quicker.  The forms will also be available on site.