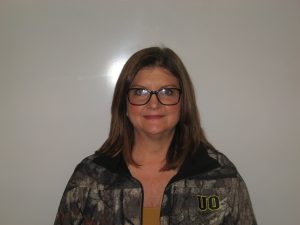 Our June employee of the month, Teri Moen, has worked for the Fern Ridge School District for over twenty years.  She started here on September 1, 1998.
Teri manages the learning center at Elmira High School where kids who are struggling come for extra help.  She meets with the parents of students who are on Individualized Education Plans (IEP), works with the students daily and writes their IEP plans.  She serves on several committees and is active in the teacher's union.
When she isn't helping students, she loves to camp, crochet, and craft but her favorite past-time is following her two grand-daughters around watching them play on travel softball teams.  She also likes all things sour gummy and dislikes bullies!
She has been married to her husband, Jim for almost 28 years and is blessed with two beautiful daughters, Kyleigh & Mckenzie.  She has two handsome son-in-laws, Ryan & Brandon and 9.5 grandchildren: Jayden, Jordan, Layla, Taylor, Jack, Connor, Lace, Presley, Cove and Dejàlyn (due in September).
Teri loves building relationships with kids who struggle.  "Helping a kid to discover that they really "can" do it."  She also appreciates working with an amazing team.
Congratulations Teri,  we appreciate all of the work you do in our special education department!