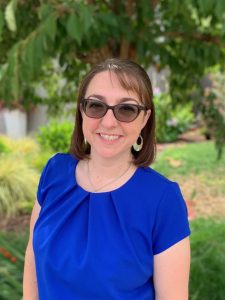 Congratulations to our employee of the month, Callie Johnson!  Callie was one of our super star staff members who went above and beyond to help teachers and students during summer school and KITS!
Callie has been an employee since September 5, 2017 and has helped to support students at all three levels: elementary, middle, and high.
She and her husband of 18 years, Mark have four kids Andrew, Julie, Porter and Max.
She tells us that some of her favorite things are Crumbl cookies, the roller coasters at amusement parks, hiking/swimming and being outdoors.  She loves to bake, enjoys Harry Potter, flamingos, pineapples, math, learning new things and exploring.  She is currently enrolled in college for finance/accounting and in her downtime (wait…..Callie, you have downtime! ☺️) she crochets.
When asked about her day she explained, "no two days are the same and no two children are the same.  It's so fun learning new ways to teach a child and how to connect with them.  School is changing all the time, you need to be able to be flexible with whatever you are given.  It's a challenge at times but so rewarding."
In her time helping in our front offices, she loves, "being able to reassure parent needs and helping them get the answers they are looking for.  Being able to provide for the staff and help out the principals to make their jobs easier or to take on a task to help free up their time to do other things."
Callie enjoys the relationships she builds with kids, hearing about their weekends and things they enjoy.  She also loves to help them learn. If it's a math problem they are struggling with, being able to explain it a different way and seeing their 'ah-ha' moment of understanding is pretty great.
Congratulations Callie and thank you for all of your hard work during the school year and during summer school.  You rock!