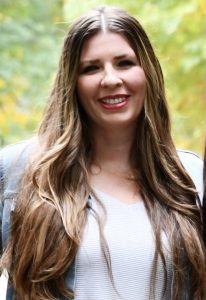 Mandy Storey has been working as a Fern Ridge School District employee since September of 2019, but with all five of her and her husband's children attending FRSD, she really has been a familiar face since 2006!
Currently, you'll get to see Mandy's smiling face in the front office at Elmira High School where she spends most of her day answering phones, assisting parent with questions on everything from sporting events to school schedules to policies.  She works with her student office assistants to show them how to use the phone system and learn office skills they can use outside of school.  She assists administrators and teachers in their daily routines to help make their days go more smoothly, as well as taking daily attendance, putting together morning announcements and welcoming many different substitutes to the building to help out staff.  Mandy is also a very pivotal person in the school's Leadership class helping bring school spirit to all at Elmira High School.
"My favorite part about my job is seeing the students in the morning and welcoming them in with a smile.  I like to ask how their morning is going and hear about their days.  I let them know I'm invested in their success.  So even when it has been a tough morning, I can typically get a smile out of them by letting them know I am HAPPY to see them and that they made my day by being present."
In Mandy's free time she enjoys going to dinner with friends, hiking, being in the outdoors and watching fun movies and TV shows with her family.  She has been married for over 19 years to her husband James and together they have Justice, William, Gracie, Brady, and Scarlett.
Mandy tells us that her all time favorite place to go is the beach.  "Any day at the beach is a great day for me."  She hopes to be able to travel more in her down time and hopes to one day travel the world with her husband.
Thank you Mandy for all you do to help keep Elmira High School running smooth and making it a welcoming place for students!