Join the Booster Club on September 10th for a night of Oregon Football, a Cornhole Tourney, and a Silent Auction.
Doors (and the kid zone!) open at 4 pm
For more information, email elmiraboosterclub@gmail.com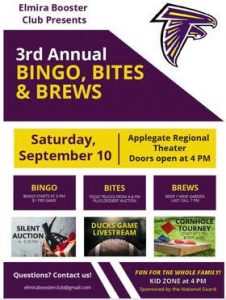 Public schools remain under the restrictions and requirements of OAR 333-019-1030.  Over the past several months, in conjunction with many partners, the district has finalized its plan for 22-23 in this regard.  The plan is tied to the CDC community levels, and can be viewed under the Volunteer & Visitor Information section at the top of the page at this link:  2022-2023 School Information.
While circumstances may arise that require this plan to be updated, it is what we currently expect to be in place to start the 22-23 school year.  To summarize, unvaccinated volunteers will need to submit an exception form, have it approved, and then sign an accommodation plan.   The plans are tiered based on the Community levels as shared by the CDC.  That community level guidance document as well as copies of the accommodation plans, can also be found at the link above.
The district remains committed to doing everything possible to ensure our doors can stay open for in person instruction.  In the Spring of 2022, there were many days when due to large numbers of staff being out due to their own illness, or illness of their family members (with no substitutes available), the district was close to needing to close its doors for a period of time.  Keeping our doors open remains the number one priority when in comes to COVID-19 protocols and requirements.  If you have questions to not hesitate to reach out to the District Office or the administrator at a particular school.
Orchid Health will hold a Sports Physical Clinic on August 2nd and August 9th (by appointment only).  There is no cost for students.
As a reminder, to participate in high school athletics in Oregon, students must have an updated physical (expires every 2 years).  If you are unsure the status of your physical, you can contact the EHS Bookkeeper at 541-935-2253 ext 2210.
Call 541-234-3255 for more information and to schedule your appointment.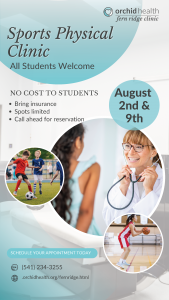 Summer Pool Passes!
All FRSD students have 10 free visits to the Veneta Pool. Students are welcome to share their 10 passes with family/friends. No vouchers needed, pool staff will have a list.
For more information on pool hours and operation, please visit: https://www.venetaoregon.gov/ or call 541-935-4390.
Beginning June 25th, the pool will have free swimwear available for those that need it. Supplies are limited.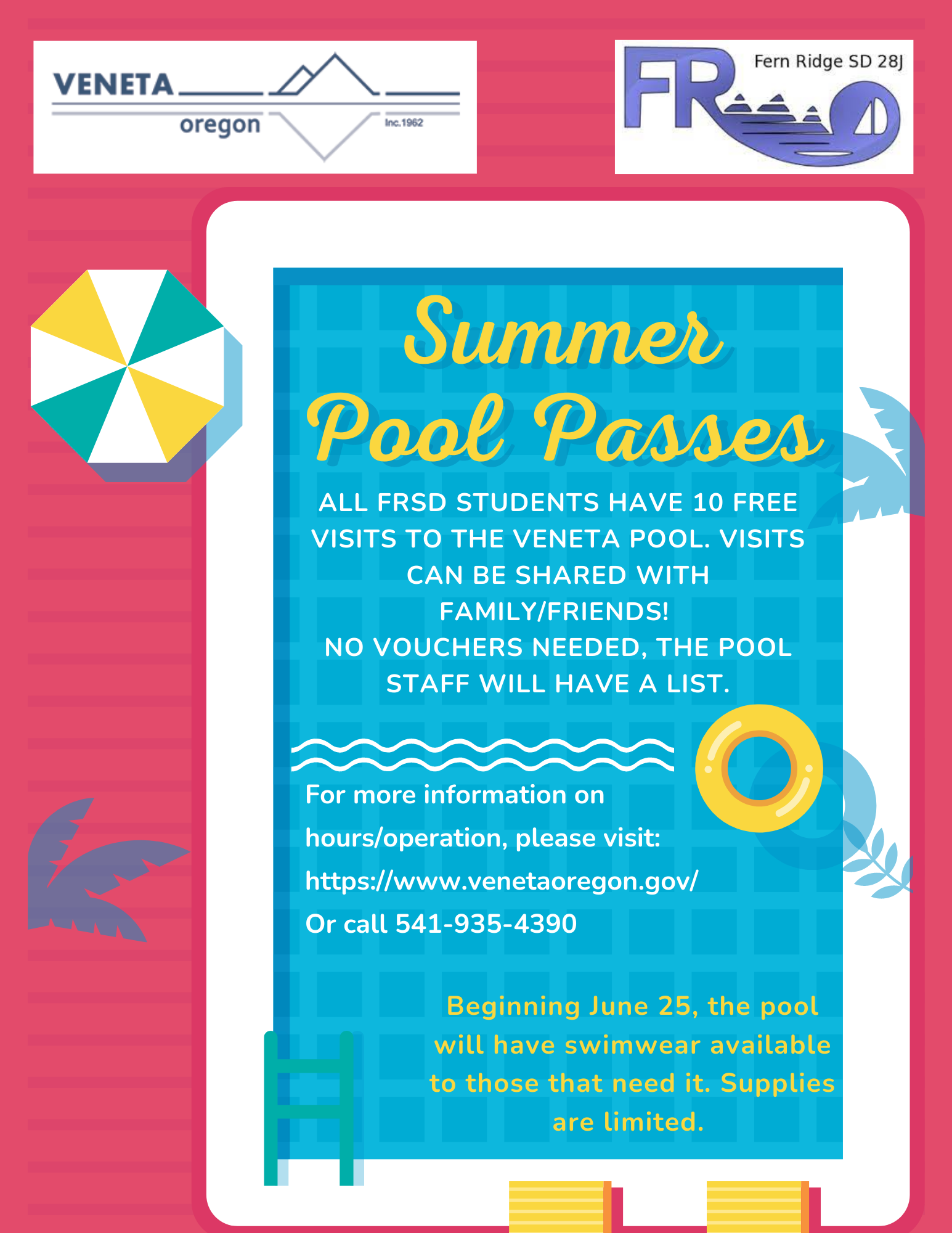 TODAY – June 15th is a full school day for students.
The final day of school, Friday, June 17th will be an early release day.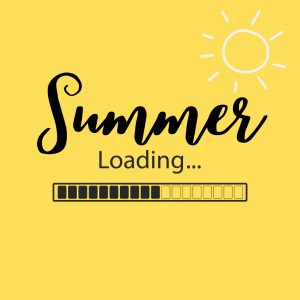 Today, Lane County became one of 3 counties in Oregon to move into the "RED" Category in regards to the CDC "community level" chart.  As a reminder, this data can be found on the right hand side of this page, on the District website at this link:  https://www.fernridge.k12.or.us/2020-school-year/
When a county moves to red, two of their recommendations are as follows:
Wear a mask indoors in public
Additional precautions may be needed for people at high risk for severe illness.
Because these are currently recommendations, and not requirements, at this time the district is simply putting out the information, and recommending folks wear masks indoors and that individuals consider further precautions based on your personal circumstances.
Tonight is graduation in the EHS gym.  Masks are recommended, but not required.  For our final week of school, absent any changes in the requirements, or significant changes to the COVID environment, I would expect this to remain unchanged.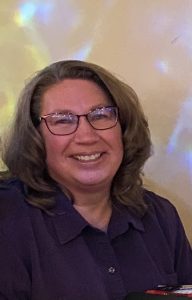 Our June employee of the month has worked for the Fern Ridge School District since August of 2013.  She worked as a media assistant in the library and as a bookkeeper for Elmira High School until the District Office was lucky enough to snag her in 2022.
Julie will take over the Accounts Payable position this July and will manage the purchasing and invoicing for our entire district.
She explained that working at the District Office has been a wonderful experience.
I love the challenges of my job.  I'm always learning something new.  I have really great co-workers and everyone works well together.
Julie and her husband, Bruce just celebrated their 30th wedding anniversary this year!  Their oldest son Jared graduated from Elmira High School in 2017 and their youngest son, Brody is a junior at EHS.
In her free time she enjoys being with her family, having dinner with friends, and enjoys watching movies and sports.  One of her favorite summer past-times is kayaking at Fern Ridge, Horton Pond or on the coast.
She also likes to read, craft and travel…..just enjoying the moments, big or small!
Congratulations Julie!  We're luck to have you on the District Office team!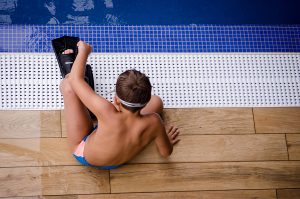 Quick reminder -before we jump into summer – the final early release day of 21-22 has moved from Wednesday, June 15th to Friday, June 17th. 
Students are released from school at their regular time on Wednesday, June 15th
Looking for next year's school calendar?
Our adopted 2022-2023 School Calendar has been posted on the website.  You can find it on the front page of the website or by visiting this link.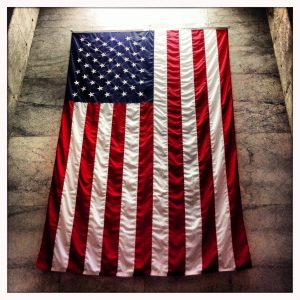 There is no school for students tomorrow, May 27th (teacher work sample day) and in observance of Memorial Day there is no school for students or staff on Monday, May 30th.
Hope everyone has a great (and safe!) holiday weekend.
A quick update on our current COVID situation —  we continue to deal with many staff and students testing positive for COVID-19.  We currently have over 30 folks out district-wide including 10 staff members who are sick.
One of the most impactful ways you can help us maintain in-person instruction is by keeping your student(s) home when they are are not feeling well.  We all need to come together and work to keep school open for these final three weeks. 
Thank you for your continued assistance and partnership!