Community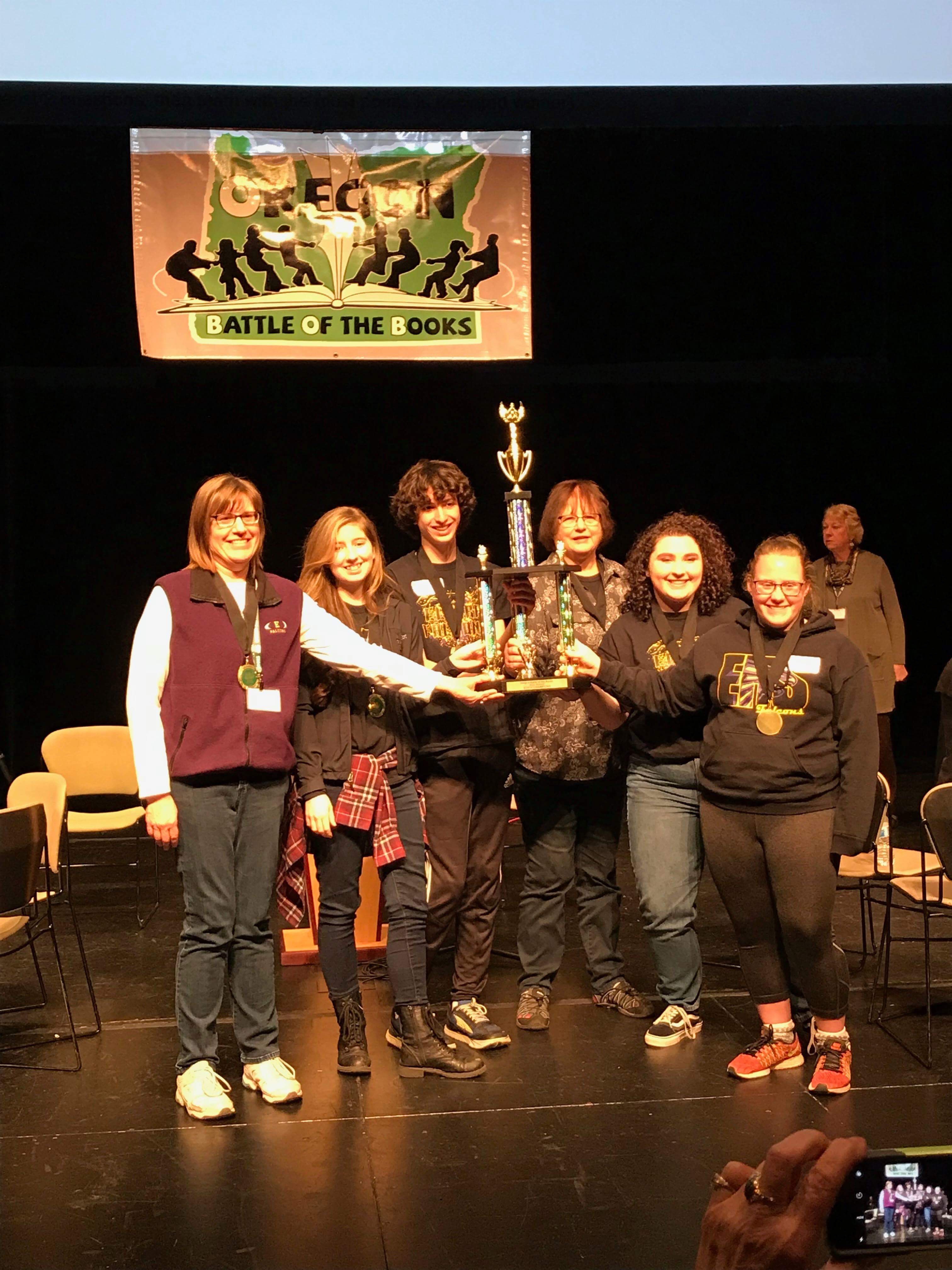 This past Saturday, April 7th, the EHS OBOB team traveled to Chemeketa Community College in Salem, Oregon for the High School section of the state OBOB Tournament.  The tournament began with "pool play" among the 15 schools that would be competing for the state title.
Elmira started out by by beating Alliance Charter School (from Oregon City) by a score of 45-25.  Next up was Adrian, located south of Ontario, and EHS won by a score of 33-8.  The third pool play battle was against Triad School (a private K-12 school in Klamath Falls) and again EHS won, this time by a score of 45-25. The final battle was against Imbler (a school near LaGrande) and EHS again prevailed by a score of 50-20.  Coming out of pool play EHS was seeded number one with a total of 168 points scored.
The next section of the tournament was an 8 team seeded bracket.  EHS matched up against the 8 seed, Imbler, and won by a score of 45-10.  In the final 4 / semi-final round, EHS faced Estacada.  The Final score was EHS 50, Estacada 20 and EHS was onto the Championship match that contains twice as many questions as the prior rounds.
In the Championship match, EHS faced Lebanon. While the match went back and forth, with both teams having the lead at some point, EHS went on a late run to win by a score of 68-52.  This is the first OBOB championship trophy for EHS, a testament to years of work and practice put in by the members of our team and their coaches.  A big congratulations to their coach and advisor, Sherry Cooper, as well as the team members:  Josiah Lorenz, Emily Eagle Eye, Jessica Woods and Kelly Hoffman!  Go Falcons!
Staff, students and community members are invited to attend an open forum with the two finalists for the Elmira High School Principal position.  The forum will begin promptly at 6:00 PM in the EHS theater on Thursday, March 15th.  All those interested are invited to attend, hear from the candidates, ask questions, and leave feedback for the selection committee to consider.  The two candidates are:
Rick Gardner:  Rick has 22 years of experience in education, including 11 years as  H.S. Science teacher. The last 11 years Rick has served as a school administrator in a variety of positions including 1 year as the Principal at Mckenzie H.S., 7 years as an assistant principal at Marist, and the last 3 years as the Director of Facilities and Athletics at Marist H.S., in Eugene Oregon.
Phillip Pearson:  Phillip has 18 years of experience in education, including 10 years as a Science teacher.  Since 2009, Phillip has served in a variety of administrative roles including Dean of Students, Associate Principal, Director of Technology, and the last 6 years as the Principal of Corbett High School in Corbett Oregon.
Both candidates will be doing a 10 minute presentation introducing themselves to our staff and community, followed by 30 minutes of an opportunity for  those in attendance to ask them questions.  Mr. Gardner will start at 6:00 PM, and Mr. Pearson will follow at approximately 6:45.
Join us in the Elmira High School Theater from 6-8 PM on Monday, March 5th.  This workshop is for any and all parents of school age children K-12.  The workshops shares with parents the basics of social media and cyber safety.  Hear from experts (a panel of trained students) regarding the ways kids are using social media today.  A second, 3 person panel, made up of myself, a Lane County Sheriff's deputy and a Lane County Juvenile Prosecutor will also be presenting.  This is not just for FRSD parents, parents from Crow, Junction City and Triangle Lake in particular are invited, but feel free to invite any interested adult that may find this information useful.
Click on the link below to see the flyer for this event in Spanish and English.
RSVP is encouraged at Emily@kidsfirstcenter.net
This morning at around 7:50 AM near the roads of Huston and Wildwood, it was reported that a white van stopped and a man opened a window and asked a student if they wanted a ride.  The student did the right thing, immediately returning to their house and reporting it. Lane County Sheriff's office was notified, they have investigated, and sound like they will be putting out a press release.  Once we have that release, we will share here.
The Elmira H.S. Athletic Hall of Fame is here!  Nominations for the 2nd class are now being accepted.  The nomination deadline for the class that will be inducted in Feb., of 2019 is November 1st, 2018.  Nominations are accepted in four categories:  Athletes, Coaches, Teams and "others."  Please read the Committee's Standard Operating Procedures (SOP) document below for criteria and guidelines, as there are timelines and guidelines regarding who can be nominated, and when.  Go Falcons!  For more information you can contact the school at 541-935-8200, or one of the 7 committee members:
Gary Carpenter, Principal, Elmira High School.  Brian Brands, Assistant Principal/Athletic Director, EHS.  Sarah Schilling, Teacher/Dean of Students, EHS.  Julie Bothel, EHS Booster Club President.  Alan Jeffers, Andrea Brown and Gary Horkey, community members.
All of the application materials can be found at: http://www.fernridge.k12.or.us/elmirahs/?page_id=1879
In the coming months the Fern Ridge School District will begin the process of bargaining a successor agreement with the Fern Ridge Education Association (FREA), to the one that is currently in place for our certified staff (teachers.)  The current agreement expires June 30, 2018.
The District looks forward to working together with our teaching staff through this process.  The Superintendent and School Board have identified 3 goals to help guide the District.  They are:
The District will participate as a partner with the Fern Ridge Education Association (FREA) in these complex negotiations.
Given the importance of this new labor contract and the overall impact of labor costs to the District's budget, the District will devote the time and resources necessary to secure a labor contract which is responsive to the public's immediate and long-term interest.
The District will negotiate a labor contract which addresses legitimate employee concerns and seeks to continue to maintain good labor relations.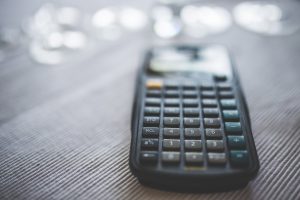 The Fern Ridge School District is currently accepting applications to fill two vacant Budget Committee Positions:
Position #1 (Expires 6/30/20)
Position #2 (Expires 6/30/20)
To be eligible for appointment the appointive member must live in the district and not be an officer, agent or employee of the district.  Applications are available by clicking HERE.   Applications will be received at the District Office until the positions are filled.
For more information please call 541-935-2253 ext 1203
The EHS Booster Club invites you to attend their 10th annual Charity Golf Tournament.  This is the Booster Club's biggest fundraiser of the year!  Proceeds from this event will support our student athletes with scholarships, equipment, uniform needs and much much more!
 Please call (458) 210-5012 for tickets and information.
Go Falcons!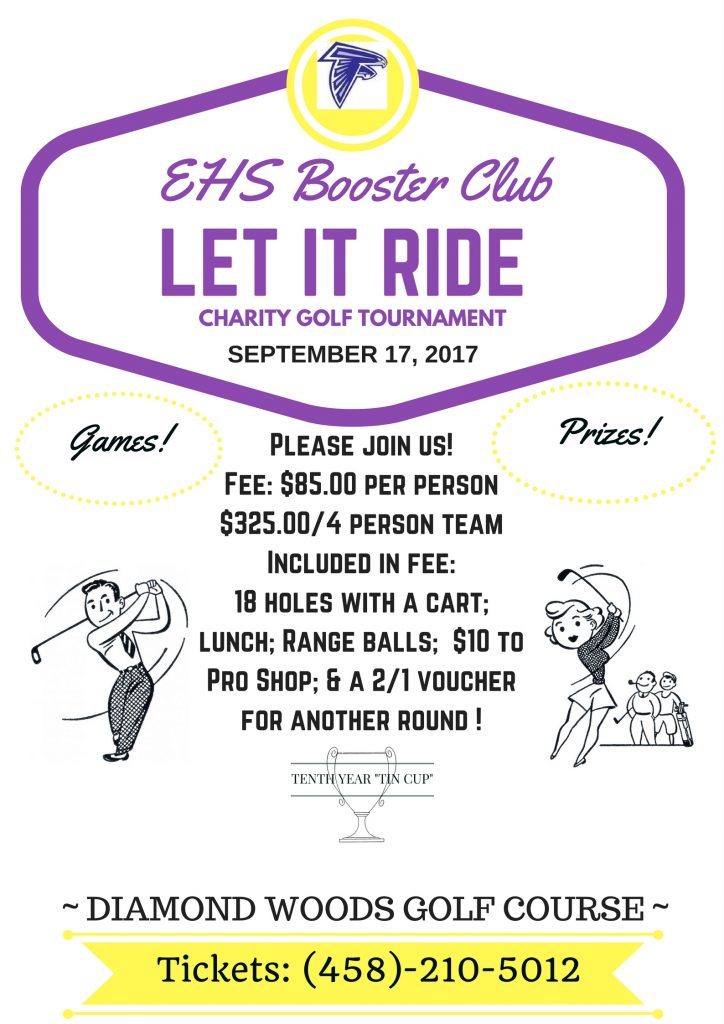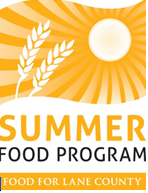 Free lunches for kids ages 2-18.
Lunches are first come first serve for children.  Children ages 1 to 2 may eat when accompanied by a responsible adult.  All food must be eaten on site.
Veneta lunch site will be at VENETA CITY PARK, 25192 Broadway, Veneta from 12:00-1:00.  To see a list of all Lane County lunch sites, please visit the FOOD For Lane County website.
Go to www.foodforlanecounty.org/summerfood to see a list of sites, menus, and volunteer opportunities.